Have you thought about being in a situation where the tyre of your bike get deflated, and there is no bike pump to inflate it? The scenario can be a frustrating one if there is nobody to help you with a bike pump. Bike owners don't want to imagine this in their heads, but a deflated tyre is inevitable. For this reason, we must be able to prepare for unforeseen or emergency situations that will keep our bike hanging on the balance. It is one thing to have a bike, and it is another thing to have a bike pump for the sustenance of the bike tyre. The best thing as a bike owner is to prepare ahead to avoid being caught unawares.
Furthermore, buying a bike pump is one of the preventive measures to be taken to avoid regrets later on. These pumps come in various features and are made by different brands that are affordable. On the other hand, you don't have to break your savings in the name of buying bike pumps. The two important things to look out for when buying a bike pump are affordability and quality. When you have these two things at the back of your mind, you will be able to figure the best that is going to suit the needs of your bike. Without further ado, let's see the best bike pumps 2021?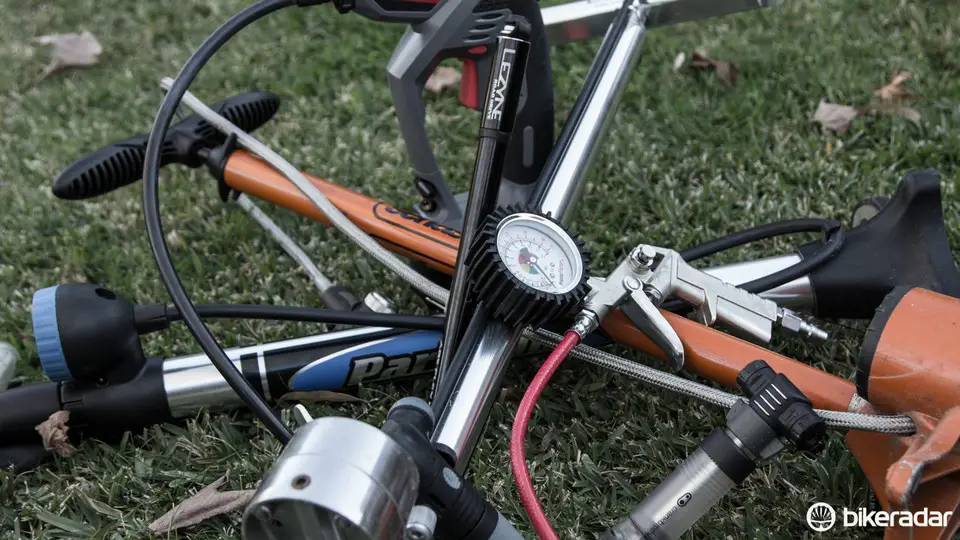 Quick Buy
1. Topeak Unisex's Joeblow Booster Floor Pump – Check on Amazon
2. Vibrelli Mini Pump – Check on Amazon
3. Schwinn 5-in-1 Floor Pump – Check on Amazon
4. SKS Rennkompressor Floor Pump – Check on Amazon
5. PRO BIKE Tool Floor Pump – Check on Amazon
6. Lezyne Steel Floor Drive Pump – Check on Amazon
7. Pro Bike Tool Mini – Check on Amazon
8. AerGun X-1000 – Check on Amazon
9. Vibrelli Floor Pump with Glueless Puncture Kit – Check on Amazon
10. Cheap Bike Pump
Best Bike Pumps 2021
The following are the best bike pumps in 2021, and here they are:
1. Topeak Unisex's Joeblow Booster Floor Pump
The good thing about the bike pump, it can be used by both amateurs and professionals. It has a high quality that has differentiated it from others. The manufacturer of the product has used good materials in order to increase the durability, and it is budget-friendly. It doesn't cost to maintain the bike pump and can last for a longer period of time.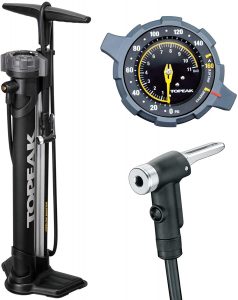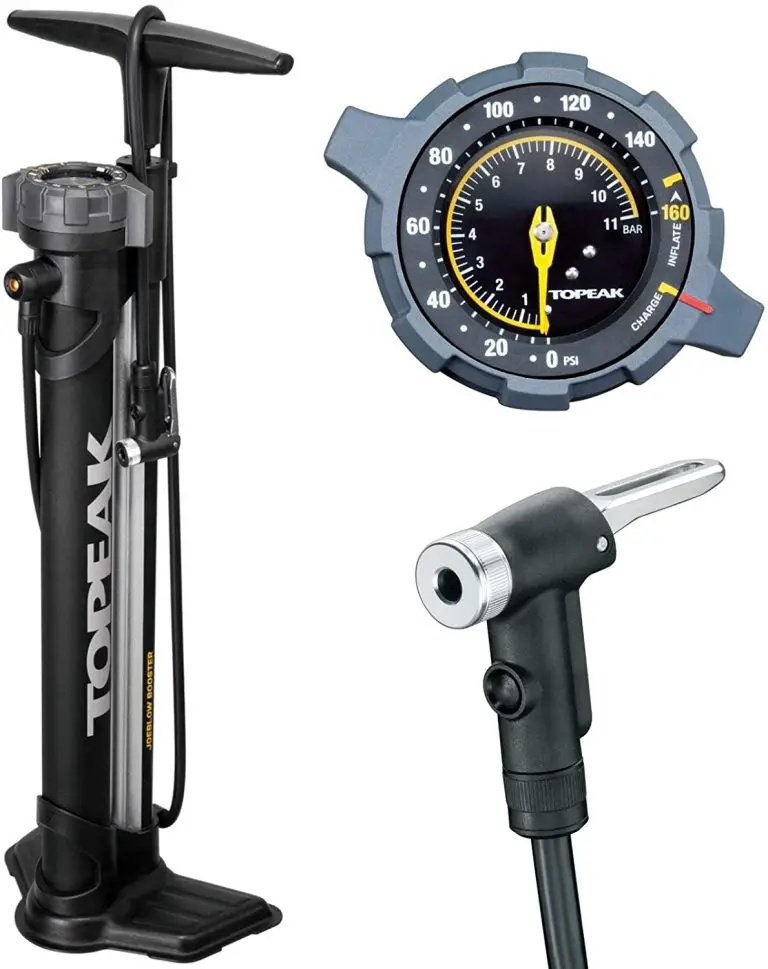 The bike pump can function well with the two major types of valves used in pumping air into a deflated car tyre, and they are Schrader and Presta valves. It has a two-sided head with different ends and this gives it many options to work with other valves. The Topeak bike pump comes with a hose that makes it easier to mount pressure inside the tyre during pumping. The base and the barrel are being produced by making use of durable steel, and the handle is big enough for comfort.
2. Vibrelli Mini Pump
This is a mini-pump that allows for mobility and portability. In some of these mini bike pumps out there, the valves are not well integrated to avoid leakage of air, but the reverse is the case with this bike pump. Based on the way the valve has been built, they are compatible with both Schrader and Presta valves to prevent air leakage.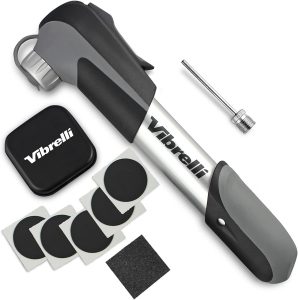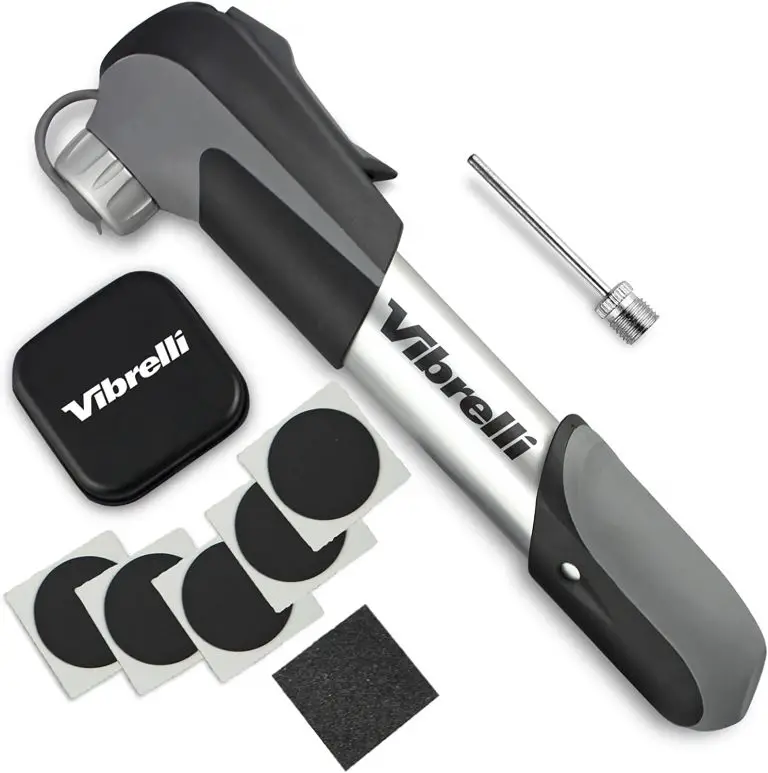 The best part of this pump is the fact you don't have to look for any adapters trying to change the valve. The valve fits itself into the bike tyre automatically even when the air pressure is high. It comes with two extra features such as a clueless kit for tyre punctures that is used to patch up the tyre, and a needle use on items such as volleyballs, footballs, basketball, etc.
3. Schwinn 5-in-1 Floor Pump
If you are in search to get good quality for your money, then this should be the ideal bike pump to serve your needs. Apart from being affordable, it comes with five different functionalities, and this makes it an amazing bike pump. It can work on any type of valve on the tyre of a bike to get air into the tyre.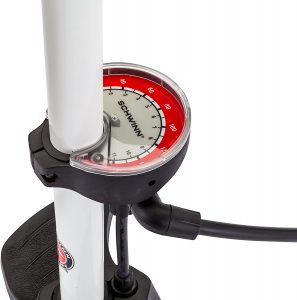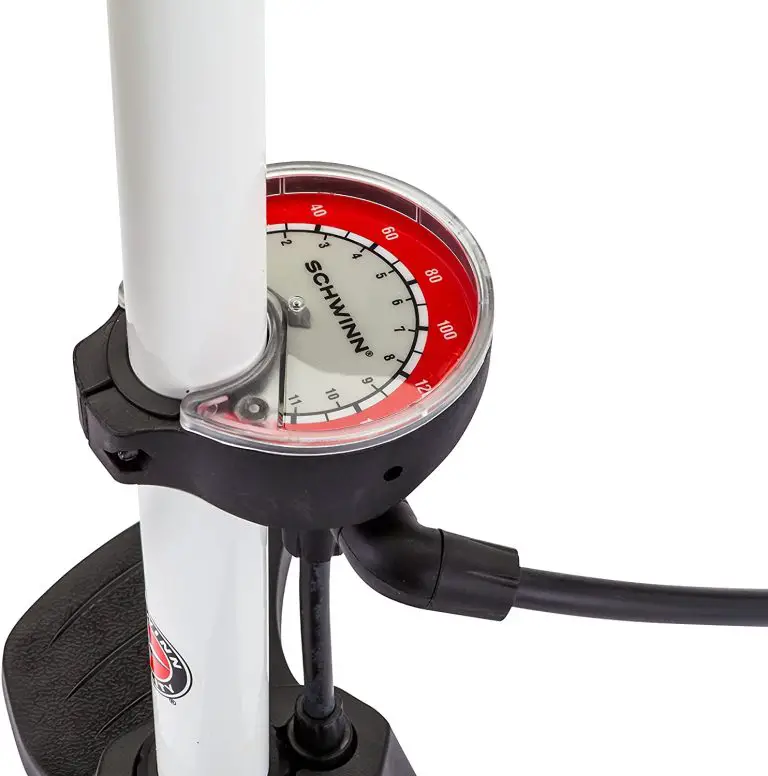 Therefore, you have to be ready to help others in distress since your bike pump can function with all kinds of tyres. The locking head of the bike pump allows users to opt for different valves – Schrader, Dunlop, Presta. These valves can be used to inflate sports balls on the field. The bike pump has been built in a way to have balance, and the user can also see the calibration of the air pressure.
4. SKS Rennkompressor Floor Pump
This is a classic bike pump produced in Germany. It has been regarded as the grandfather of all floor bike pumps. There are no other bike pumps that can be compared with this one. Durability is one of the strongest strengths of this pump because it is being made with strong cast iron and steel that can resist corrosion. These features are rarely found on most bike pumps.
Fortunately, you don't have to bother when it breaks because it comes with a manufacturer's warranty. Having the pump gives you the rest of the mind to solve any deflated tyre issue. Apart from this, there is a pressure gauge that is being found on the base of the bike pump for the reading pressure stats.
5. PRO BIKE Tool Floor Pump
The pump can function with either Presta or Schrader valve. There is a probability for bike tyres to get deflated especially when the bike is being punctured by a sharp object on the road. When a scenario like this occurs, there should be no cause for tension, because it is a portable bike pump you can carry along with you.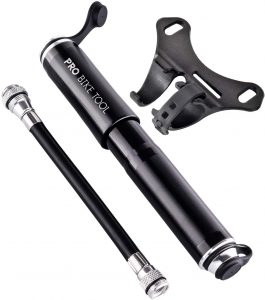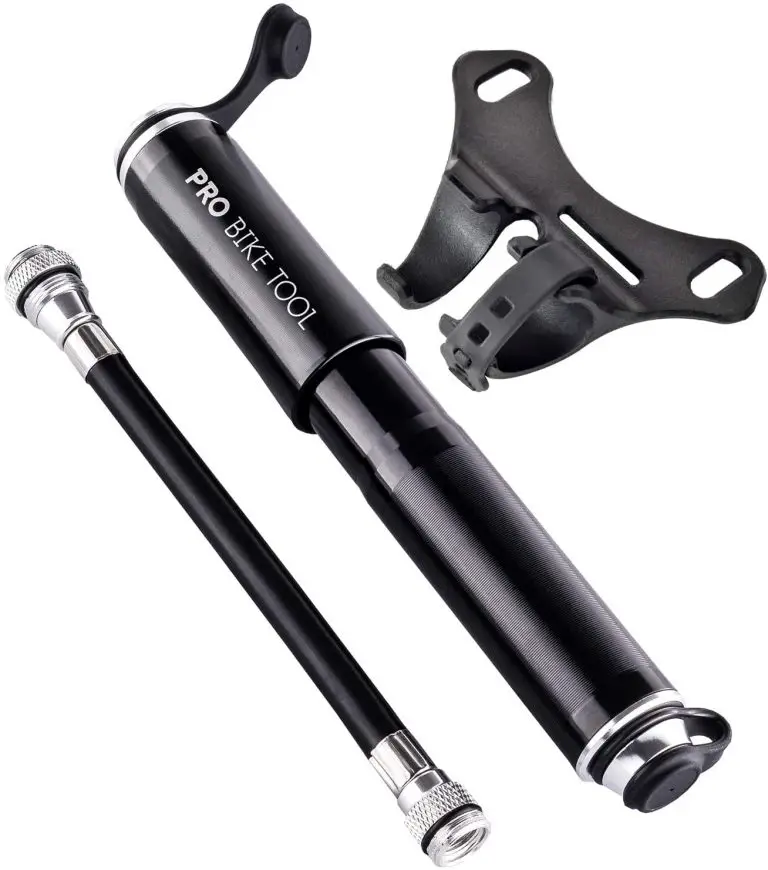 It has a lightweight of fewer than 2 pounds, and this makes it portable. The stainless steel used in building this bike pump can be folded when it not in use, and it comes with a case to keep it away from intruders. The handle is removable to allow it to enter the case, and it comes in a stylish design that makes it look quite attractive to the eyes.
6. Lezyne Steel Floor Drive Pump
This bike pump is not made with steel, and it is the first thing you are going to see in the pump. The piston is made up of steel to produce excellent air pressure, and the pump can be used with the two different valves. The materials used in producing the pump are of high-quality material.

Most of the bike pumps are usually made from plastics. The ones made with it are expensive, and they have the ability to pump air into the bike tyre within a limited time. The barrel of the pump is made from high-quality steel, and it comes in different colours such as black, yellow, or red.
The producer of this pump has been known for manufacturing attractive, quality, and high functional bike tools. This is one of the reasons they have been able to gain a high reputation. The bike pump is a mini one that you can carry along on long-distance trips in case of any emergency.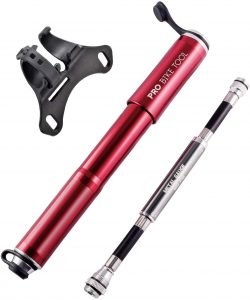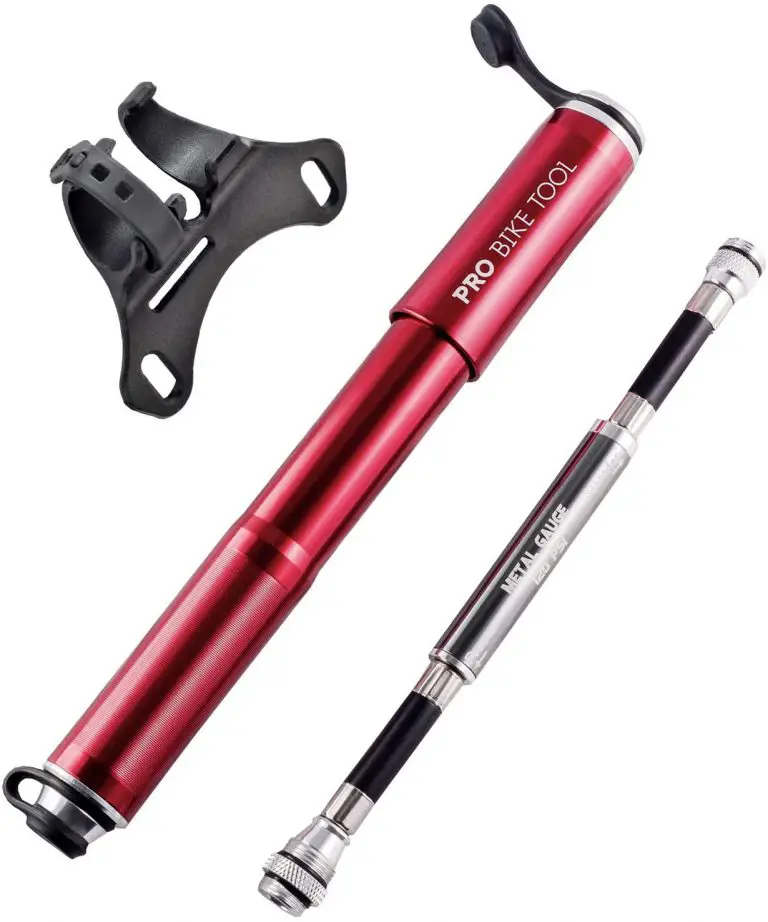 In spite of the size, it still functions well. It performs efficiently and it is easy to use by anyone. The pressure gauge on this bike pump has been integrated into the pump hose to mount excess air pressure with a lightweight of 4.5 ounces.
8. AerGun X-1000
The bike pump comes with two different types of valves that are mostly used in bicycle tyres.  AerGun X-1000 can work with any kind of valve without leaking. It has been designed with an airtight pump so that air won't escape from the type of valve used. There is a free gift attached to the purchase of the pump and it is an ebook containing the ABCs of bike tyres.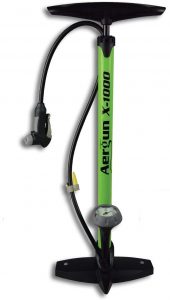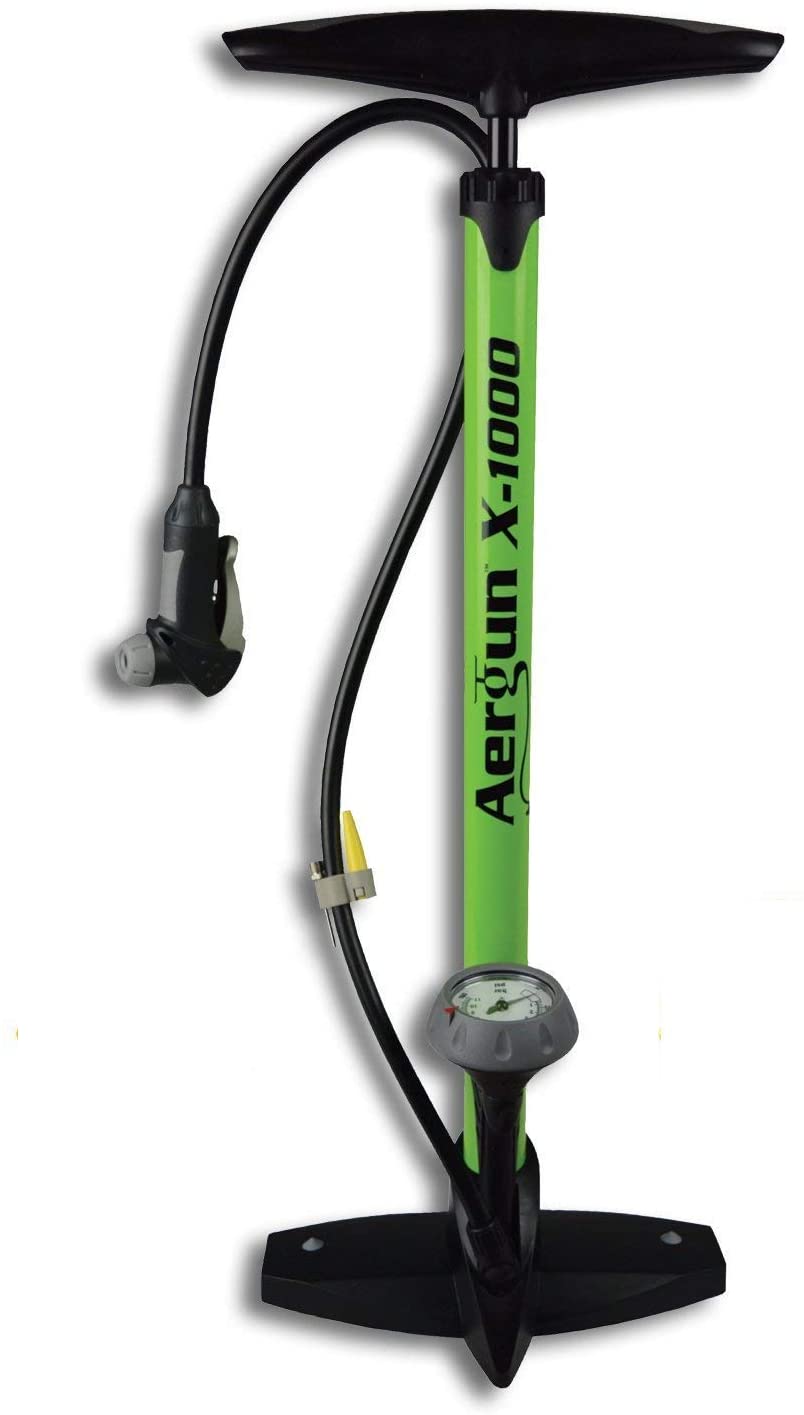 9. Vibrelli Floor Pump with Glueless Puncture Kit
If you want a bicycle pump to help you out in difficult situations with good affordability, this pump can give you what you are looking for. It can work with both Schrader and Presta valves. The puncture kit is glueless, and the T-valve makes the work easy without even looking for an adapter. The pressure gauge has been well tested to ensure it functions well.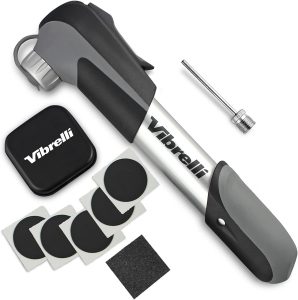 Conclusion:
These are the best bike pumps 2021 you can buy in the market. You don't have to relent on buying any of these pumps because you are going to get value in exchange for your money. Therefore, this is the time to take the bold step and get your dream bike pump.