So, you have a bicycle and you need to get a bike pump for when the need arises. And so, you are looking at the possible costs of bike pumps in sales stores. Well, we will help you solve a large percentage of that problem in this article. We will be looking at different price ranges for different types of bike pumps. Also, we will be giving a brief description of each bike pump so that you know their specific characteristics.

A bike pump is a type of air pump that is used to inflate bicycle tires. Usually, a bike pump regardless of the type it is has an adapter or connection that is used along with valves. The two most common valves used are the Presta valve and the Schrader valve for bicycles. There is also a third type of valve that is less used called the Dunlop or Woods valve. Bike pumps come in different types depending on how they are used.
There are the underline;">Floor pumps, Frame-mounted bike pumps, Blast/tubeless pump, Mini/compact pump, foot-operated pumps, and so on. The basic type of bike pumps operates with the aid of a hand-operated piston. There is also the electronically operated bike pump, this will only be useful if the right connection is used with it. Because electronically-operated pumps were originally intended for car tires.

So, having given you a brief explanation of what bike pumps are, their different types, and how they operate, let's look at the actual costs of some of these bike pumps. We will be using the Amazon online store to analyze the prices and the prices are subject to change over time. So, the prices here are as stated on Amazon as of the time this article was written.

Under the Floor Pumps Type, we have:
1. BV Bicycle Ergonomic Bike Floor Pump With Gauge & Smart Valve Head
On Amazon, this product costs $34.99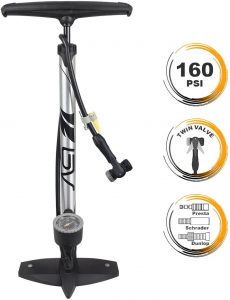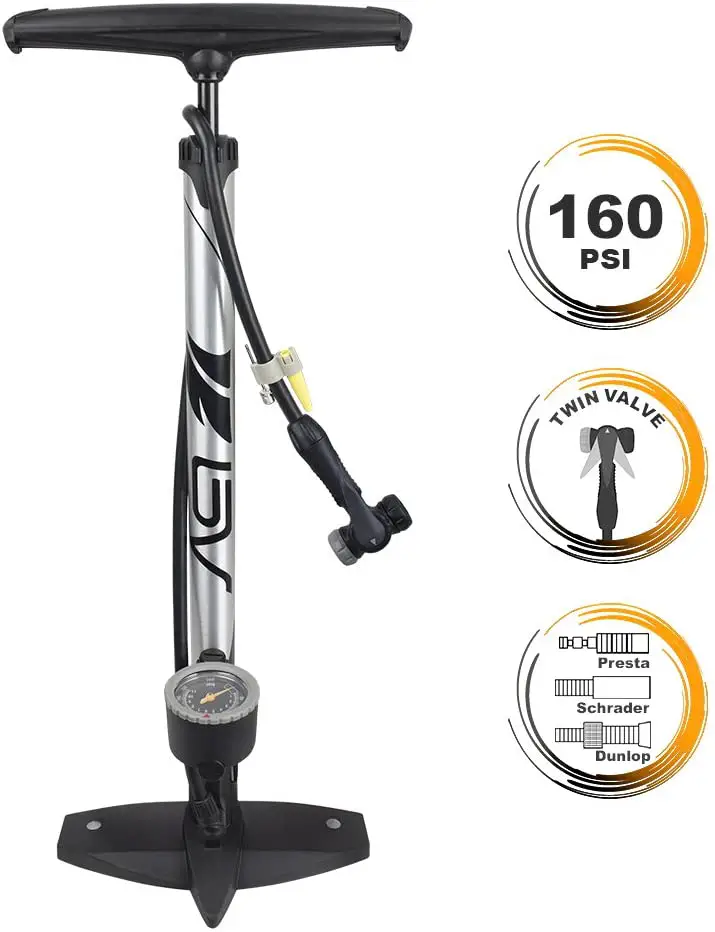 This floor pump bicycle pump from the BV Company is a good floor pump for anyone with a bicycle. It has a lockable Presta and Schrader and it alternates between the two valve heads so easily. Its manner of switching between the two of them also does not allow for any air leaks. It has a long barrel made of steel that allows for easy pumping and pushing of air. It also allows the whole process to take place fast. This BV floor pump also has a large gauge that allows you to set your desired pressure quite easily. The gauge is also very easy to read. It also has a hose that is long enough and allows for a 360 degree pivoting. The floor pump is 160 PSI and it has a good handle that will allow you to grip more firmly.
On Amazon, this Vibrelli Floor pump costs; $29.98.
This is another floor pump type of bicycle pump. And indeed, it does the job of effectively inflating your bicycle's tire. This floor pump has so many features that will allow for smooth pumping on your part. It has both a Presta valve and a Schrader valve and the two valves switch so smoothly and easily. It has a barrel that is long and made of steel, indeed very strong. The gauge is large and makes for pressure reading to be easy. It is also accurate in its readings up to 160 PSI.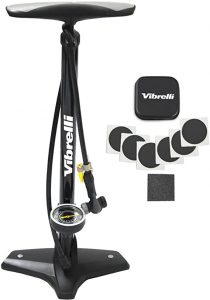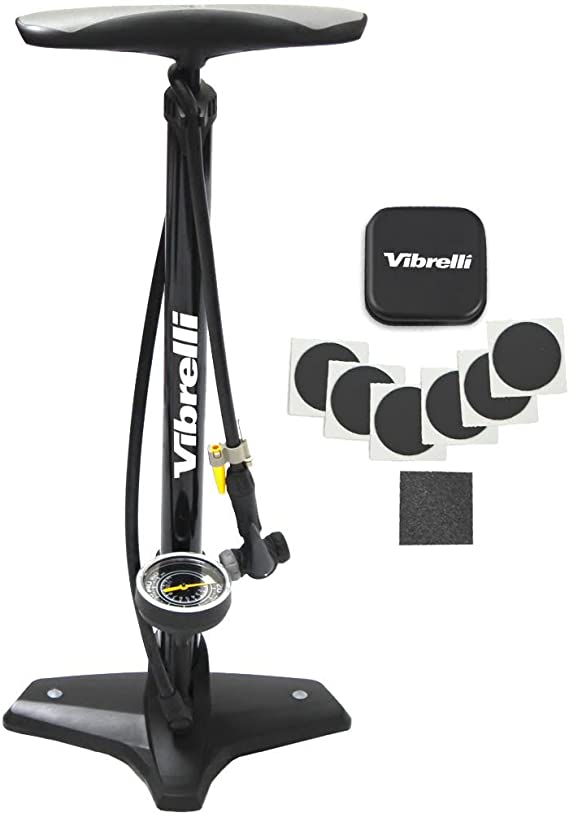 Under the Mini Bike Pump Category, we have;
1. Vibrelli Mini Bike Pump & Glueless Puncture Repair Kit
On Amazon, this mini bike pump costs $22.98 currently.
This mini bike has features like, a very fit valve that fits so well and does not allow for any leaks of air. You don't need to change the valve as it automatically connects to Presta and Schrader. The mini bike pump has an ergonomic handle, a telescope kind of design of up to 120 PSI, it has a barrel that is made from Aluminium and is guaranteed not to break, and its adaptor works for both Presta and Schrader.
2. Audew Portable Bike Pump
On Amazon, this portable/compact bike pump costs $14.99.
This Amazon's choice portable bike pump is another option for you. This bike pump is very lightweight and works to make your bike cycling faster. It is installable on the bike, it has Schrader/Ball needles. So, if your bike has a Schrader mouth or a ball needle, just inflate directly with this Audew pump. Apart from bike tires, this pump can also inflate balls. It is also made of very durable aluminum alloy and a barrel of up to 160 PSI.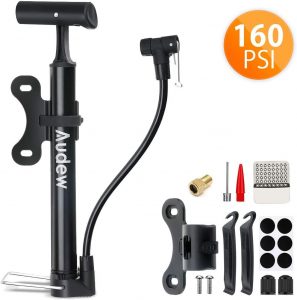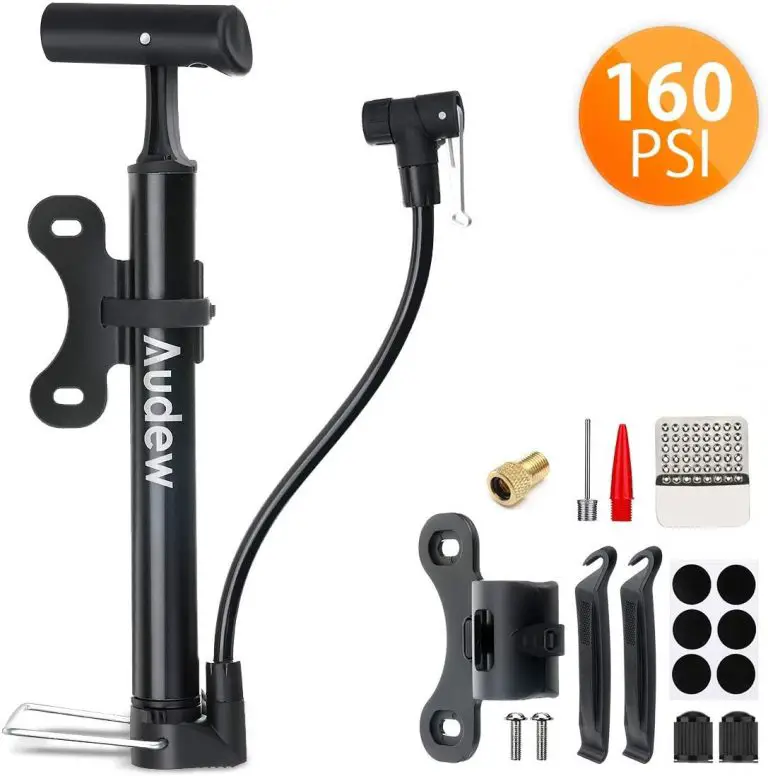 Under the Foot Pump Category, we have some like;
1. FAHZON Bike Pump Mini Portable Foot Pump
On Amazon, this costs $19.99.
This foot pump from FAHZON, has the two Presta and Schrader valves, it is made of aluminum alloy for its tube, it has pedals that are designed anti-slip, its base is also anti-slip, it has a pressure gauge for easy pressure readings, and its air pipe is designed to be antifreeze. Its pressure gauge is 160 PSI and it allows you to read the pressure in the bicycle tire easily. This foot pump can be grasped with one hand. And you will be able to inflate your bike tire with your foot.
2. Audew Dual-Cylinder Foot Pump
On Amazon, this foot pump costs $33.99 currently.
This portable foot pump from Audew is made not only for bicycle tires but also for cars and SUV tires. It is a 160 PSI foot pump that is multifunctional. You can pump most inflatables with it. It has double cylinders, a non-slip pedal for your foot for easy handling and pumping, the foot pump itself is foldable, and it also comes with a safety lock.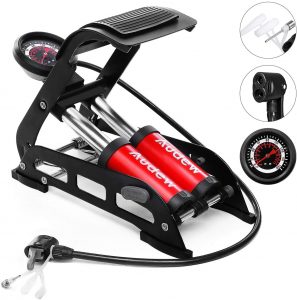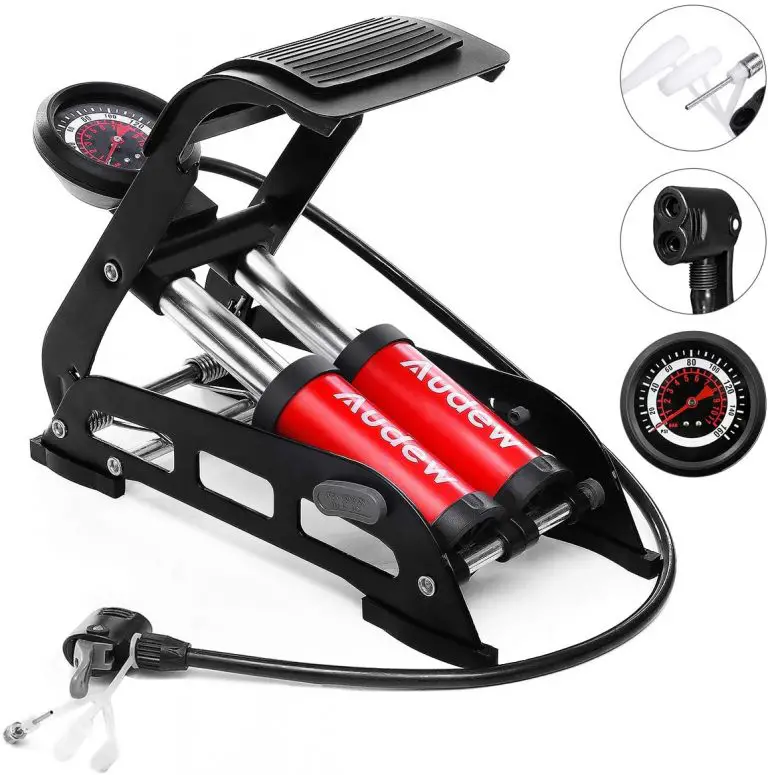 So, with these few types of bike pumps that we priced for you from Amazon, getting a bike pump for yourself should cost just around these prices listed above. We hope we have soothed the scratch that initially brought you to this article.