CO2 Bike Pumps are an alternative to the more conventional and common bike pumps. It is said that the use of CO2 as inflators surfaced sometime between the two world wars. But the exact history of it is not very clear. CO2 gas pumps are most commonly used by mountain bikers as well as road bikers too. This type of bicycle pump is very light and easy to carry.
Also, the process through which it refills is very quick hence it saves time. So, many road bike racers and mountain bikers in a race use the CO2 pumps during a race to save time. CO2 pumps could be one-time pumps or could be used over again through the fitting of a replacement cartridge. The CO2 gas pumps use 16g standard-threaded CO2 canisters. One of the downsides to CO2 pumps is the quick rate at which CO2 leaks out of a rubber tube in a bike tire faster than air. So, if you use a CO2 gas pump, you might notice that your bike tire deflates faster than if you filled it with air.

So, to the main question that brought you here! Are CO2 inflators bike pumps any good? The thing is, there are advantages and disadvantages to both the traditional hand pumps and the CO2 pumps. So, to answer your question that says, "Is a CO2 bike pump even a good choice?", let us first analyze the benefits and downsides of using hand pumps and CO2 pumps for you. This way, you can decide for yourself if a CO2 bike pump is the one you will buy and carry out for a ride or if it will be the normal hand pumps. Let's see!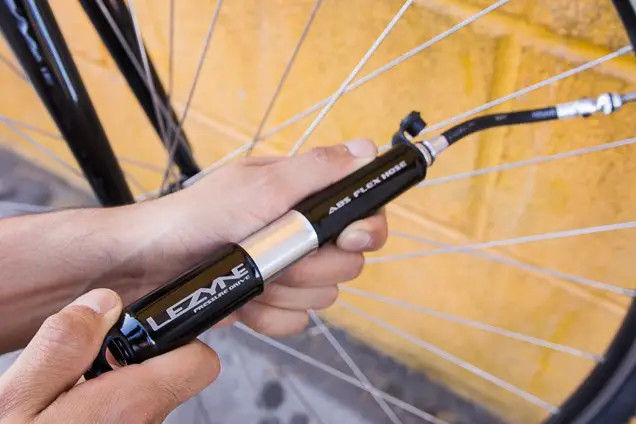 Hand Pumps
Hand Pumps are the normal T-shaped bike pumps that bikers carry around. Hand pumps come in different shapes, prices, and sizes. Some hand pumps will fit into your bicycle bracket while some are so mini that they can fit into your biking jersey pocket or a small seat bag.
Advantages of Hand Pumps
– You will never run out of the air: The hand pump will always be an unlimited air source for you. As long as you can use your hands to pump your tires, the hand pump will always be there to save you on your flat tire days.

– Very simple to handle: You don't need any special procedures to be able to pump. Just attach your hand pump to the valve stem of your bike and begin pumping! How simple.
Disadvantages of Hand Pumps
– Hand pumps might take more time to pump: The thing with hand pumps is, they are not the fastest option to pump your bike tires with. Pumping your bike tires with a hand pump is a very slow process. And not everyone has the patience or time enough for that.

– Your tires might not pump to full PSI: A bike tire can take up to 110 PSI. PSI is how you measure the pressure of bike tires. Hand pumps might not be able to give you that full 110 PSI that your bike tire should have ideally. It might pump up to 50 PSI and you have to manage your bike like that till you get home.

– Hand Pumps require a lot of effort to pump: Imagine that you have had a long day and your bike breaks down on the road, then you bring out your hand pump and you start to exert a lot of elbow power into pumping your tires. This will be a full upper body workout for you. Who likes that? Hand pumps require a lot of exertion on your part and a great deal of elbow strength.

– Not going to work for tubeless tires: Hand pumps can not work for tires with tubeless systems. A tubeless tire needs a very strong input/burst of air and a fast rate of filling. Your hand pump can not give you this.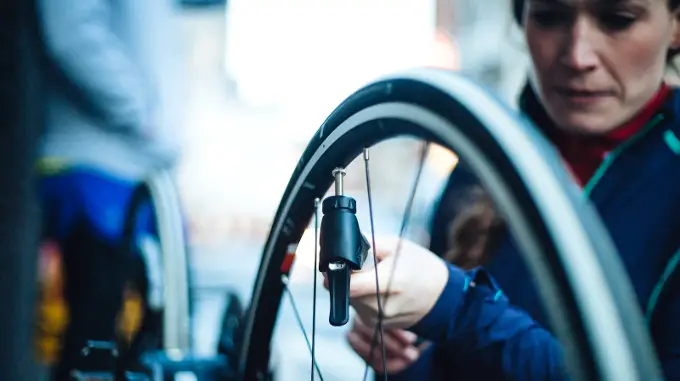 CO2 inflators
Remember that, what we are doing is, we are trying to compare a hand pump with a CO2 pump. This is so that you can check the pros and cons of each one and then decide for yourself if a CO2 pump is good for you or not. Now, let us look at the pros and cons of CO2 inflators.

A CO2 inflator has two main parts which are the CO2 cartridge and the inflator head. The inflator head is what attaches to your bike's valve stem. The CO2 cartridge comes in different sizes like the 16-gram size up to the 25-gram size. Cyclists that use the CO2 inflators usually carry up to 2 or 3 cartridges of air depending on the length of the journey.
Best Co2 Bike Inflators
1. PRO BIKE TOOL CO2 Inflator – Quick & Easy – Presta and Schrader Valve Compatible – Bicycle Tire Pump for Road and Mountain Bikes – Insulated Sleeve – No CO2 Cartridges Included (Black)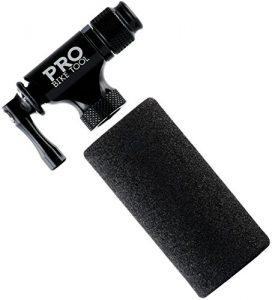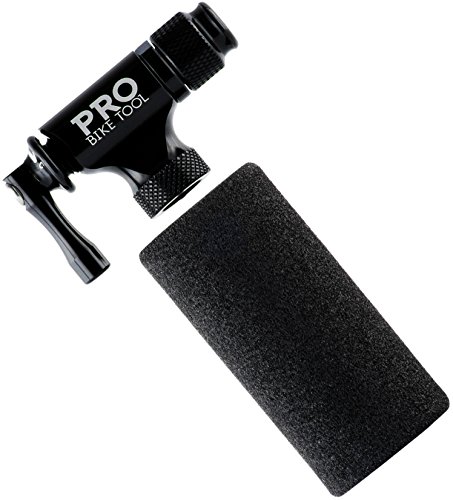 2. Gorilla Force | CO2 Cartridges 16g Threaded | 16 Gram C02 Cartridge for Bike Tire Inflator | Refill Cylinder Fits Bike CO2 Pump | 5 Pack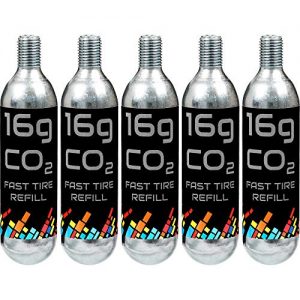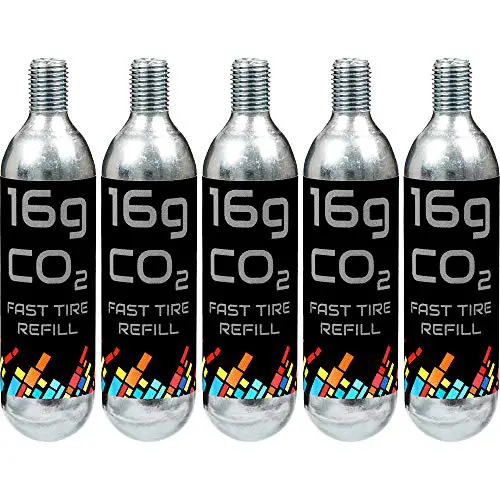 3. PRO BIKE TOOL CO2 Inflator with Cartridge Storage Canister Quick, Easy and Safe – for Presta and Schrader – Bicycle Tire Pump for Road and Mountain Bikes – No CO2 Cartridges Included (Titanium)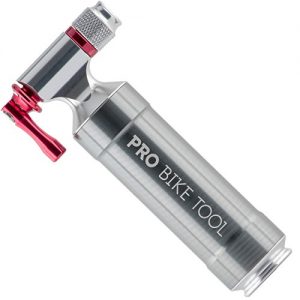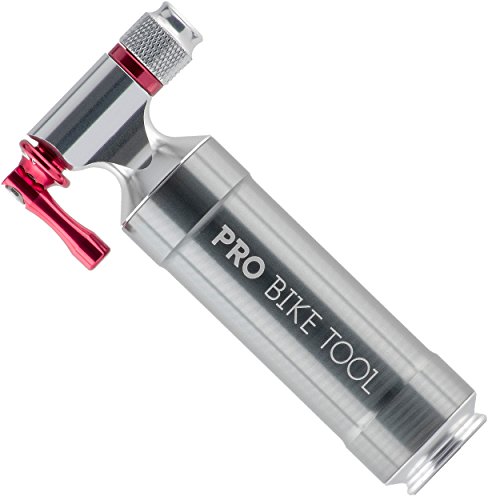 4. Mini Bike Pump with CO2 Inflator – Dual Mode Hand Pump/ CO2 Valve – Portable Bike Tire Pump Patented Auto-Switching Twin Head Fit Presta/Schrader, No CO2 Cartridges Included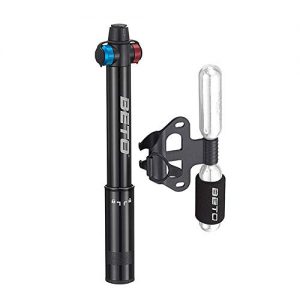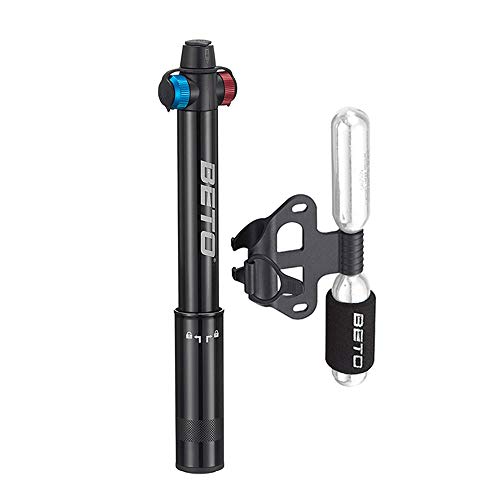 5. Ezi Bike Pump – CO2 Bike Tire Inflator – Bicycle Pump with CO2 Cartridge – Trigger Control – Mini Size of 5.7 inches – Quick Release from Valve – Lightweight – For Road and Mountain Bikes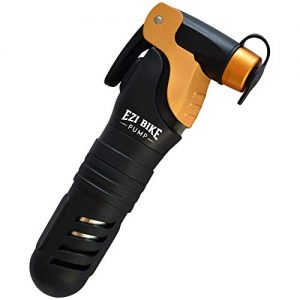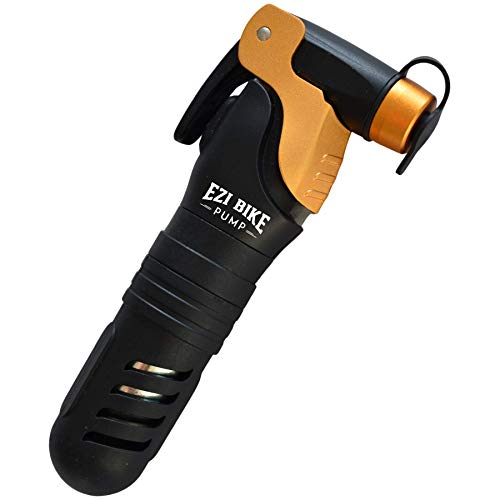 Advantages of CO2 inflators
– They are very small: Both the CO2 cartridge plus the inflator head make a very small pair. It will not take a lot of space at all.

– Lightweight: The CO2 pump is very light to carry. Hand pumps are not as lightweight as CO2 pumps.

– Fast rate of pumping. CO2 pumps are faster than your average hand pump when it comes to pumping rate. A CO2 can pump up your bike's tire within one minute. This is why during races, CO2 pumps are more preferable to use. They get you back in the racing game quickly and are light to carry on a bike.

– Less energy and exertion from you: You don't have to use all of your elbow strength to pump unlike with hand pumps. Once the inflator head is attached to your bike's valve, then you can trigger the CO2 to start dispensing into the tire. Within 30 seconds to 1 minute, your bike's tire will be fully inflated.
Disadvantages of CO2 Inflators
– You keep spending: You need to keep purchasing the CO2 cartridges on a regular basis once they are used up. Unlike the hand pump which is a one-time expense, the CO2 inflator is an ongoing expense item. The CO2 cartridges are not in any way expensive but you need to buy them after consumption.

– CO2 cartridges can finish: This means that if you are on a journey and you get multiple flat tires and you use up your CO2 cartridges, there is no back-up for you. Once the CO2 cartridge is depleted, it is depleted.

So, with the advantages and disadvantages laid bare on your screen, it is really up to you to decide whether a CO2 bike pump will be good for you, your riding lifestyle, and your bike in the long run. SO, weigh the pros and cons of the CO2 bike inflator against the trad hand bike pumps and then, make your decision.