In need of a good and easy to use, quality bike tire pump without breaking a bank just to make purchases, then I could be of help. Seeking for a list of the least expensive bike pumps ain't a bad idea but a choice towards frugality.
It has become an issue of high priority that every cyclist should have a bike pump as part of the bike kit, but the price to invest in one has become a hindrance to the majority of bikers out there.
This review won't be limited to mini bike pumps alone but will spread all types of bike tire pump. These types include; mini bike pumps, CO² inflators, Track/Floor pump, and Tubeless inflator.
The pumps in this review are not only cheap in price but are also of quality standard in durability, pressure output, design, and custom tools.
The price tags attached to each of these items are based on online stores. Import duties, Tariff Fees, delivery charges are excluded from the price I'll be offering here.
The cheapest bike pumps in the market seem to be pegged not too higher than $50-70. No doubts, Amazon seems to have the cheapest bike tire pumps in the Market.
Emoly Mini Bike Pump remains the cheapest bike pump in the Market. It doesn't just pass for its price but also for its function, durability, and pressure level.
It comes with a portable foot-activated pump. Universal Presta and Schrader Valve. High pressure of up to 120 PSI.
Ability to pump bike tires, Basketballs, Footballs, mountain bike tires, and road bike tires. It comes with an amazing price of $11.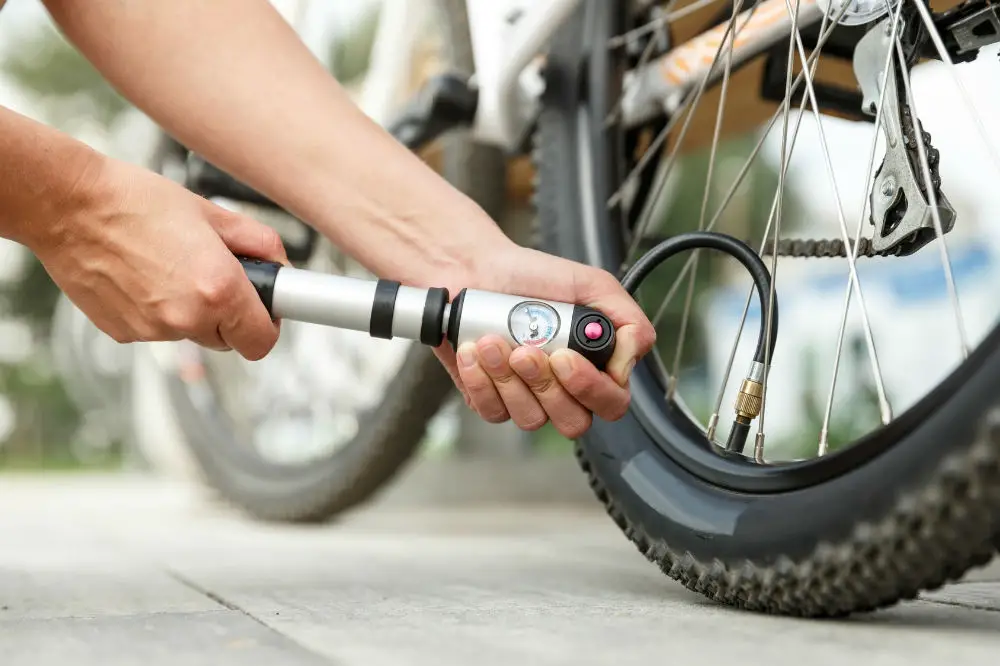 The Cheapest Bike Tire Pumps on Amazon
TOPEAK ROADIE DX11
This 26cm pump comes with a hyper pack of pressure for your high-end mountain and road tires. Pressures which are as high as 120 PSI, fitted with a dual-action piston that enables it to inflate your tires way faster. This fast inflation comes about as the pump inflates on the double pump stroke. This entails that Topeak Roadie DX-II has the ability to inflate tires both on the Upstroke and downstroke.
For durability, the pump is made from lightweight aluminum, weighing less than 5Oz (4.16Oz / 118g).
It comes with a default carriage that lets it fit into your bike using a side-mount bracket.
With a double head, it can be able to pump both Presta and Schrader valves alike, plus a 2-year warranty.
JOE BLOW SPORT III
Thinking a benchmark for quality, then think JOE BLOW SPORT III. This pump is built for durability and high performance at a fair price too. It comes along with a 3″ chronograph inspired gauge and a twin pump head.
With a steel barrel and base, it's durability level is increased. Delivers high pressure for as much as 160 PSI with a pressure indicator that easily shows you when you've reached this mark.
In its product pack, it comes with a ball and bladder head(needle) to enable you to pump your sports ball, beach ball, or floats.
LEZYNE FLOOR PUMP
Counting Amazon's bike pumps that sell faster and frequently, you'll surely add LEZYNE to the last.
This pump comes in variants; Lezyne's classic floor pump, Lezyne CNC travel drive pump, Lezyne steel floor pump.
All are similar with just slight variances.
Lezyne classic floor drive bike pump features a steel barrel and piston and an aluminum base. A 3.5″ gauge fitted to the feet of the pump and a high-pressure release of 220 PSI.
An extra-long high strength hose with an aluminum coupler makes it easy to attach the pump to your valve without damaging any of the two.
LEZYNE PRESSURE DRIVE
Now here's a mini-pump that is not just portable but highly effective as most track pumps and floor Pumps.
Having the ability to deliver high pressure to your tire for as high as 120 PSI with Presta and Schrader hose enabled.
This pump has its portability for as small as 170mm-216mm. It's lightweight is backed up with durability as it is made with CNC machined aluminum parts. Its oversized piston and shaft design help you reach your desired pressure with 30% fewer strokes than most mini bike pumps in the market. Quite on a cheap scale of $63 – $99.
PLANET BIKE ALX 2
Still, on the count for cheap bike pumps, we have this amazing and reliable Bicycle pump. This pump doesn't just rank as the best in its range but also competes with strong and good pumps like LEZYNE that are even costlier than in it, on quality grounds.
On Amazon, Planet Bike ALX 2 hangs on a price tag of $50 – $55.
Nonetheless, at this cheap offer, it has more high-quality parts than any pump comparably in its price range.
This pumps with a length of over 80mm (over 3 inches) taller than pumps of its generation. An aluminum barrel is light-weighted to enable portability.
Planet Bike ALX 2 is professionally designed with a love handle so as to perfect a comfortable air compression and grip for the user. It is fitted with a spring at the bottom of the stroke to act as a shock absorber and a smooth feel. It is fitted with a strong and large gauge for pressure checks and balances and also engineered with an auto valve head that can fit into a Presta and a Schrader valve, having the ability to inflate UP TO 160- 200 PSI.
With comparison with other bike pumps, the ALX 2 inflates tires faster than almost every pump on this review, including the Lezyne Classic Floor Drive.
Durability is another bonus gift to the product as its body is all wrapped up except for the head that is made of plastic. Ranging from its base to its barrel and a wrap of its piston, all are coated in aluminum/steel. Its head is fitted with highly enhanced fittings as you can lock up the head with the bicycle's valve once it's fitted in.
Making this pump as amazing one, this bike pump has placed on it an insignia which indicates that it comes with a limited lifetime warranty compared to other bike pumps that are usually tagged with a two-year warranty.