Hey there, are you searching for a cool bike pump with a gauge? You are at the right place to get the special one for you. Read on to get the best bike pump with gauge.
One of the major features of an ideal bike pump, electric or manual is the Gauge accuracy and display. When you choose the right hand-pump having all the right accessories, you will have a better riding experience without bothering about a flattened tire.
Among the myriad options available in the market, it Is ideal to choose bike pumps with a gauge. In this post, we are going to walk through the best of them.
Why choose a bike pump with a gauge?
Not all bike pumps include a gauge, but if you are going to choose any decent hand pump you should consider the gauge feature more importantly.
With a hand pump with a gauge, you will be able to read the amount of pressure being applied to your tires so that you do not over-inflated. I can barely imagine a perfect hand pump without a gauge. For example, if you're trying to accurately inflate your mountain bike tire between 23 and 25psi you'll need a gauge with a low-pressure accuracy (or just a separate pressure gauge). 
If you are on a low budget, you may want to consider pumps with non-digital gauges. But ones with digital gauge seems preferable by most people who can easily afford it. 
Review of the best bike pump with a gauge?
Having understood the importance of hand pumps with gauge, lets now take a look at a list of the best bike pumps with a gauge to buy.
Vibrelli Performance Bike Floor Pump with Gauge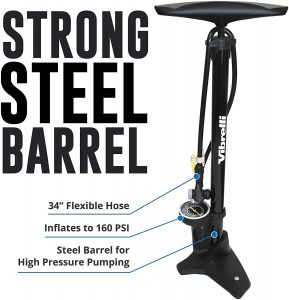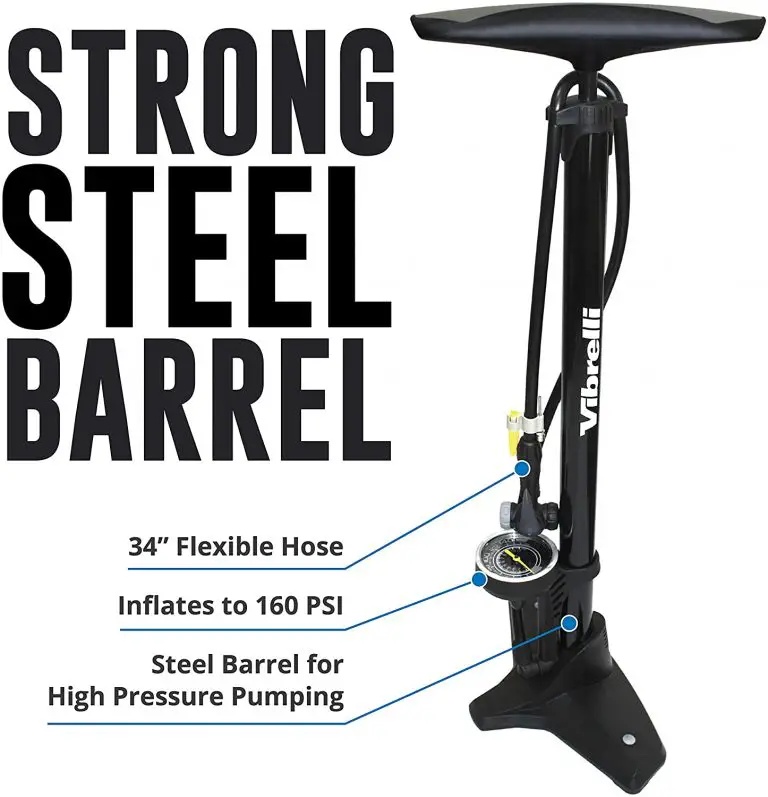 About product
it appears that reviewers love this bike pumps really so much as it bags over 3,370 ratings and an amazon choice for "bike pump".
Apart from the easy to read gauge display, it Inflates up to 160 psi, even for high-end equipment! Yes, I agree that it doesn't come cheap like other basic bike pumps but it is definitely worth every penny. 
With this bike pump, you can now be more than confident when pumping your bike, all thanks to the accurate gauge. Think of any important feature that a bike pump should have and they will never be found missing in this Vibrelli Performance Bike Floor Pump with Gauge 
If you really want to enjoy the pleasure of easily pumping your bike, then this is the right one to pick!
Reasons to buy
Supports Schrader and Presta style valves.

You can be sure not to get leaks as with other less quality bike pumps

Compact and easy to carry on the road

Not cheap and deserving
Cons
Powerful. However, not considered as the most durable
Audew Bike Floor Pump with Gauge 
About product 
This is yet another amazing bike pump with easy to read gauge display that is ever accurate to give you confidence when inflating your bike tires. The floor bike pump is designed with stainless steel material, making it much better than ones made with plastic and aluminum.
Interestingly, it only requires 10 times pumping to fill up a bike tire, this makes it a perfect choice for an emergency as it will save time and hassle. The pump head supports both Presta/Dunlop and Schrader valve making it very handy without causing air leaks.
I also like the fact that they've got cool after-sale service on this particular product.
Reasons to buy
Easy-to-read Large Gauge

Steel Construction Floor Pump

Fast Inflating Bike Pump

Presta/Schrader Dual Valves

After-sales about Floor Pump
 Cons
Appears to be very lightweight and poorly balanced.
TOOLITIN Bicycle Pump with Gauge Portable Bike Pump
About product 
Appreciate the Real-time display of air pressure data by the accurate gauge of this TOOLITIN Bicycle Pump with Gauge Portable Bike Pump. Using this bike pump makes it easier to visually see and fit proper pressure. The bike pump comes with a ball needle and two inflatable devices. It is really convenient to use especially when pumping with the hand.
It is among the best bike pumps when it comes to durability as the body is made with a thicker aluminum alloy which is corrosion resistant. 
I also like The widened rigid plastic base of this bike tire pump because it is not heavy and relatively easy to use. Take note that The pressure of our air pump can reach to 6.2 BAR / 90 PSI, but safe air pressure is 90psi. 
It is definitely impossible to have a tire blowout when using this bicycle pump, all thanks to the accurate gauge.
Reasons to buy
Real-time precision barometer

A cool removable parts box

Thicked aluminum pump body

Widen and thicked pump base

Safety pressure warning
Cons
Quite hard to pump with both legs so close together
ACACIA Bicycle Pump with Gauge Fits Presta and Schrader 
About product 
ACACIA Bicycle Pump with Gauge has been specially designed by engineers such that it can withstand greater pressure to ensure 30% more. It Is really versatile as it can as well fit into PRESTA & SCHRADER  with a simple push to switch valves.  
It is reliable and useful in times of emergencies as you can easily carry it on the road. In addition, and most significantly is the pressure gauge that has been creatively designed with a tube-in-tube design that will help avoid gauge falling off and difficulty in reading numbers.
Lastly, The air pump can be installed under the water bottle rack to save space. It is lightweight, compact, and potable.
Reasons to buy
Easy pumping and high pressure

Efficient inflation

Fits Presta and Schrader

Multi usage

No leaks
Cons
We couldn't find any drawbacks of this bike pump. The majority of the users seems satisfied with the product.
Cilkus Bike Pump with Pressure Gauge 
About product
It is a small but mighty bike pump with just 17cm height and 350g weight. This bike pump is inarguable loved by many as a result of how convenient it is to carry and how effectively it can handle tire leaks anytime, anywhere. 
You should try out this bike pump with a gauge made by Cilkus as it features both french and American valves. With just this single pump, you can inflate bicycles, electric cars, motorcycles, sports balls, and swimming rings without replacement. 
It is a very strong and durable bike pump as the inner and outer tubes are made of aluminum alloy. The body compartment is anti-freeze and high temperature resistant and the product is backed by a one year warranty.
Reasons to buy
Good appearance design

Stable and durable

12-month warranty
Emoly Bike Pump, Upgraded Mini Portable Bicycle Pump, Foot Bike Pump with Pressure Gauge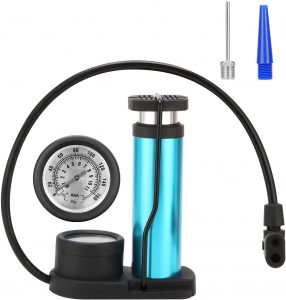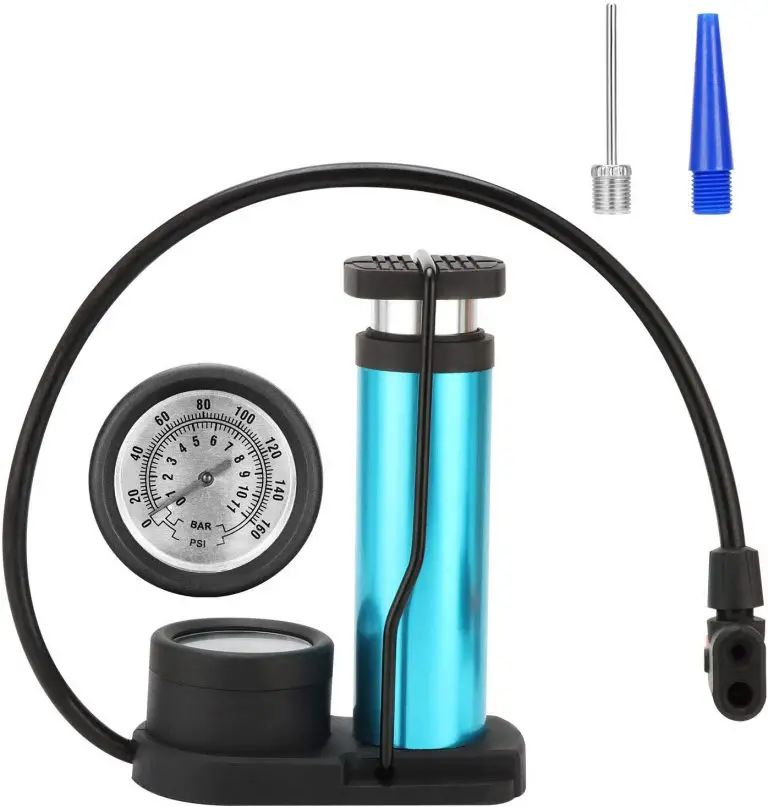 About product 
The Emoly Bike Pump is for sure an impressive one that poses as a nice gift item to loved ones who have bikes. It features two pumps which makes it useful and your bike safe to ride even if you switch between road and mountain while riding a bike.
Most valuable is the pressure gauge that allows you to clearly see the accurate measurement of pressure in order to prevent a blowout or over inflation. It is as well lightweight, portable, easy to handle, and easy to carry around. It is very versatile. It has Presta and Schrader valves that will work for inflating tires of bicycles, electric vehicles, motorcycles, air cushions, swimming rings, Basketball, football, lifebuoy, and most inflatables.
Reasons to buy
Twin valves

Competent pressure gauge

400;">Universal Presta and Schrader valves
Cons
Some buyers claim that this bike pump is not as powerful as described. We may have to wish you good luck if you choose to use this bike pump any higher than 60 lbs.
Have a nice time riding your bike without worrying about unexpected punctures. All thanks to these best bike pumps with a gauge that gives you confidence when inflating your bike tires because there will be no blowouts.