A bike trainer is a good tool for indoor training, however, you don't need to ruin your carpet in the course of practice, you need a mat.
Just as Yoga mats are designed for your comfort during Yoga practice and meditation, bike trainer mats are engineered to meet the demands of your trainers.
A bike Trainer mat is a specifically fabricated floor mat which helps in dampening and reducing the vibrations emanating from the bike during indoor training.
That you exercise in your home, doesn't mean every other person should leave the room while you do so. More importantly, fitting a bike Trainer directly to your home floor can damage your carpet, and marble, or scratch its entire beauty. With a bike trainer, you are assured of a flat, solid platform to take on your indoor rides.
Long trainer rides can be so sweaty, you need something to absorb those sweats as they drop off your body, except you are okay with your floors having the sweaty-like smell. So if there are reasons why you need a bike trainer mat, it includes:
1. Noise dampening
2. Sweat Absorbing
3. Floor Preservation
However, considering the great need for trainer mats and the burden it has to bear, it will be nice you get a 'good' one to avoid disappointments.
In this review, I will be offering you some of the best trainer mats in the market and easy access to purchasing them.
Cycling Deal Bicycle Trainer Mat
Cycling Deal Bicycle Trainer mat is a PVC mat with 6mm thickness and 76cm (30 inches) width, and 152cm (60 inches) length.
This bike trainer mat is strengthened with top layers for extra foundation, and a no Slip Mat Bottom, designed with extra soft, thick and durable raw materials which ensure protection for your carpet and floors, without worries for floor tears and bicycle slip offs.
Cycling Deal Bicycle Trainer Mat comes into two versions; soft and hard. Both are constructed to durable standards but with slight variations.
Soft mats are trainer mats designed with an easy to fold function, easy to assemble, and great for light equipment and body stretching before and after bike exercise.
Although soft mats can be considered to offer great protection for wood or tile floor they are not generally good for heavy equipment such as a treadmill or weight equipment or super heavy duty.
Cycling Deal Bike trainer Mat fits perfectly for Ergo Mag Fluid and Peloton Spin Bikes.
This trainer mat could have a light smell after unmounting it from the carton, but this smell usually disappears after a few moments of usage.
Price: $72.99
Wahoo kickr multi-purpose Floormat
Wahoo Kickr bike trainer floor mat is a water-resistant, anti-slip, noise-insulating, safety bevel edge, thick floor mat that keeps your trainer in place perfectly absorbs sweat, and keeps noise on check during your indoor exercise.
Its anti-slip texture offers a gripping feature that keeps your trainer fit in place while the Safety Bevel Edge keeps the trainer mat glued to the floor.
Price: $154.00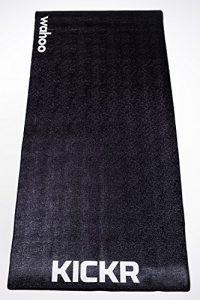 Kinetic Trainer Mat
Kinetic Trainer Mat is a durable closed-cell PVC foam floor mat professionally designed to withstand trainer pressures.
Kinetic Trainer Mat is a 1-2 cm thick trainer mat with a water-resistant feature that helps absorb sweat and perspiration.
This trainer mat has a rugged surface, soft although not slippery, offering your trainers a strong grip by keeping your bike from moving out of position and also acting as a noise barrier between your trainer and the floor. Its cushion effect ensures it acts as a noise barrier by reducing vibrations during exercises.
Kinetic Trainer Mat is a heavy-duty mat that can work well on treadmills, although you will need to confirm the width of the item you are planning on placing on it, however, in overall, Kinetic Trainer mat greatly protects your floors from damage.
Price: $69.00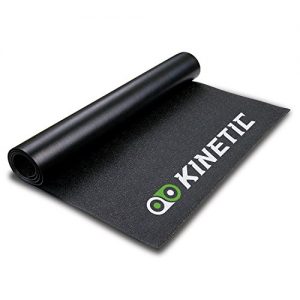 Saris Cycleops Training Mat
Saris Cycleops Training mat is a US-designed training mat of sizes 65 inches length and 36 inches width and a 1-year warranty to ensure customer satisfaction.
This durable rubber training mat is slim, although not skinny, pliable, not too soft, not spongy, strong yet bendable with great functioning ability to prevent scratches on your floor and also absorb sweat and perspiration.
Saris Cycleops Training mat works well on carpets and can withstand minimal damages from SPD cycling cleats and also offers a strong grip, preventing your bike from rolling off.
This training mat is designed with an isolator Technology that ensures great noise and vibration absorbing and beautifully produces no smell during usage.
There is one more thing why I love this training mat, it is easy to clean. You could call me lazy, but I hate wasting much time and energy scrubbing mats.
Price: $79.99
Amazon Basics High Dense Training mat
AmazonBasics Training may is a high-density PVC mat that serves perfectly to be placed under a home-gym rowing machine or a bike trainer.
AmazonBasics Training mat is designed as a soft mat with a thickness of 0.2 – 0.5 inches providing and extra padding for your bike equipment to be laid upon. Its cushioning effect makes it a great pick for aerobic activities.
This training mat measures 3 ft (36 inches) width by 8.5 ft (102 inches) length which offers a considerable large space to contain your trainer or possibly your treadmill, although this depends on the weight of the treadmill.
AmazonBasics' high-density fitting makes it an amazing protective barrier for your floors and carpets reducing the risk for tears and floor damages.
Designed with a sleek black color, offering a coordinated, Dedicated, and organized working space, a 1-year warranty, Amazon Basics stands as a good pick as a bike trainer mat.
It is smooth and clean though with a not so soft surface offering a gripping feel for your bike trainer, eradicating the possibility for trips or falls.
Price: $62.49
How to identify a good Trainer mat?
1. Its Materials
Bike Trainer mats are made of either PVC, rubber, or vinyl composite. The type of material used for your trainer mat determines its durability. Personally, I would prefer bike trainer mats made of vinyl composite, because they are stronger and they don't smell, difficult to break, and more importantly, I hate having a hard time scrubbing mats.
Well, that doesn't mean bike trainer mats made of any of the other materials are inferior.
2. Its Thickness
It is a natural accepted reasoning, 'the thicker, the better'. Probably, that is why 80% of men love thick women.
That is not the center of my discussion though, apologies for the drift.
Thick Trainer mats absorb heat drops better and offer more protection to your floors.