Cycling is inarguably one of the best sports experiences anyone can have. These days, cycling keeps embracing revolutionary trends. The use of Speedometers, GPS trackers, Odometers, Cameras, getting any digital bike accessory for your bike is necessary but the problem lies in getting the best out of the multitude.
Speedometers are built to help the rider know his speed levels and pedal cadence records.
Having an account of how fast you are going, your pace ability, it could help give you a glimpse of your cycling capacity, and if there is a need to improve or reduce your aggression.
Bike Speedometers are of different quality, brands, and styles. Some are designed as basic models, while some are Technologically sophisticated.
Its model design highly affects the price attached to the speedometer.
However, I will be offering you 10 of the best bike Speedometers. This review covers their value for money, navigation ability, and battery life. Other features that can scoreboard on each product will be enlisted to help you make a good decision plan.
The majority of the Speedometers in this review also function as an Odometer.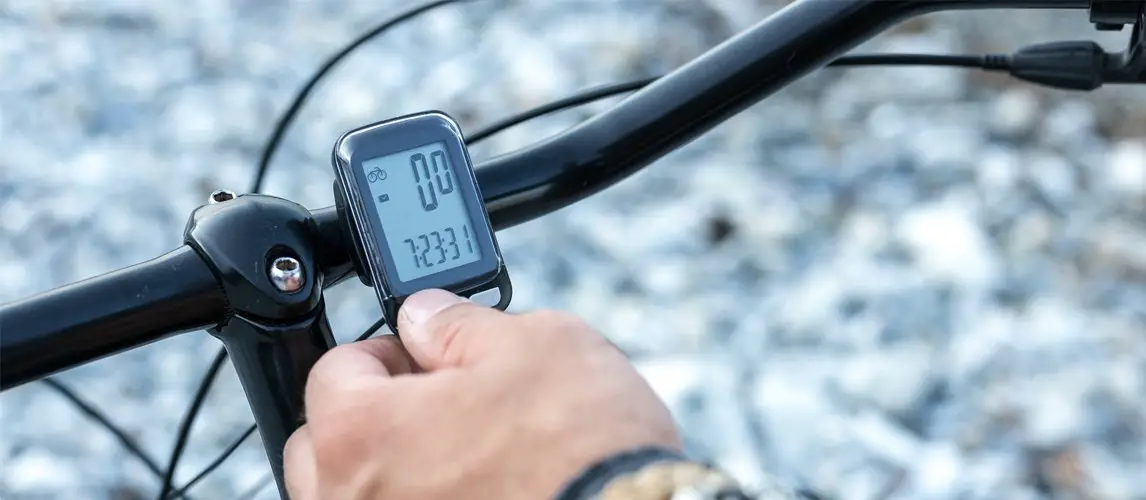 The 10 Best Bicycle Speedometers (2021 Review)
SY Bicycle Speedometer/Odometer
SPECIFICATION
Size: 15.88″L x 3.9″W x 0.9″H
Material: Blend
Weight: 0.09kg
Price: $16.99
OVERVIEW
SY Bicycle Speedometer performs a dual function as a bike accessory, serving both as a speedometer and as an Odometer.
It helps you calculate how fast you go, as well as how far you go.
This digital speedometer is designed with a clear and Readable LCD display featuring a day and night mode that helps you see your ride statistics, and also a mounting magnet for the sensor.
Its sensor holds a wire we inductance distance of  ≤680mm from the speedometer. So it's preferable you fit it to the bike spokes.
Designed with a protective film covering on the device to protect its screen, an odometer, a clock, a comparator, and a shake to wake up feature.
PROS
Easy Installation

Odometer

Its shake to wake up features sets on the speedometer immediately when movement is detected.
CONS
Not compatible with some E-bikes

No GPS tracker
Chileaf Bike Speedometer
SPECIFICATION
Size: 3.94″L x 1.57″W x 1.97″H
Weight: 0.1kg
Material: Aluminum-Silicon
Price: $26.99
OVERVIEW
The waterproof speedometer comes as a triple accessory pack. It comes with a bike bell, a head/tail light, and a digital anti-glare speedometer. It is powered by 2 CR2032 batteries which are included in the product package, which delivers power to the 350 lumens bright light.
Its 1500mah Lithium battery supports a battery life of up to 5-8 hrs, and also a fasting charging mode. Accessories included; a 120 high decibel DB horn, sensor, front light, and tail light.
PROS
IPX65 Waterproof

Anti-glare

Accessories

Odometer

Easy Installation
CONS
Too many accessories for a speedometer
Make the One Bike Speedometer
SPECIFICATION
Size: 3.78″L x 3.78″W x 3.31″H
Weight: 0.75 Pounds
Material: Blend
Price: $12.40
OVERVIEW
If you are looking for a speedometer that reads just like a car's analog speedometer, then MAKE THE ONE is a nice choice to make.
Reads in Km/h, with its odometer reading in RPM, resettable, and having a bayonet size of 2cm. It is fitted with a 38cm cable. This speedometer is designed as a simple model with no extra accessories.
PROS
Can work on E-bikes

No need for batteries

Crystal Acrylic Glass
CONS
Not suitability for quick release wheels.
Soon Go bike Speedometer
SPECIFICATION
Size: 1.77″L x 1.77″W x 0.77″H
Weight: 1.6 Ounces
Price: $14.99
OVERVIEW
This multifunction bike Speedometer doesn't just have the ability to perform as an Odometer but also delivers speed readings in different formats; Average Speed AVS, Current Speed SPD, Maximum Speed MAX, and Calculates speed on MPH or KM/H.
Soon Go Bike Speedometer handles a wireless connection with the help of a ≤60cm sensor.
Its additional features include a mounting magnet, overall traffic mileage ODO, and a single lane mileage DST, green light screen, and a Backlight.
PROS
Easy Installation

Multiple Speed Reading

Waterproof

Odometer

Clock
CONS
Poor Battery Capacity for Backlight; although can be changed.
VLOXO Speedometer
SPECIFICATION
Size: 4.37″L x 3.15″W x 2.44″H
Weight: 0.2kg
Material: Rubber-ABS Material
Price: $29.99
OVERVIEW
PRODUCT FEATURES
350 lumen high bright lightning; 4 modes.

Six modes switching 120DB Horn

1500mah Rechargeable Lithium-ion battery: 5-8hr use.

Led Taillight

Odometer

ODO, TM, AVS, DST, MXS speed option.
PROS 
IPX7 Waterproof

Multiple Speed Reading

Anti-glare Lens

Bright Tail Light for night visuals.
CONS
Not a basic model; Too many features for a simple speedometer

Direct contact of light to your eyes can cause harm.
Zoross Speedometer
SPECIFICATION
Size: 4.4″L x 3″W x 2.3″H
Weight: 0.18kg
Material: ABS Material
Price: $25.99
OVERVIEW
Zoross Speedometer features a 350 lumens led brightness on its headlight, an odometer, and a 6-mode 120db bell. Multiple speed readings, IPX65 Waterproof on its digital Speedometer.
PROS
Waterproof

Multiple Speed Readings

Odometer
CONS
Light can damage eyes if directly pointed to it.

Not a basic model
WNPA Bike Speedometer
SPECIFICATION
Size: 2.4″L x 1.6″W x O.8H"
Weight: 0.06l
Material: Blend
Price: $14.99
OVERVIEW
WNPA doesn't just offer simplicity in quality but also has the ability to offer accurate readings. This product offers dual options; speedometer and odometer, giving your clear reading of how fast you are going as well as how far you've gone.
It features a dual viewing mode; day and night mode, giving clear visuals no matter the time of the day you might be riding. It records its viewing statistics in different formats; DTM, AVS, MXS, DST, and diverse speed readings in Km/h or MPH, depending on your preference.
PROS
Waterproof

Odometer

Accurate

365 Day Warranty

Easy to Install

Clock

Portable and Durable

Great Value for the money
CONS
Magnet on Spokes might hit the bike rim if it is not perfectly fitted.
Icocopro Speedometer
SPECIFICATION
Dimension: 1.97″ x 1.18″ x 0.39″
Weight: 0.09kg
Material: Blend
Price: $20.99
OVERVIEW
This bike Speedometer is built with the latest Technological advancement, uniquely fitted with a solar panel for easy charging.
Its solar power is supported by 2 batteries. Aside from the fact that it has an odometer, it is also designed with a calorie counter to help you keep track of calorie burns.
This waterproof speedometer is built to multiple functions, 22 of them, a clock, sensor and magnet, an automatic wake up feature that turns the speedometer on each time you move.
PROS
Can be adjustable to accommodate tire size

Mounts on Regular Spokes

Reads MPH or KM/h

Waterproof

Stores total miles ridden.
CONS
Cannot be synced to a phone

Cannot fit on flat spokes
Milean M3 Mini GPS Speedometer 
Dimension: 2.36″ x 1.7″ x 0.8″
Weight: 0.09kg
Material: Aluminum
Price: $34.99
OVERVIEW
Are you looking for a Speedometer that has a GPS tracker, the Milean M3 Speedometer is your best pick.
Milean M3 is built with a highly sensitive GPS chip that swiftly connects to the satellite, offering you an accurate global position. Its GPS function kicks off once the speedometer is set to the accurate location of placement.
This IPX5 waterproof speedometer also works as an odometer, and also calculates your Bike's altitude.
It is built with a 400mah battery with a USB rechargeable Feature. This computer also features a dual-speed reading feature; Km/h or MPH and a dual lighting mode; Day or night.
PROS
IPX5 Waterproof

GPS

2 Year Warranty

3-month Replacement

Calculates Altitude
CONS
Can't read Cadence

Can't sync to a phone
Kinto Premium Bicycle Speedometer
SPECIFICATION
Dimension: 1.81″ x 1.81″ x 0.75″
Weight: 90g
Material: Blend
Price: $14.69
OVERVIEW
This speedometer functions as an Odometer and also fitted with a clock.
During rides, it keeps a record of your total mileage, with speed readings in Km/h or MPH, depending on your preference.
Day and Night viewing mode, Diverse speed reading; MXS, DST AVS, TM
It is powered by a CR2032 battery and a 23A battery. Accessory kits include; magnet, Sensor, manual guide.
PROS
Waterproof

12-month warranty

Accessory kit

Cheap

Great Value for the money
CONS
Will spoil it soaked into water or exposed to a rainstorm.

No Auto wake up; Speedometer kicks up by pressing any of its buttons.

Doesn't Calculate Cadence
FREQUENTLY ASKED QUESTIONS
Are Bicycle Speedometers accurate?
Yes. A good number of bicycle Speedometers have been proven to provide accurate speed statistics.
This feat of accuracy is achieved by the proximity of the speedometer's sensor and the magnet. As long as these two are receiving close signals, and you input the right wheel size on the speedometer's computer, you are sure to get accurate readings.
Can you use a bicycle Speedometer on a motorcycle?
Sure you can. Although this will require taking close consideration of the speedometer's magnet.
Considering the fact that the magnet is meant to stick on the wheel's spoke, with the sensor fitting on the bike suspension, it might pose once a big hindrance trying to fit in the sensor on your motorcycle.
However, if you are able to get the correct settings of these on your motorcycle, you are sure to use them.
How do bicycle speedometers work?
These speedometers work by fastening a magnet on the bike or rim. The sensor is fitted to the suspension fork at least 3mm from the magnet. The closer, the better. These two work together sending a signal to the speedometer computer mounted on your bicycle frame.