A saddlebag is a pair of covered pouches directly fitted to the back of your Bicycle, hanging over the rear wheel and slightly beneath your bike seat/saddle.
Starting from the ancient times of horse riding to the advanced age of speed racing and bike cycling, saddlebags are an essential carry-on for riders.
These bags come in different sizes, designs, and features but fitted with the intent of carrying along with you, additional tools during a ride.
Saddlebags are used to pack emergency items such as spare tools, first aid kits, mini pumps, gloves, additional gears, puncture-repair kit, spare tubes, valve adaptors, or even food packs or water, in case you get thirsty or hungry during a ride.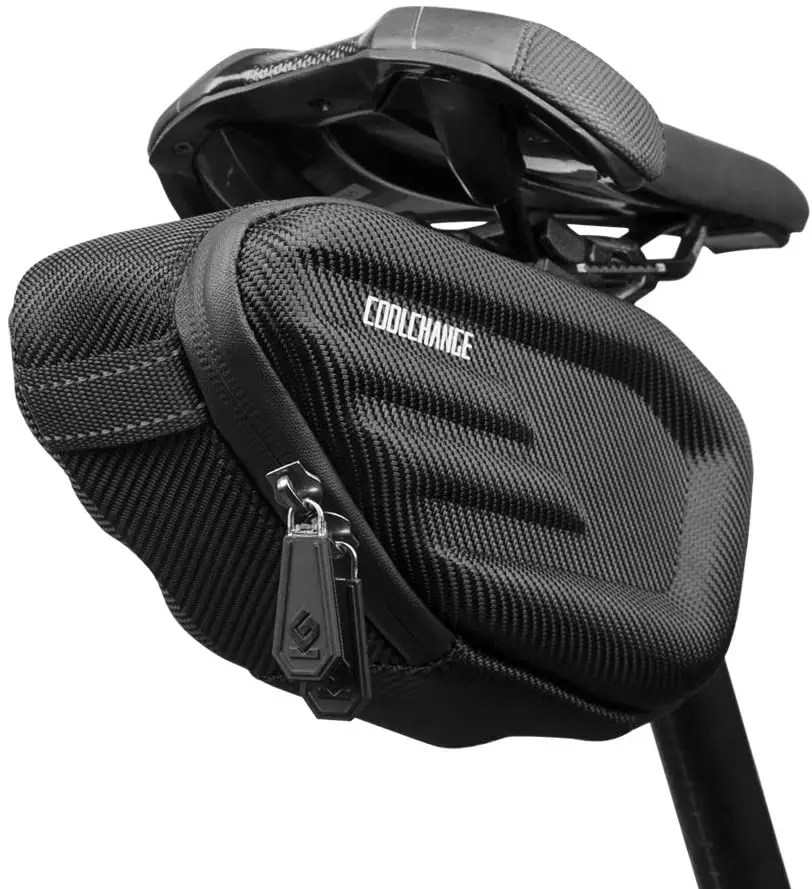 Considering the fact that SaddleBags are usually fitted to the rear end of a bike, it is not advisable to pack huge loads into your saddlebag. This will slow your journey, adding excessive weight to your bike. Saddlebags are not traveling bags, they are just a makeshift age to contain some necessary items you cannot do without in a ride.
It will also be nice if you consider the weight of your saddlebag. It could be taken to note that some riders pack up their saddlebags to heavyweights as much as 750 grams while some could go for as low as 100 grams. However, it is nice you don't mount so much weight on your saddlebag, that will make it outweigh your front tire.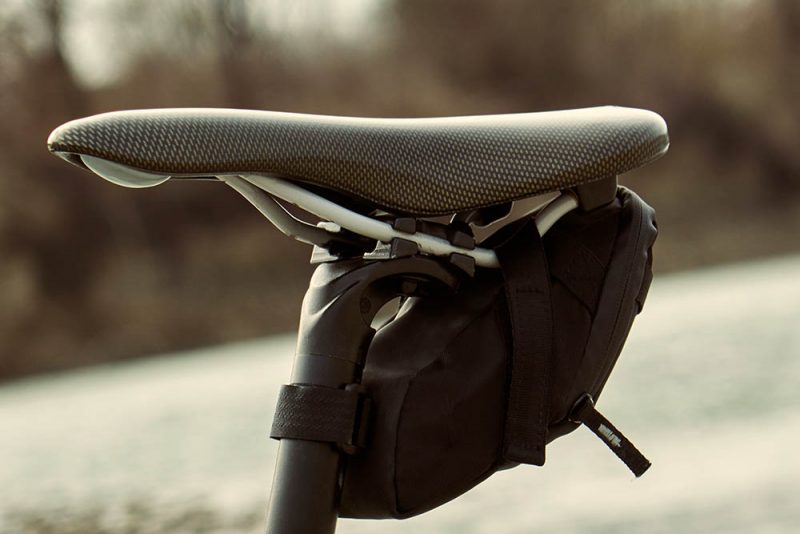 Best Saddlebags 2021
In this article, I will be taking you on a guide through the best bike saddlebags 2021 available for purchase. This review is ranked according to their price, features, and interaction with the environment.
BV Bicycle Strap-on bike saddle Bag
Topping my list of best bike saddlebags is Amazon #1 bestseller; BV Bicycle Strap-on bike saddlebag.
BV saddlebag is a carefully designed mini bag made of strong impact-resistant that doesn't just accommodate all your carry along with items but also stands the test of strength against wears and tears.
BV Bicycle Strap-on bike saddle Bag comes in different sizes; small, medium, and large with an amazing expandable feature. Its expandable feature is only restricted to the medium and large saddlebags.
Small BV saddlebags are 3.0 inches high, 3.3 inches wide and 5.5 inches deep with a carrying capacity of 0.4L. BV Bicycle small saddlebags are cannot be expanded.
Its medium size is 4 inches high, 3.5 inches wide, 6.5 inches deep, and a Capacity: 0.7 – 1.0 L. When expanded its height is increased to 6inches but the width always remains the same. Its expandable feature gives you the assurance that you can pack the whole world into it.
Large size BV Saddlebags are 4.5 inches in height, 4.3 inches wide, and 7.5inches deep. Just as the medium size, it can be expanded to an increased height of 6.5 inches Capacity: 1.1 – 1.5 L.
Fitted with a 3M Scotchlite reflective trim & Taillight hanger, with a larger zip on the top for adequate security, hindering your items from falling off, an easy to fix strap-on fitting with Velcro design that sticks to firmly to your bike frame.
The Taillight hanger fitted at the end of the bag allows you to fix a bike light to it for additional safety especially during late-night rides. Amazon Price: $17.99
Cool Change Bike Saddlebag
Here is a water-resistant saddlebag, 9 inches length, 5 inches wide, and 4 inches high that doesn't just contain a large volume of items but also keeps them waterproof against rain or wet conditions. Irrespective of the fact that this saddlebag can bear weight to at 6.5 inches, it is advised that you don't lay excessive baggage on it.
Cool Change Bike Saddlebag fits properly for bicycles with a seat rail width of less than or equal to 55mm with an angle position that covers almost 120mm from your bike seat to the tire
The outer covering of the saddlebag is made with a double-strand nylon PU. This strong casing makes it resistant to tears.
Aside from the side opening and the mesh pocket fitted to the saddlebag to contain smaller items, it is designed with a quick-release clip; a buckle fitting that ensures your saddlebag remains stable and strongly attached to the bike even during bumps.
Amazon Price: $29.99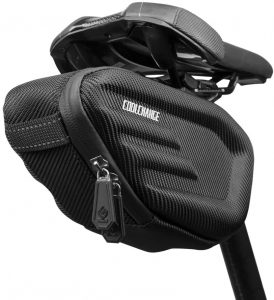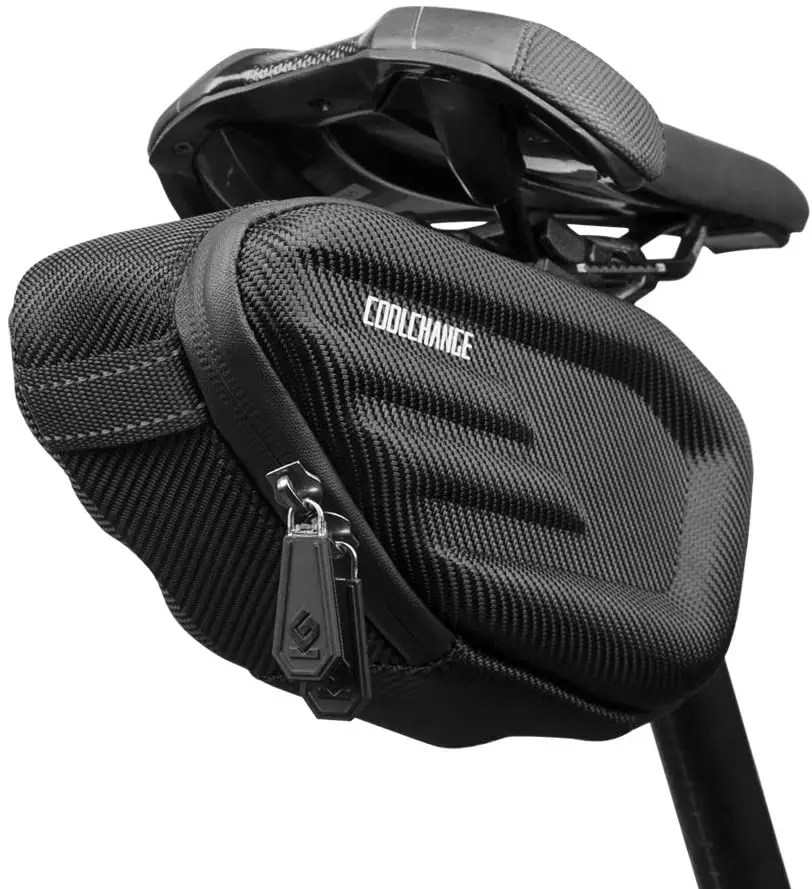 Topeak Aero Wedge Velcro Pack
Topeak Aero Wedge Velcro Pack medium-sized saddle bag comes in an amazing item size of 6.69 inches in length, 4.72 inches width, and 3.15 inches height which can be expandable to contain more items. Sewn with a 1200 denier nylon, this extra PTFE coating is to act as a resistance against water and stain. Easy installation as they are fitted with triple nylon/Velcro strap, coupled with snap-buckles for extra stability. A reflective strip of 3M which serves as a perfect spot to attach your rear light.
Available on Amazon for the price: $25.46.
Aduro Sport Bicycle Bike Storage Bag
If you are looking for a saddlebag that ranks high as Amazon's choice, you'll think of Aduro Sport Bicycle Bike Storage Bag.
A saddlebag for your Smartphones, extra tubes, or even gears as it comes with an item Package dimension of 11.5L x 9.6W x 2.7H, all in inches.
Adjustable custom Straps for personalized fitting, an Internal netting, Water Resistant outer casting which keeps your valuables safe against wet drains or rust.
As an additional offer, this saddlebag comes with a 100% lifetime warranty. You have the opportunity to return the item if it doesn't suit the aforementioned review or fail in its specification. You will either get a new one or a full refund of payment.
Aduro Sport Bicycle Bike Storage Bag comes with easy installation, with adjustable Velcro straps you can easily fit your bike's rear frame.
Big zip fastener, Slim body design, made with strong and durable polyester material to make up for high weather resistance and minimizes wind resistance. Amazon Price: $16.99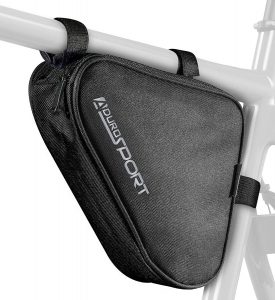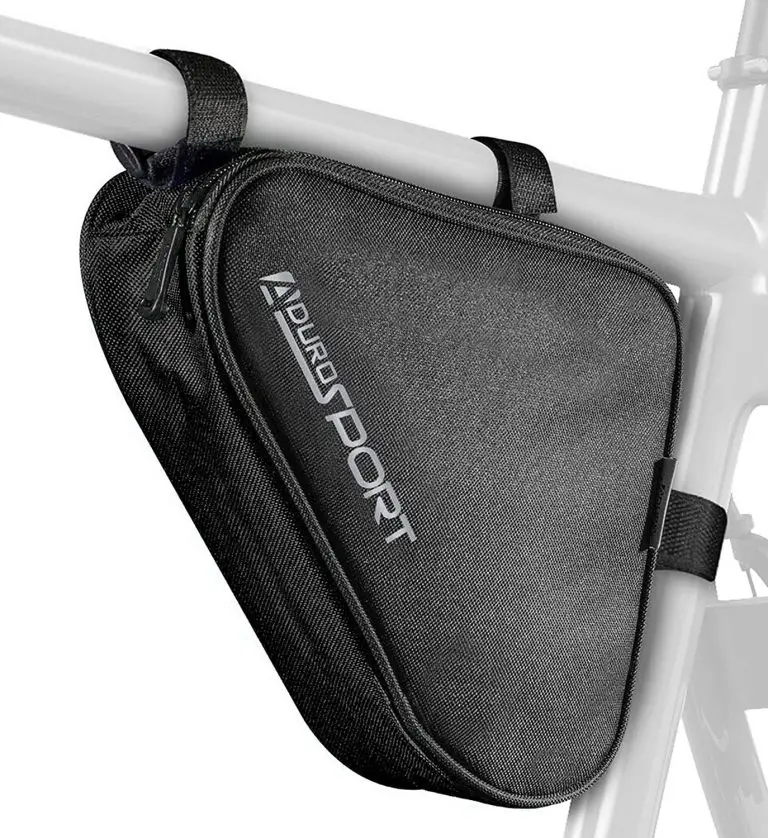 However, It is paramount you choose the best saddlebag for your Bicycle.
How to choose the best saddlebag for your bike
1. Take your bike measurements. Take note of your bike length from its seat, back tires, and to its rear end, with great consideration to the fenders if your bike got one.
2. Pick saddlebags that are not too close to your tires nor obstructing your rear fenders. They must stay attached right below your Bicycle seat.