Hope you wouldn't mind if I asked if you have taken your bath today? That sounds hilariously annoying, right?
Your body is as much a priority to you as your personal hygiene. Care kits, exfoliating formulas, you wouldn't want to be seen unfresh. But do you devote as much time as you do to yourself in cleaning your bicycle?
Bicycles take up tons of first and muds, as you ride through bushy paths, unclear trails, commuting, tours, mountain rides. No bike comes as clean as it was when it left home.
Most riders never see it as a routine to take care of their bikes. They just mount the bikes, ride it through town, only to pack it after being satisfied with their journey. This fixed schedule of bike torture goes on for days, weeks, only for the rider to dust off the bike spokes, rims, and some wash on the tires, only because the dirt is becoming a sore to the eye.
After all, these bicycles are meant to ride on the ground, what's the need for special treatment?
That's the defense line of a rider who doesn't wash his bike. Bike wash is a hectic task, time-consuming and stressful; another cyclist laments.
Maybe until there is a hashtag trending on Twitter with the caption "Bike lives matter", we wouldn't know how necessary it is to take care of our Bikes.
Every maintenance procedure you carry out on your bike is an investment.
Statistics show that bicycles that undergo constant maintenance tend to last longer. Greasing the crankset, wiping the bicycle frame, washing and brushing your bike parts, servicing the gears, checks on your bicycle air pressure adds to the longevity of your bike and its component.
There has been a traditional means of cleaning our bikes. This method just entails using a bar of soap or detergent to wash off specks of dirt from our bikes, dry off the water, and mount the bike for another ride. Some riders in their bid for cleanliness try to use kerosene or turpentine on their bikes to clean off greases and oil stains on the body or chains of your bike.
In as much as kerosene can be used as a solvent to clean your bike chains before applying a lubricant, using it as a lubricant on your chain is a risky trial, as it will clean off all lubricants, which can increase friction on your chain.
Typically, kerosene is a petroleum product and is flammable. You wouldn't want to catch fire after lubing your bike with kerosene.
Irrespective of the fact that kerosene come in cheap prices, it is still not advisable to stick to it as a traditional means of cleaning, rather degreasers will be a better option.
The Best Bicycle Cleaning Kits
Putting this into consideration, I will be giving you a review of the best bicycle cleaning kit in the market. All affordable and professionally packaged with all the necessary tools you need to clean your bike.
Annadason 8 Pieces Precision Bicycle Kit
Annadason Precision Bicycle Cleaning kit comes with 8 pieces of bike cleaning tools which; Wheel Brush, Bike Chain Scrubber, Bike clean mitt, Chain Cleaning Brush, Tire Scrubber, Tapered Brush, Sprocket Scraper and a Sprocket Brush.
The different brushes made available in the kit make it a perfect choice to cover every cleaning need of your bicycle, reaching all parts necessary.
Bike clean mitt
The Bike clean mitt that is built in a hand-fit format, working perfectly than ordinary rags without leaving clothing droppings on your bike after wash.
Tyre Brush
The tire brush designed with a 6.6″ width and 3.3″, a curved hand-fitted design, making it possible to reach sensitive parts of your tires.
Every single cleaning tool in the 8piece cleaning pack is designed with careful detail to remove oil clogs, grant an all-round clean on your tires and rim, and gear rings.
Amazon Price: $25.99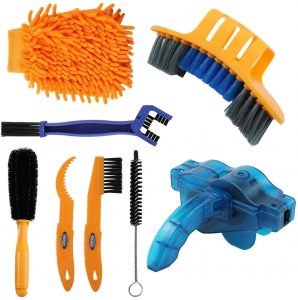 Park tool BCB-4.2 Bicycle Cleaning Brush Set
Park tool Bicycle Cleaning kit is an easy to carry, compact size, Four-piece cleaning brush set designed in different shapes and materials, making each brush to fit a particular need.
The four-piece cleaning set includes;
A Tapered detail stiff brush with jagged sides that offers an eye for detail kind of cleaning and a perfect wash for your chain openings.
Soft bristle soaping brush that can be used for general cleaning, bike frame wash, or even handlebars upkeep.
Dual combination brush that consists of sponge and bristles for heavy-duty scrubbing.
GSC-1 Gearclean brush, fitted with tough nylon bristles and a curved toothed pick bottom that enables you to scrub on your bike gears and as well pick out dirt attachments in them.
Amazon Price: $21.95
Singare 7pcs Bicycle Cleaning Toolset
Singare Bicycle cleaning Toolset is a high quality, multipurpose, plastic-built, lightweight, compact 7 pieces cleaning kit which includes a bike clean mitt, gear clean scraper, Chain Brush, tapered detail brush, tire scrubber, frame tube cleaning brush and a gear clean brush.
The multipurpose chain cleaner comes with a dual-head. Its front end for clean chains, and the tail end for cleaning your bike rims and spoke.
The tapered detail brush comes with an ergonomic design with a length of 10.6″ and a width of 2.2″.
This cleaning kit is suitable for any available bike; mountain bikes, road bikes, hybrid bikes, beach cruiser bikes, etc.
Amazon Price: $13.97
YHDQ 8 Pcs Bicycle Cleaning Tool Kit
YHDQ 8 Pcs Bicycle Cleaning Tool Kit includes Professional Bike Chain Scrubber, Chain Cleaning Brush, Bike clean mitt, Tire Scrubber, Tapered Detail Brush, Sprocket Brush, Wheel Brush, and Sprocket Scraper.
With cleaning advantage on your pedals, bike seat, crankset, and chain, with strong bristles and a strong body made with high-quality plastic, the tools in this cleaning kit are made professionally to meet your washing needs and also meet standards for durability. Fitted in your cleaning kit is a Roulette Sickle Hook, that can help you pick out leaves, first or dry mud that is attached to your bike tires or wheel after a mountain or off-trail ride.
With a YHDQ Bicycle Cleaning Tool Kit, your bike cleaning routine can become a task of at least 10 mins.
Amazon Price: $23.99