According to bike statistics, over 2 million bikes are stolen each year in North America. This means every 30 seconds, someone's bicycle goes missing. 
With the ease of lockdown through national states as a result of the drop in the pandemic Covid-19, the risk for bike safety keeps increasing, hiking the need for every cyclist to own a foldable lock.
The ear of traditional U-locks and chains is gradually phasing away in the bike industry, as cyclists seek for something more portable and compact. Foldable locks are the new brand for bike safety.
Compared to the bulky, noisy nature of bike locks, foldable locks can be easily packaged into a collapsed compact size for easy carriage.
However, before choosing a foldable lock, it will be nice you carry out a bike-related survey as regards your safety.
1. Where you usually park your bike?
2. Accumulation of Human beings in your surrounding?
3. Bike beauty and eye-catching?
4. How long do you leave your bike in the open space?
Nevertheless, no matter how secured you lock up your bike, if there is a thief that is good at picking that particular key lock, then your lock is as good as waste.
You must understand that you have a personal role to play in your bike's safety as well as your foldable lock.
The review covers the best foldable locks in the market and online shops where you can find them at cheaper prices.
Best Foldable Bike locks 2021
1. Foldylock Compact Bike lock
FoldyLock compact bike lock is a unique folding bike lock made of heavy-duty hardened steel bars, ultra protected rivets, and a sold silver protection. Its steel link and connection ensure durability as well as easy folding.
It is in a compact design that makes it easy to carry about, an easy to operate feature, and a rust-free weatherproof body coated with a UV protection cover.
Foldylocks are designed with the safety of your bike at safety. It is coated with an extra lining of plastic that prevents scratches on your bike and also with a rattle elimination mechanism that offers silent rides without noises on your bike frames.
Its Rivets are designed with a VSR technology that offers maximum protection against sawing and cutting through. This VSR Technology is anti-drilling effective, very resistant to drill burglary attempts.
This foldable lock is lightweight, weighing 2.2 pounds, flexible, and easy to carry about. Foldylocks are designed to automotive industry standard with cylinder, spare keys, a carrying case for easy transporting, and a security level of 5/10.
Price: $84.99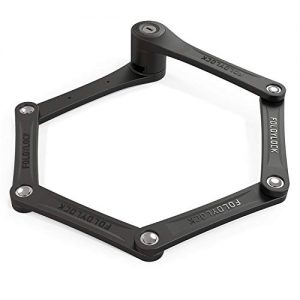 2. Eclypse compact foldable bike lock
Eclypse compact foldable bike locks are heavy-duty and tough locks, engineered to protect and secure your bike.
They are constructed with drilling resistant materials that enforce resistance against bolt cutters, drills, and hacksaws.
Eclypse Compact Folding lock is enhanced with Sold Secure Approved Silver with 6 heavy-duty steel links and rivets that it theft-resistant and flexible protection.
Its flexible protection makes it more durable and functional making them a perfect option for long term outdoor security use.
Designed with hardened steel links, Eclypse foldable locks are resistant to adverse weather conditions, UV proof, rust-proof, ensuring perfect efficiency even during tough and unpleasant weather conditions.
Eclypse foldylock bike is compact and portable, easy to use, lightweight, coated in a premium scratch-resistant paint that prevents damage on your bicycle, and enhanced with a rattle-elimination mechanism to prevent noise and bump sounds while riding.
Eclypse foldylock comes with a mounting case that Includes; a Compact Folding Bike Lock, Mounting Case, 3 Security Keys, 2 Mounting Strips, and Hardware
Price: $66.95
3. Via Velo Bike lock
Via Velo Folding Bike Lock is a compact designed hardened Steel Shackle foldable lock to fashioned to meet security, durability, and easy to use requirements.
Our lock features a unique and very compact folding design and high-quality mounting bracket so you can take it anywhere with no extra packing required.
Via Velo foldable bike lock is constructed with high-quality materials which include Imported hardened alloy steel, heating processed bike lock body, an anti-24T hydraulic clamp, anti-rust,anti-sawing, anti-drilling, which is entirely laced and covered with PVC plastic material.
Its PVC covering makes it anti-scratch, protecting your bike frame from being damaged during rides.
Via Velo is designed with an 8 joint foldable design greatly which makes it more portable and compact, reducing the ratio of locker size to locking space, and making the bike lock more convenient to install and carry around. It greatly supports a lock space of 210mm*210mm within a lock size (65mm*134mm).
Its special rivet fitting makes it more flexible and easy to carry around.
To ensure no scratches and damages on your bicycle, Via Velo is built with heavy-duty stainless steel that is coated with ABS rubber paint.
Via Velo comes with a mounting case that includes everything you need for setups and a room for easy carriage.
As an additional bonus, Via Velo offers a 90-day money-back guarantee on their product, in case you are not satisfied with the product.
Price: $38.96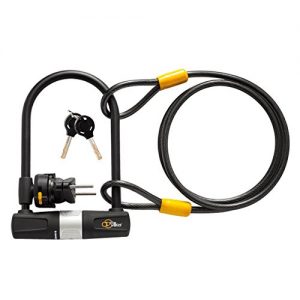 4. ABUS Bordo Folding lock
ABUS Bordo 6100/90 Folding Lock is a perfect blend of security, resistance, and Portability. It is manufactured with a 5mm steel bars, a high-quality cylinder that offers maximum protection against thieves, drillers, and burglary attempts.
These steel bars are designed in a lightweight, flexible style that is linked with special rivets that ensures easy folding.
ABUS folding lock ranks as one of the best foldable locks not just in security but in bike compatibility. Its 2-component coating and silicone cover around the bars prevents the foldable lock or mounting case from scratching your bike and also offering a soft touch around the lock.
This foldable lock is fashioned with a Velcro Rattle-free holder that can fit on your bike frame even to your bottle water holder.
ABUS folding lock is designed for a linking-latching mechanism. Its foldable bars are linked to the cylinder like rivets that make it easy to transform the lock into a compact size.
ABUS 35 inches/ 90cm lock is a security level 9 bike safety lock, with a one-handed operation, Flexible mounting with non-slip Velcro straps or screws for the bottle holder fitting, matching silicone body, a 2 key available security lock with resettable code encompassing 10,000 different combinations, working heavily to resist pickers from having their way on your bike
Price: $123.00