All set to kick off for a ride? Then you realize that there is something that is missing from your bicycle tour carriage; a bike water bottle.
This could sound way too easy and simple; it is just a water bottle why the concern?
You might be wondering why you should take in so much consideration in determining the kind, type, and design of a water bottle you should carry along.
Nevertheless, as long as hydration during rides is necessary, the need to take in safe and cool liquids is more important.
Any container can fit in to be a water bottle, but not every water bottle is safe for drinking. You wouldn't want to gulp in water that tastes like plastic or carry a can that will need to be refilled constantly or a water bottle that can boil your water during rides, leaving you with hot liquids to quench your thirst.
Just as there is no overdose to drinking water, you must make sure not to be dehydrated.
Different water bottles come in different colors and styles. You might be tempted to pick a water bottle because its color matches your frame, but that is the worst criteria for choosing a good water bottle.
A good bike water bottle must:
1. Have a water-containing capacity of 500 – 750 ml.
2. BPA-Free, non-microwave.
3. Properly Insulated.
4. Hand washable.
Choosing a water bottle that is free of Bisphenol A (BPA) is so important to your health. According to health researches and statistics, intake of BPA or BPA contained foods or liquids poses great health risks on your brain and prostate gland. Its toxicity can cause cardiovascular ailments and other heart-related failures.
Initially, Some plastic bottles were known to be built with BPA but following the recent ban on BPA by FDA, United States of America, and the outcry by the masses out the heart hazard they face through its consumption, new plastics are now labeled BPA-FREE, after proper testing and licensing by the agency, so as to create the awareness and raise the bars on the priority of human lives.
However, a good way to know a bike bottle that contains BPA is this:
1. They are mostly labeled Unbreakable or microwave safe.
2. It lacks a recycling number and endorsement.
In overall, before you purchase a water bottle, make sure it is not scratched to avoid chemical leaches.
It is my desire that you stay safe as a bike rider. With this in mind, I will be reviewing the best bike water bottles in the market. The water bottles offered are BPA-FREE, levels of water capacity, product features, design, and their respective prices in the market.
It is important that I remind you that a water bottle must not necessarily be plastic. They can be aluminum or preferably stainless steel, iron is out of the option because of its quick rust ability when in contact with water and oxygen. An important factor to consider in these materials is their level of insulation.
Insulated Probike Tool Water Bottle
Probike Tool Water Bottle is a product of the Award Winning Products brand Winner August 2018 built with a flexible High Elastic Technology, BPA Free material, Stainless Steel, Silicone
vacuum double-wall insulated, these custom features make it an outstanding water bottle.
This double-wall foam liner insulation keeps your water twice as cold than a regular single wall water bottle.
A large liquid capacity of 680 ml can grant you 10-15 sips if you drink every 15 minutes. With a 100% BPA Free material, you are assured of a healthy and clean drink.
Lightweight, easy-squeeze design and fast flow valve that offers the rider quick hydration.
Fitted with a Removable Sports carry Loop which gives you the option of attaching your water bottle to your backpack.
The outstanding insulating ability of this water bottle helps minimize heat transfer, and convention through external and internal factors acting on the water bottle. The inner part of this bottle is lined with a high-density PU foam, which keeps your water always cool without
Amazon Price: $15.99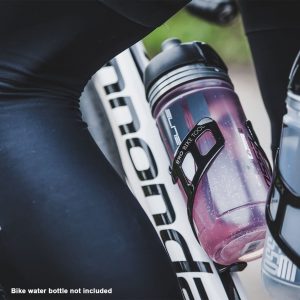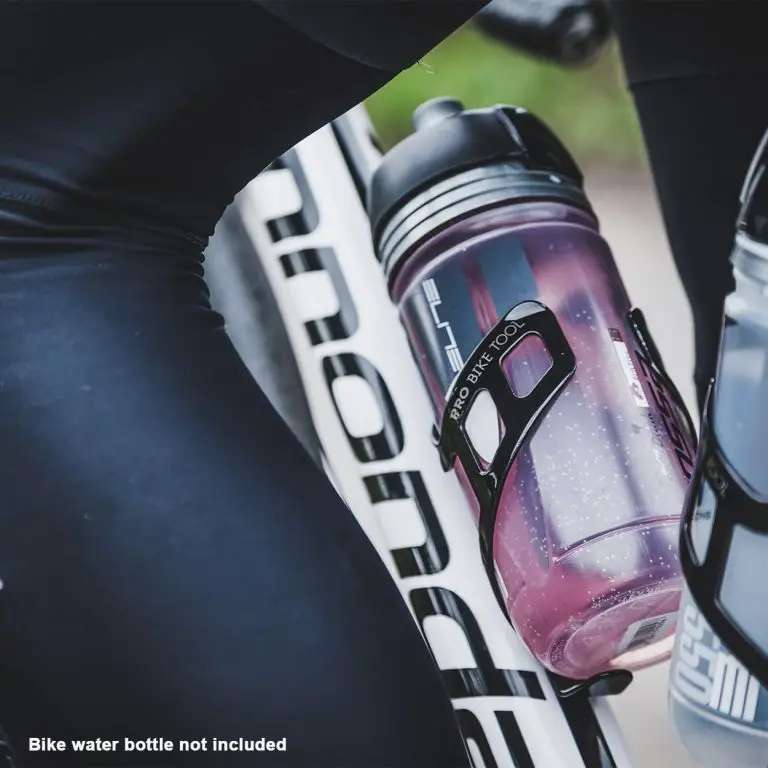 Fidlock Twist bike water Bottle
Fidlock Twist Bike Water Bottle is a Polypropylene 600ml material bottle, BPA-free, ergonomically designed with a slim body and wide opening that makes it easy to wash, magnetic-mechanical fitting that can be attached to your bike frame and an audible click function on its head that prevents water leakages.
Its attachment to your bike comes in the format of the modular twist system. This system involves two fittings; a base and an accessory. The base is firmly attached to the bike frame using thread inserts and two screws, while the accessory is attached to the base.
This 5.6-ounce water bottle is sold for a fair price of $39.99 on Amazon.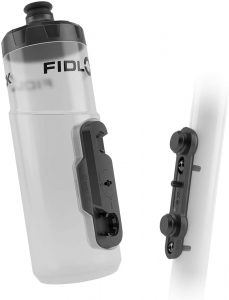 Coolchange Vaccum stainless steel bike water bottle
Coolchange bike water bottle is a 24-hour preserving container, with a large capacity of 500ml.
Fitted with a 304 vacuum insulation, with double-layer 18/8 stainless steel, 100% BPA Free, non-toxic, with a handwash design.
With a One-button design, that opens it easily with just one touch, anti-Skid Cup base, Double ring that perfectly screws the cup to the bottle.
This 500ml heat preservation multifunctional bike water bottle is useful for mountain rides, road tours, commuting, or even adventures. With a hand wash option and non-microwave feature, you have nothing to worry about your safety.
Amazon Price: $23.99
Peakline Sports Big mouth bike water bottle
Peakline Sports Big mouth bike water bottle is an 8 inches tall, 3 inches wide, 21-ounce bottle. Constructed with BPA-free plastic, a moflo cap that is easy to open and highly resistant against leakages when closed.
It is a lightweight, flexible bike water bottle, ergonomically designed to offer a firm grip and an easy secured fitting into your bike bottle cage or holster without falling off.
Its design is written with a CPSC-approved ink. This ink makes drinking safe as there will not be permeation of external ink materials into your bottle water during scrubs. Its 621.04 ml offers you a full capacity drink, that can take you through hours of rides without looking for a refill.
Price: $24.95