With the numerous mountain bikes in market circulation, multiple bike brands, it becomes a worry to every cyclist, the need to know which brands top the other.
Understanding the history and background, mode of operation, and market standard, of Bicycle companies out there gives you a heads up on knowing which brand you can trust for value, quality, and ultimate satisfaction on what you will be spending your money on.
It is very important you know brands you can bank your trust on, for quality assurance on purchases.
I have taken out time to compile a list of top mountain bike brands, including some of their best and most popular models, what sets them apart on top in the scale of competition, and price tags on some of their bike products.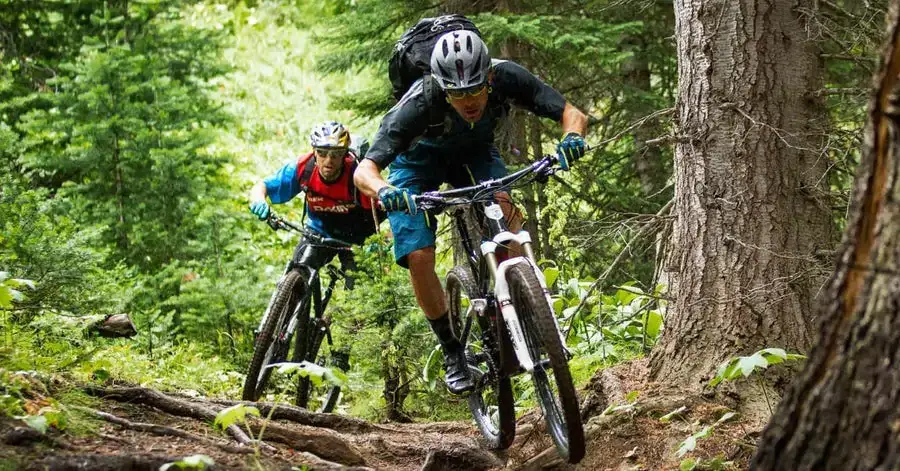 Best Mountain Bike Brands 2021
Below are no doubt the best mountain bike brands in the world. See the correct list of top mountain bike brands below:
1. Diamondback Bicycles
2. Mongoose Mountain Bikes
3. Kent Bikes
4. Roadmaster
5. Huffy
6. Santa Cruz
7. Schwinn
8. Gravity
9. Eurobike
10. Smayer
Diamondback Bicycles
Diamondback Bicycles, a brand founded as a BMX brand which has been in operation since 1977 with great expansions as beginning production of mountain bikes in 1993 with the creation of Diamondback Racing.
Diamondback mountain bicycles are known for some great features such as full suspension, mountain hardtail frames, comfortability, high-quality materials, durable construction, and affordable price tags.
One of the notable best selling Diamondback bicycle is Diamondback Atroz full suspension mountain bike.
Diamondback bicycles model, Diamondback Atroz full suspension mountain bike is available in three variations; Atroz 1, Atroz 2 and Atroz 3.
Irrespective of their variations, all Diamondback Atroz variations have these major features. These features work as similarities between all of them.
1. Shimano MT200 Hydraulic dual system disc brakes, w/180mm rotors which anchor its front and rear tires.
2. SRAM NX 1×11 speed drivetrain.
3. Durable single pivot with sealed cartridge bearings.
4. Hand-built 4-inch travel aluminum alloy full-suspension frame.
5. Rockshox Recon RL 130mm travel fork and Monarch R air rear shock.
There are Slight variation differences in all variations. These differences could be spotted in their frame, shock, drivetrain, cogset, shifters, and brakes. However, Atroz 1, 2, and 3 are not tubeless mountain bikes and are without a dropper seat post.
Nevertheless, these Diamondback mountain bikes remain the most sought after bike on Amazon with Diamondback Atroz 3 topping the chart.
Mongoose
Mongoose Dolomite Fat tire Men's mountain bike
This bike is built with 4-inch supersized knobby tires, that creates a comfy ride through mud, dirt, and rocky trails.
A seven geared bicycle with a rear derailleur with seven speeds makes hill climbs much easier. Shimano twist shifters that make it easier to change gears while riding.
Designed with a riding suspension, lightweight alloy rims that keep the bike weight down, creating a boost for speed and overall performance.
Suitable for adults of height 5'6 – 6 feet.
Price on Amazon: $324.98
Kent Bikes
Kent KZ2600 Dual-Suspension Mountain Bike
The 26 mountain bike is mounted with 21 gears. It is fitted with 21 speeds Shimano rear derailleur and shifters to make easy gear shifts.
Quick-release seat post which does not require the use of special tools for adjustments.
An aluminum full-suspension frame, a front disc brake, and rear linear-pull brake.
65mm Travel suspension fork, 26-inch alloy wheel rims with 36 spokes that aid strength and durability.
Available purchase at Amazon on a fair price of $310.97 – $500 Kent bikes
Roadmaster
26′ Roadmaster Granite Peak Men mountain bike
The granite peak mountain bike is an all-round excellent mountain bike, that makes perfect crushes through rugged paths. This bike is fitted with a steel mountain frame and a front suspension fork that gives the bike a sturdy body, sustaining durability.
With the provision of knobby tires that are perfectly threaded, it offers an amazing road to tire grip and traction, perfect frictional resistance, with alloy rims that aid stability.
This 18 gear bike comes with 18-speed twist shifters and a Shimano D1 derailleur, which grants you the opportunity to speeds and also ease in changing through gears.
Dual Brake system
Front Suspension
Generic rims, single-wall rims.
Strong crank arms.
Roadmaster Granite Peak Men mountain bike is an amazing bike for the price of $400.00
Amazon sales.
Huffy Bikes
Huffy Hardtail stone 26′ mountain Bike
With a striking attractive look in charcoal gloss, this 21 gear bike is equipped for strong delivery and amazing performance.
Front suspension, hi-ten steel hardtail frame provides solid performance and a great build to sustain bumps and minimal hits.
With great pedals fitted, there is an assurance that your round of pedaling brings about lifts as you climb hills or slide down through them.
The 26-inch mountain bike is designed in a way to look perfect for riders of 5ft and above.
The 1200 Kolo fork suspension makes up for uneven terrain, as you can make sharp turns with ease.
As a modern bicycle, it is fitted with 21 gears to deliver great speeds, an ATB type resin pedal on the 3 piece crank, Krayton grips to achieve comfortable grips, 21 speeds indexed with Shimano rear derailleur.
This bike comes for a cool price of $299.99 – $320.
Available on Amazon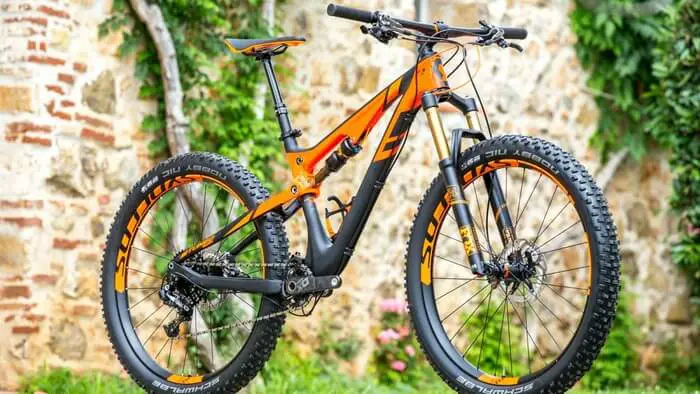 Santa Cruz
Santa Cruz Nomad Carbon C (CC) Sram X01 1×11 mountain Bike with Factory Wheels
Amazon Price: $3599
Schwinn
Schwinn High Timber Youth and Adult Mountain Bike
Aluminum and Steel Frame Options, 7-21 Speeds Options, 24-29-Inch Wheels, Multiple Colors
Amazon Price: $500
Gravity
Gravity 2020 FSX 2.0 Dual Full Suspension Mountain Bike Disc Brakes Acera Suntour
This bike is constructed with different designs with specifications to size.
Variant Sizes available: 15′ , 17′, 19′, 21′.
Bike Features
Lightweight Aluminum Frame
Tektro Novello DISC BRAKES
SHIMANO M190 REAR DERAILLEUR
Suntour TRIPLE CRANKSET
Gear- 24
Frame-Hydroformed Aluminum
Fork- Suntour long travel with adjustable preload
Crankset-Alloy Triple
Shifters-Shimano EF51 24 speed
Front Derailleur-SHIMANO
Rear Derailleur-SHIMANO
Wheelset-26in Dbl Wall Alloy
Chain-Narrow 8
Cassette-8 spd Megarange
Tires-Black 26 x 2.1
Brakes- Tektro Novela Disc
Handlebar-Aluminum Riser
Seatpost-Alloy 27.2
Saddle-Comfort
Strong and Durable
Easy to Use Shifters
Adjustable Suspension – Front and Rear
Easy to Assemble
Quick Release Wheels – Front and Rear
Amazon Price: $449.99 – $500
Eurobike
Eurobike EURX1 27.5′ Mountain Bike
21 Speed mountain Bicycle, Suspension Fork
Price on Amazon: $359.00
Smayer
Smayer Mountain Bike 21
Speed 3-Spoke 29 Inches Wheels Dual Disc Brake Aluminum Frame MTB Bicycle Urban Track Bike
Amazon Price: $599.00