There are lots of mountain bikes you can buy from a store near you or even on a website like Amazon but you just need to know the best mountain bikes in 2021 for beginners. If you are not new to riding mountain bikes then you will agree with me that there are specific features a bicycle must have to be among the best.
This article contains the best mountain bikes to buy online from stores. Mountain Bikes are really interesting bikes to buy. Though can be very expensive yet strong and durable to travel to different places.
I love riding bikes as it helps your body a lot; strengthening your quads, other leg muscles and also making your heart pump blood faster to all parts of your body including your brain.
It can be more fun to ride bicycles on mountains, hills or any other high terrain landscape, but there is a problem; not all bikes have what it takes for that kind of environment.
Let's dive right in, without wasting much of your time.
Best Mountain Bikes 2021 for the Money
Not all mountain trail bikes were created equal, of course they may have some things in common but there's still going to be some difference.
I know people buy mountain bicycles for different reasons, it may be for sports, shredding some pounds, gift or even just for fun. Yet this list contains the best mountain trail bikes in 2021.
They have been rated and reviewed using different factors that are highly important to the rider.
1. Mongoose Dolomite Fat Tire Mountain Bike
Mongoose dolomite fat tire mountain bike takes the trophy in this list. It has speed 7 gears which ranges from 14 – 28 teeth.
This bicycle is unisex, has a frame size of 17 inches, made of high tensile steel frame and comes with reflectors in front and rear wheels.
That "Fat Tire" in its name was not a mistake at all, the tires width is 4 inches, can move smoothly on any terrain (even sand and snow) and can carry any weight (no weight limit).
It has a rigid suspension type, uses JAK-5 semi-metallic brake pad which makes it easy to stop once you press the brakes. The handlebars of this bicycle is 30mm round and 690mm wide.
The fat tire dolomite's chain is 1/2 x 3/32 and has 114 links. It has a kickstand and limited lifetime warranty is guaranteed according to Mongoose.
Even with all these features, Mongoose dolomite bike has some downsides. For example; making modifications to the bicycle such as installing motors or engines is not recommended.
It is heavy and not fine to use it for jumping ramps, does not have any chain guard and training wheels cannot be attached to the bike.
Lastly, you are going to assemble some parts of the bicycle such as the pedals, seat, handlebars and front wheels. All other parts have been done for you, it will only take you 1 – 2 hours to assemble the parts.
Owner's manual will be attached so that you can follow the instructions, if you feel you can't do it by yourself, take it to a bicycle shop where they can help you.
Price: $520.99
---
2. Adamant Hydorush H7 Mountain Bike
The price may be somewhat high but it has features you will be interested in. Unlike Dolomite bike, it has been completely assembled for you.
Adamant hydrorush bike is lightweight; having a weight of 28 pounds. It comes with a kickstand and reflectors.
Adjustments can be easily made to the seat height of the bicycle, it uses a zoom suspension fork and an hydraulic disc brake.
Hydrorush H7 bike has a durable alloy frame, 26 inches wheels, double-wall alloy rim and the tires have a width of 1.9 inches.
Price: $2000.00
---
3. Smayer Mountain Bike
Looking for one of the best lightweight mountain bike to buy? Count in the smayer mountain bicycle, it is very light and has a 22inches frame made of aluminum.
Another thing about this bike is that the company offers every buyer a limited 10-year warranty. The aluminum made bike will not rust due to the coating and materials.
It has a gear protector, a zoom suspension fork in the front wheel to absorb impact when riding on bumpy or rough trails.
Price: $399.99
---
4. Omeng Shock Speed Mountain Bike
If you scroll down you will notice that I recommended Omeng shock speed mountain bicycle for those searching for the best full suspension mountain bikes.
Omeng Shock speed bike can be folded, has an awesome braking system and a top notch full suspension on the front and rear side of the bicycle.
Its total weight is 18kg (not too light), has 6 spoke wheels 21 speed and dual disc brakes.
The frame of this bike is made of high carbon steel and is 24/26 inches depending on the length you want.
Price: $488.44
---
5. Linkiom 26in Carbon Steel Mountain Bike
LINKIOM mountain bike has 21 speed gear that adapts to hilly or rough type of terrains. It is a double suspension mountain bicycle made of high carbon steel.
Just like the Omeng shock speed bike, LINKIOM bike can also be folded easily.  It is lightweight and has a wide & firm tire.
This bike can be adapt to different topography, therefore can be used on roads, beach side, mountains, snow wasteland, trails, etcetera.
Price: $669.00
---
6. HDGTSA 26in Mountain Bike
The second cheapest on this list is the HDGTSA 26 inches mountain bike. It is also full suspension mountain bike and can be folded making it portable for riders.
It is for men and women, has a 26 inches frame made of high tensile steel.
HDGTSA mountain bicycle is lightweight, uses dual disc brakes and has fancy but strong spokes.
Price: $279.99
---
7. LRHD Mountain Bike
LRHD has mountain bikes with different speed, size and color. They have bikes with 21/24/27/30 speed and 24/26 inches (size).
The bike is quite heavy, weighting 30kg. It has a spring fork suspension at the front and double disc brake.
Its frame is made of high carbon steel, the seat height can be adjusted and tires are perfect for terrains like mountains (anti-skid tires).
If you're interested in only mountain bicycles under $500 then I don't think LRHD is for you because their bikes surpasses your budget.
Price: $546.21
---
8. Roadmaster 26in Granite Peak Mountain Bike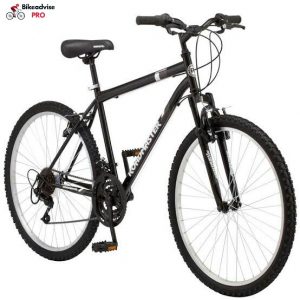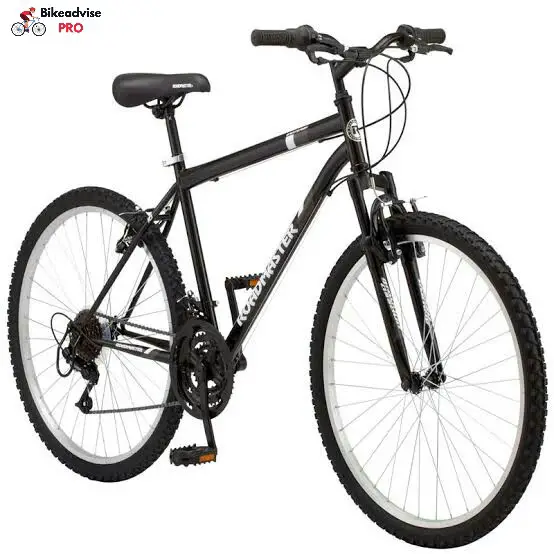 Roadmaster granite peak bike may look like an old bicycle, but it made it on this list and is one of the best hard trail mountain bikes you can find.
It can be used by either male or female and has six gears. The frame size is 26inches and is therefore not recommended for kids.
Roadmaster granite peak bike comes with a kickstand and does not have a rear wheel quick release.
This bicycle is not fully assembled; meaning you are going to assemble the tires, pedals, seat, reflectors and the seat. You don't need to worry much because there's a user manual guide that contains instructions on how you are going to set it up.
Price: $399.98
---
9. Diamondback Syn'r 24 Youth Hardtail Mountain Bike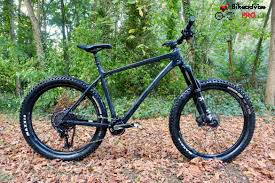 The only problem I have with diamondback sync'r currently is that they are now scarce to buy.
Having a total weight of 34 pounds, an aluminum alloy frame which prevents it from rusting, a 24 inches wheel and XCR suspension fork, this diamondback bike sits at the number 9 position on our list.
It is also a hardtail mountain bike in case that is the type you are looking for. Diamondback sync'r is highly recommend for youths and is unisex (can be used by male and female riders).
Price: $309.99
---
10. LENXH Mountain Bike
When it comes to price, LENXH bike is the winner in our top 10 list. However it doesn't stop at that, this bike is very portable.
The frame size is 24 inches, the bike can be easily folded, has a kickstand and double suspension for smooth riding.
Price: $212.19
---
Frequently Asked Questions on Mountain Bikes in 2021
As someone who will like to purchase a mountain bike, you will have many questions going through your mind. I have answered the questions that are recurrently asked by people who are new to mountain bike riding below.
If you have any other enquiries, kindly leave a comment below.
What is the best all-around Mountain Bike?
The best all-around mountain bicycle is the Mongoose Dolomite Fat Tire Bike. Is it because it is fat? Before you guess why, let me explain.
You can ride the Mongoose fat tire mountain bicycle on any type of topography or land: mud, snow, dirt, on mountains (or hills), or even on normal roads. This is due to the tire that moves comfortably on all terrain.
This also literally means you can use this bike in any of the four seasons [spring, winter, summer and autumn].
How Much Should I Spend On a Decent Mountain Bike?
Here is the quick but revolting answer; it depends on different things.
Things like your budget, the features you want in the bike, the durability and efficiency of the bike will determine the amount you can buy the bike that perfectly fits you.
If you are have a very low budget, you can purchase a mountain bike under $500. If you feel you need a better one, you can buy them under $1000. Some mountain bikes are really expensive but you should spend $200 – $3000 on a decent mountain bike.
What is The Best Mountain Bikes for Beginners?
As a beginner, you don't want to get a mountain bicycle that were meant for the professional riders or experts.
The best mountain bike I would recommend for a beginner is the HDGTSA mountain bicycle.
It has features that are perfect for anyone new to mountain bike riding; can be folded, lightweight, has full suspension, good brakes, and it's even affordable.
What are the top 10 Mountain Bike Brands?
Before you can buy any mountain bike you need to know if the Brand or manufacturer is a reputable one
The top 10 best mountain bike brands are but not limited to:
Mongoose
Adamant
Smayer
Omeng
Linkiom
HDGTSA
LRHD
Roadmaster
Diamondback
LENXH
What is The Best Affordable Mountain Bike?
Not everyone has a high budget for buying bikes, you may be looking for the best mountain bicycle that is within your means or reasonably priced.
The cheapest and most affordable mountain bicycle is the LENXH mountain bike, the price is $212.19
If you have been searching for trail bikes under $500 or even $300, then you need to try LENXH mountain bicycle.
What is The Best Entry Level Full Suspension Mountain Bike?
If you are looking for the best mountain bike that have full suspension in the front and back of the bicycle and also good for an entry level rider, i suggest you should check out Shock Speed Mountain bike.
It has full suspension and is best for a beginner, however if you don't like it you can check out LINKIOM mountain bike as it possess double suspension.
Having a bike that possess full suspension protects you from bumps, etcetera.
Can i Ride a Mountain Bike on The Road?
It depends because it all depends on the type of tire of that mountain bike. If you plan on using your mountain bike on the road or any place, make sure the tire can ride perfectly on that path before buying it.
This is one of the reasons why I recommend that you always check full details about a bike (including the tires) before purchasing it.
For example, the Mongoose fat tire bike has a tire that rides smoothly on any type of terrain.
Are Mountain Bikes Good for Commuting?
Yes, they are good for commuting if the tires are not too fat or heavy. I highly recommend hardtail mountain bikes if you mainly want to use it for commuting.
Hybrid bikes which is a cross between touring and mountain bikes are the best bikes for commuting.
If you want to convert your mountain bike to a commuting bicycle, change the tires to a more narrow one, add lights, and mudguards and reflective tapes.
Do Mountain Bikes come with Pedals?
Yes, most of them do come with pedals. However if your mountain bike does not come with pedals, purchase any flat or clipless pedals for your mountain bicycle at any bike shop near you or you also buy them on Amazon.
Do Mountain Bikes have a Weight Limit?
Imagine if you sat a bike for the first time and the tires busted or the whole bike collapsed. That was a bad joke right?
Read this right, not all mountain bikes have a specific weight limit for the rider. However some bikes do have, I have seen mountain bicycles having weight limits of 300, 305, 350 and even 400 pounds.
Do note that the weight of a bike matters a lot especially if you are a heavy rider. Make sure the tires can also carry you without tearing.
If you are super duper heavy, I highly recommend the Mongoose dolomite fat tire bike.
Does Mountain Bike Frame Size Matter?
Yes, the frame size matters a lot. In fact it is one of the most important things you need to check before purchasing any bike at all.
I am pretty sure you don't want to get some back pain after riding a bike that has a frame which is too big for you.
The perfect frame size of any bike highly depends on the height of the rider.
The frame size determines how comfortable you are going to be while riding the bike. It also makes you have more control over the bicycle. Of course you shouldn't be to far from the handlebars of the bike.
Why Mountain Bikes are out of Stock?
There are two major reason for these bikes being out of stock; 1. The Corona virus pandemic, and 2. The demand for mountain bicycles.
Due to covid-19, many industries including the bike industries have been negatively impacted especially when there was a complete lockdown in most countries.
Secondly, there has been a huge increase in demand of mountain bicycles. Since there are many rules on public transportation, people decided to resort to riding bikes.
The demand passed the supply of bikes in every country and this even one of the reasons why the price escalated quickly and most bikes are now out of stock.
Don't worry, everything will come back in place. See when below.
When will 2021 Mountain Bikes be Released?
Possibly by January 2021, most mountain bicycles brands will start releasing some bikes and they will be back in stock.
Since the pandemic is gone, manufacturers of mountain bicycles will start producing and releasing bikes to the public, also the price is likely to reduce if the supply is higher than the demand.
Conclusion
In this article, we reviewed the top 10 best mountain bikes in 2021 and also answered some of the frequently asked questions.
If you are a professional mountain bike rider, don't buy a bike because it's very cheap; find out everything you need to know about the bike.
Things like speed, length, weight, type of tires, suspension, brakes, frame size, weight or height limit, etcetera matters a lot.
Share this article with your friends and family as you may help someone find a good mountain bicycle, sharing is caring.
Just in case you have any questions, feel free to leave a comment below.