Mountain bikes are speedily gaining interest in the market, but a unique brand of quality and style is offered in BCA bikes.
There are amazing mountain bicycles in market circulation, both online and offline, local stores and stalls, not being able to make a perfectly clear pick on one, lands you to either spending regularly on bike maintenance or having to purchase a new one in the nearest future.
Like I said, not every Mountain bike is the same. Some are designed with top-notch features, while some are so fanciful yet lacking strength and durability.
C'mon!
That's the business, dear. Sellers will try to market their products no matter how bad they could be, just to make some gains. I bet you wouldn't want to fall prey to making wrong market prices.
Enough of all the Ya-daa, Ya-daa talks.
Let's get straight to business.
I will be your guide to making great picks. As a cyclist who enjoys cycling, my reviews today will be extensively on BCA Mountain bikes. Aside from having great quality, these bikes are of an amazing standard.
20 inches BCA MT20 Mountain Bike
Kent boys brand pushes into the bike market a 20-inch Bicycle that doesn't just fit well for kids, but also for big brothers and fathers.
20″ BCA MT20 mountain bike is designed in such a way that it is so easy to pedal even for a 6-year-old kid.
Designed with a Shimano 6-speed drivetrain packed up with twist shifters which make for great rides as you have 6 gears to switch from through rides.
Lugged power-packed knobby tires that work perfectly for great traction. Coupled with a timed travel shock fitted to the front, it works great in absorbing bumps and minimal hits as you slide through downhills and uphills. A sturdy steel body with a hardtail frame that is packed up with strength and durability.
A dual brake system for the front and rear tires grants you a comfortable stop. Its linear pull helps keep your speed on a check. However, these brakes could be adjusted, although with high skill of professionalism, all to suit your personal preference, as an adjustment to the derailleur could have some ups to your Bicycle to make out how you will personally want your brakes to function.
An amazing soft handle that gives you a comfy grip even through rocky paths.
An adjustable pliant and supple padded seat which requires no extra tools to fix it to your choice. This seat has the ability to sustain bend even without creases, cracks, or breaks, you shouldn't worry an inch about your butt hitting bare iron.
In addition, it is nice you know that this bike is easy to assemble. You don't need to break a sweat trying to fix up default parts together, probably in around 20 minutes, you should get your mountain bike assembled and mounted.
Quite beautiful, these bikes sell for below $90 on Amazon
20″ BCA savage 2.0 Boys Bike
In your quest for a trail giant suitable for your young ages, the BCA savage 2.0 is the best choice.
With a full suspension, your rides through mountains are supported with no fear of trips, hits or bumps.
A strong and sturdy frame, uniquely built with lightweight aluminum, equipped with high-quality alloy wheels with big knobby tires that are good for traction, frictional resistance, and firm tire to ground grip.
The savage trail master comes with 7 gears.
Amazing, right?
The Shimano 7-speed drivetrain is fitted with an easy twist to enable even a child of 7-8 years the ability to trust during uphill rides as he pedals smoothly without hitches.
A dual brake system which embodies the front and rear linear-pull keep your speed on checks and control, with just a single touch.
A comfy adjustable seat, padded to avoid pain and strain on your bum. Quite easy to adjust even with a beginner experience and no requirement for tools, as there is a quick-release height adjustment lever.
For a 20 inch bike, BCA savage 2.0 boys bike seems taller than other 20 inch bikes in its category.
Nevertheless, if the bike seems taller and a bit difficult for your boy to mount, you could remove the deflector from the seat, to reduce the height.
The bike falls on the price ranges of $110 – $124.00. All available at Amazon
20-inch boys BCA Genesis Rock blaster fat tire bike
Just in the entertainment show presentation, there should be an ovation for this bike.
This is a real Rock blaster.
That's no exaggeration, but don't be expecting a tractor in the form of a bicycle.
Its powerful features earned it the name.
20 inch Boys BCA Genesis Rock blaster fat bike is a sturdy steel hardtail bike.
This mountain bike is designed with a hardtail frame that is topped up a bit higher, granting the rider a comfortable balance during rides; uphill climbs, or downhill slides.
This bike is packed up with an amazing 7 gear function. A 7-speed drivetrain with Shimano rear derailleur with easy and smooth shifts.
Fitted with Fat knobby tires of 3 inches places less stress on your hands, reducing blaring lower back strains with the ability to tackle different situations projected by rough terrains and off-road trails.
Just like every other BCA Mountain bike, it has a quick-release seat adjustment.
Available on Amazon for the price of $99.9.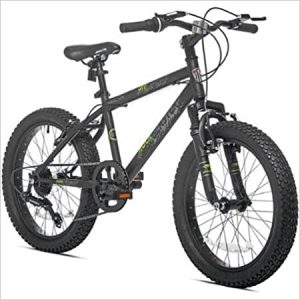 Quite cheap to be compared to most fat tires available in other online and local stores.
Most customers might be with the need to personally design your own Mountain Bike. Our base different parts and couple them at your wish. This feature mind does you great good as you can tune up your bike to your taste but this is kinda a bit costly to handle and requires some sense of professionalism in fitting in parts.
Instead of trying to couple your own Mountain Bike with different bike parts from different brands, I'll advise you stick to one brand, study on its features as offered and make your decision.
There will surely be a bike that will meet your requirements.