Looking for a good mountain bike with a price range of below 500 dollars?
Huffy Hardtail stone mountain bike is a good choice in this category.
Cycling is fun, amazing and a sure sport for everyone. Boys are known for their love for Bicycle. Round through games, short trips, commuting, Marathon, the clamoring for cycling is always overwhelming in a young boy's life.
From toddler age featuring a kid with his first bike, down to adolescent age, hopefully till adulthood, the neighborhood is always greeted regularly with sights of boys on Bicycles.
Whether you are cycling for sport, or as an exercise routine, nobody loves to ride a wack bicycle.
However, the desire to own a good Bicycle always hits a lot of indecision, considerations of brake, gears, tires, body frame, style, you'll want to get a quality bicycle worth the price you are spending on it.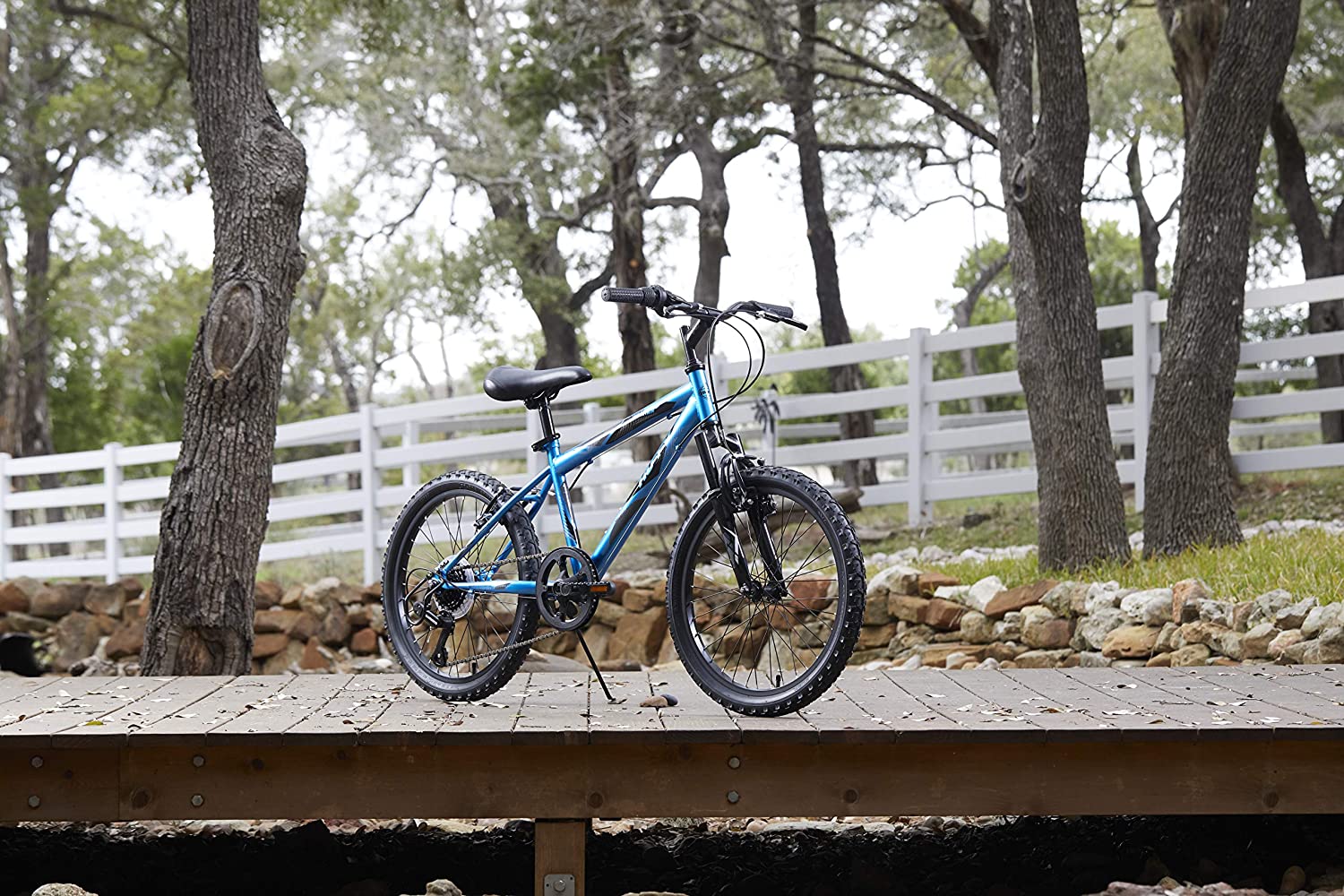 The price however could be frugal, nobody wants to break a bank just to purchase a bicycle.
Of course, there are numerous mountain bikes, out there in the market. Some are flashy, very beautiful, and attractive.
Hey! Style, class, and design shouldn't be your priority in choosing a mountain Bicycle.
Yeah, I know you wouldn't want to ride out on the public or a mountain terrain with a less developed Bicycle. Notwithstanding, mounting a well-designed bike with a poor brake system, less sturdy structure will place your safety at great risk.
In 1892, Huffy made its first launch into the bike industry. Building its first bicycle in Dayton, Ohio, they diversified their line of production from being a manufacturing company of Sewing machines and lawnmowers but a big brand in bicycles Production. With making a stop at their first Production, they launched deep into the Market, making Bicycle Production their priority.
With huge innovations and advancement steps, they moved further to launch a first of its kind 'The Huffy Radio Bike'. This bicycle was the first-ever constructed with solid-state transistors and music fitted right to the bike for the pleasure of the rider during cycling. Huffy ain't just a brand name, but a big bike name that represents comfort, fun, and quality.

Huffy Hardtail stone mountain bike offers you all the amazing features of a mountain bike at a cheap price. Huffy Hardtail Mountain Bike can justify as being one of the cheapest mountain bikes in the market. At a standard quality too.
With a wide trend of Bicycle, Huffy bikes offer you a notable brand with colors, designs, and comfort, all in one piece. Comfort, speed, control has remained a hallmark for Huffy Mountain Trail Bikes.
As a mountain rider, you should not be looking for a bike that can lead you from block A to B, but your concentration and focus should be on the ability of a bike to push through external pressure from slopes, rocks, rides through downhills and uphills including rough terrain.
However, you necessarily don't need to save up too high to purchase a high-end mountain bike, which could cost you thousands of dollars but a hardtail bike as Huffy Stone mountain bike gives you some great rides through rough terrains without opting for constant repairs and maintenance.
Huffy Hardtail stone mountain bike comes with a front suspension that adds up to achieve 21 speeds for action rides. Speed levels which make it easy for uphill climbing, downhill scaling, easy acceleration, solid performance even for flat surfaces. You've got nothing to worry about, take charge, mount on, and pedal on.
Easy to assemble upon purchase, easy pedaling, a 24″ x 1.98″ knobby tires with great threading lines for perfect road grips and an alloy wheel which is beneficial for rides through wet, muddy, gravel or grounds with dirt.
Actually, a newbie might be so scared to take up a mountain trip, or even a road tour. Your imaginations feed you with tales that pedaling is so much a hard work, you wouldn't want to subject yourself to another chain of manual labor.
But this is not the case with every bike, light-weighted bicycles with amazing gear fittings are way easy to pedal.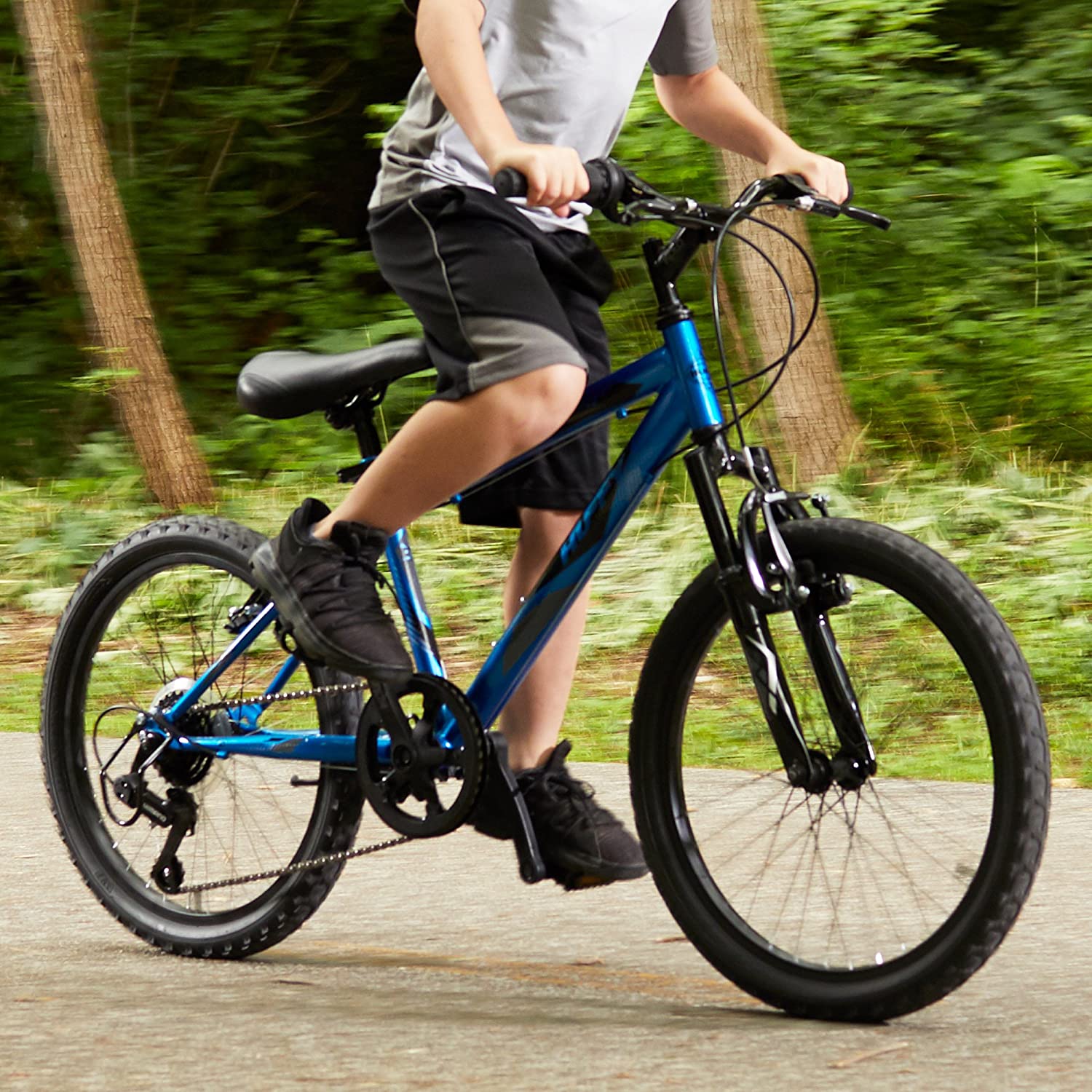 Huffy Hardtail Stone Mountain bike comes with to a combination of Shimano TZ-31 rear derailleur gear and a Microsoft twist shifter to assist in the delivery of 21 speeds at leee strenuous pedaling.
The gear comes fitted with protective gear to protect it against unintentional damage.
A slightly raised handlebar Kraton grips to enable a comfortable grip, reduce back and shoulder strain, and an additional fitting of a kolo 1200 suspension fork which acts as a shock absorber against bumps.
This 26 inches bike comes with a 17″ frame sturdy steel. This 17-inch height helps you balance well as you ride through rough terrain to avoid tripping over.
An ATB saddle with premium paddling to enable lasting quality, plus an adjustment and on its seat, as you can decide the seating position that suits you and your ride.
A linear-pull hand brake that grants you a comfortable stoppage at a firm grip, krayton grips for a comfortable feel and touch during rides.
Huffy Hardtail stone Mountain 26 inches, 21-speed bike serves ideal for ages 13, although some customers have reviews of fitting Perfectly for their 9-year-old sons, possibly because they were a bit big and more advanced in bodily structure than peers of their age.
The bike comes in a charcoal gloss coating, to give it an attractive look for its structure. A Hardtail steel frame that keeps this bike in a great positive comparison with High-end mountain bikes.
Yeah, this bike is strong and built for jams, but I never advised you to go ram yourself into a rock or trash yourself into a moving van, you ain't dead pool that has lots of lives as spare.
This bicycle also comes with a limited lifetime warranty, hopefully, in case any of its parts are ill-fitted by default or damaged during delivery.
Like I said earlier, the Huffy Hardtail stone mountain bike is one of the cheapest mountain bikes in the market at a jaw-dropping price of $133.99 on Amazon.