Gravel Bikes are a combination of Road bikes and cyclocross bikes. Gravel Bikes are a blend of speed, comfort, and great performance, all in one bike.
With the growing acceptance of gravel races especially from the US, it has become a call of necessity to build bikes that are as fast as road bikes but also as sturdy as mountain bikes.
Road bikes have limited cycling ability as they cannot handle every road condition. Muddy or rough terrain can easily destroy the heads, handle of your road bike, damage its rims and make your wheels look displaced.
Gravel bikes bridge the gap between speed, rugged, and road adaptability, offering not to so large tires with great road ply ability. Gravel bikes are designed with a larger wheelbase, a bit larger tire which makes them a comfortable option for rides over rough pathways, crushed stone paths, and gravel roads.
The idea for larger tires is not just for the great feeling of comfort but to act as a shock absorber, increase tire to ground grip, and to withstand bumps, external pressure, and minimal hits.
Don't get so bored with my writings, please.
Enough of all the Ya-daa Ya-daa talks about Gravel bikes, let us get down straight to the tires.
Aside from the body frame of Gravel bikes, another important feature that makes it what it is, are the tires.
Although these tires are adaptable. You can easily fit your gravel bike tires into a road bike once they are of the same wheel size. However, with a gravel tire fitted in gives your road bike the ability to handle gravel terrain.
Gravel tires are designed in such a way to support strong grips on the road. Some gravel tires are tubeless, offering strong resistance to punctures, while some are fitted with tires.
Nevertheless, Gravel bike tires are laced with a fast-rolling center tread that comes with a tackier which offers stronger grips on the road.
The size of Gravel bike tires really matters. Good gravel bike tires should be in the size ranges of 32mm – 48mm.
Just as you should know, the bigger and thicker the bike rim is, the slower it becomes.
Gravel bike tires of 32mm are much faster on the road than 48mm tires, although this is not to be compared to road bike tires of 23mm. Gravel bike tires of 48mm are more strong and reliable on trails but with less speed.
The standard size for gravel bike tires is 38mm. This gives you gravel bike tires that have an ease to speed efficiency and still able to maintain string road grips and frictional resistance while sprinting.
The Top Gravel Bike Tires
This review extensively covers the best gravel bike tires, as well as links to online stores where you can easily purchase them.
Vittoria Terreno Dry 2.0
Vittoria Terreno Dry 2.0 is a powerful file tread Gravel tire, with amazing knob design, nice all-round beads, and an easy to mount assembly.
Vittoria Terreno gravel tires are designed in a well-ramped fish scale pattern that allows for center treading which provides a fast-rolling edge, tight cornering, and support a one-time firm grip for brakes, even on dirt grounds.
Its fish scale design help improve traction levels, and also improve tire performance.
Vittoria Terreno Dry tire height and size, slick pattern make them roll smoothly and at a fast rate during rides.
Vittoria Terreno is laced and enhanced with 3C Graphene 2.0 compound structure. Its graphene treading places 3 unique compounds around the tire, boosting the tire performance as well as its durability. From gravel riding to medium conditions crossroad racing, the Terreno Dry tire offers consistent performance.
Vittoria Terreno has a tough 120 TPI TNT casing, which makes it a great pick for gravel bike races, cyclocross race and also reducing the rate of wears and tears.
This 700 x 33c tire is mostly tubeless, with a puncture-resistant body frame which makes them strong against potential damage on the road during rides.
Amazon Price: $40.95 – $53.99
Venture Road TCS Tire
Venture Road TCS tires are built with custom effects and features that make them versatile for the majority of road conditions. Designed with double rows of outer knobs which provides ultimate balance through different cornerings, bends, and road twists.
Venture Road TCS tires are enhanced with elevated centerline ridges, a Rounded tire profile with vertical channels, and a Dual Compound Rubber, all of which combine to provide amazing sidewall protection, tire strength for climbs, and great traction quality as well as durability, frictional resistance, and rolling resistance.
Its full measure on the ground starts great road grips, ensuring control and balance during rides.
Venture TCS tires have 60 TPI and an amazing TCS casing. Its lower TPI indicates that the tire casing is made up of thicker threads which is a good sign for durability and supple covering for shock absorption, a perfect choice against wears and tears.
Venture TCS tires are laced with tightly-spaced centerline treads, tubeless aramid bead, softer, slower-rebounding outer knobs, and a dual rubber DNA, features which makes the tire a great companion for traction, fast-rolling compatibility, and reliability.
Efficient on gravel, dirt tracks including pavements, all with enough grip for the different terrains and an amazing puncture-resistant tubeless fitting.
Amazon Price: $53.95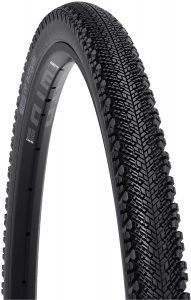 WTB Raddler 700C TCS Gravel Tire
WTB Raddler 700C Gravel tire comes in sizes 40 or 44, depending on your wheel and rim size and purchase demand. It is structured with a short-knob center and intermediate tread which proves as great support for rolling resistance and frictional resistance, as well as offering great road grips and traction levels, all in overall posing as aids for tire durability.
WTB Raddler is designed with amazing Teething which offers full coverage on the ground and ensuring safe rides through gravel or stony paths.
With an amazing Single-ply 60tpi casing, there is an assured coating all round the tire which provides maximum protection against wears and tears.
WTB Raddler is fitted with a TCS Casing for extra rubber coating and a tubeless System for enhanced puncture resistance.
Amazon Price: $53.95 – $86.99