You could be asking which tire goes well for your commute Bike. For newbies, you might not even know what a commuter bike is, or how its tires are constructed to look like, anything could be nothing for you.
A commuter bike is a bicycle designed with a simple frame, slim tires basically used for travels, tours, running around town for your day to day activities.
Commuters come with slim tires and logically, slim tires require a lot of air pressure. Commuter tires come in different sizes. Their sizes, however, are dependent on the bicycle. The size of every commuter tire goes a long way to determine the air pressure for it. Some commuter bike riders will prefer that their bikes are filled with an air pressure of 100PSI. For a commuter bike with 700 x 28c tires, it is advisable to keep the pressure at ranges not more than 110 PSI. Although most tires come with a default specification from the manufacturer on its maximum pressure limit.
Whichever way it goes, the weight you mount on your commuter bike should determine the air pressure you limit it to.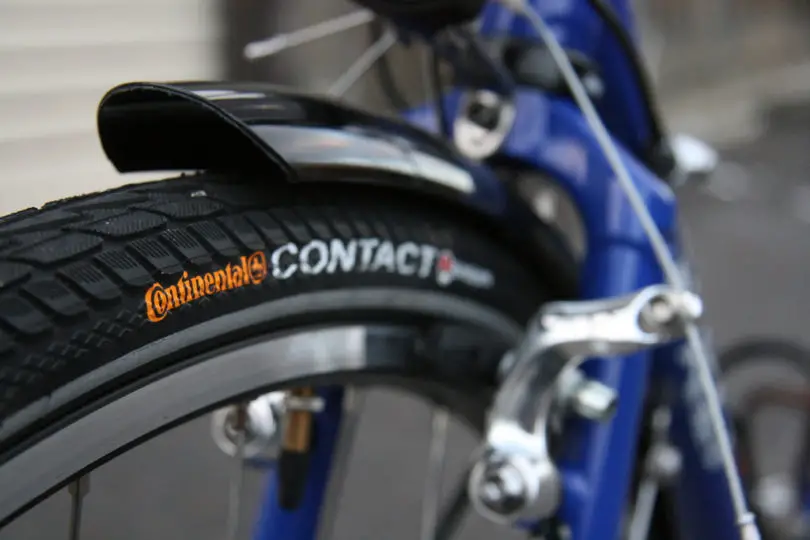 What makes a good commuter bike tire?
In choosing a tire for your commuter bike, you must take note of some of these features.
1. Traction Provided
The Threading of your commuter bike tire is very necessary. Its threading is not designed like mountain tires with rough and porous teeth but with a rather slim, slick, not so rough frame to take through long rides.
2. The size of your bike tire should correspond perfectly with the rim of your wheels. Tires that fall under the range of 20c – 42C have been known to be the best for commuter bikes, as they offer great rides and perfect road grips for commuter bicycles.
Commuter bikes with wheels of 700c should go for tires that have widths between 28 – 35c.
However, the need to discover the size of your bike tire should not give you a reason to scratch your head, the specifications will be given to you in your bike's product manual or with the assistant of your local store sales agent.
With all these said so far, I will be giving a comprehensive review of the best commuter bike tires in the market. Trust me, this review will go a long way in helping you make the right decision in your commuter bike tire purchase.
Kenda commuter Tires K838
Kenda K838 tires are multi-purpose bicycle tires, having the ability to fit well in Commuter bikes, Hybrid, cruiser, and most times mountain bikes.
They are built to a high standard of durability fitted with wire beads that gives these tires the ability to survive 1400 miles, and 4 seasons without wearing out. Kenda Tires remains one of the bike accessories sold online that earned the badge as 'Amazon Choice'. This feat is a result of the fact that Kenda K838 tires don't have a single negative customer review to its credit.
Kenda's K838 tires are designed with slim smooth thread tire frames that rolling resistance, making it possible to ride your bike on pavement and with increased speed. Kenda K838 single tires are ideal for high way Cycling, commute rides, or for pleasure rides and recreation.
Irrespective of its slim and smooth nature, it absorbs bumps and external pressure perfectly.
This tire has dimensions of 1.95-inch width with well-threaded side walls and water dispersal grooves for strong grips on-road and confident rider balancing. The fitting of Sleek tires makes pedaling much easier, making mountain, dirt roads, or trail rides more efficient.
This 26-inch bike tire has a recommended air pressure 40 – 65 PSI.
Amazon Price: $48.99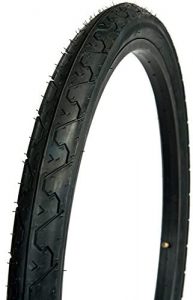 WTB Slick 2.2 Comp Tire
Are you tired of knobby tires? The screech and noise? Their difficulty in riding through pavements? Then you surely need this 5-star bicycle tire.
WTB Slick 2.2 comp tire is a 60A durometer DNA designed rubber that offers a blend of rolling efficiency, resistance, and traction. This alike tire offers a superb road grip during rides giving the rider an assurance against falls. Its DNA component makes it long-lasting and durable.
WTB slick tire has a smooth centerline, an outer groover that supports traction and wire beads.
Wire beads are the area around the tire that contacts the rim. Tire beads make tires more strong. Although, riders with tires fitted with beads are advised against folding them. Folding a beaded tire causes its damage.
Aside from their amazing features, WTB slick 2.2 Comp tire is one of the cheapest tires in the market.
With a selling price of $34.95 on Amazon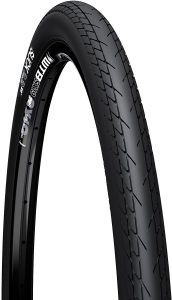 Retrospec Korde commuter Tires Kwest
Retrospec Korde Commuter Tires is a multi-colored tire. It comes in different colors; black, cream, red, and blue. Designed with smooth threading with large water dispersal grooves which makes it easy to ride in the rain and wet conditions without fears of splashes.
Fitted with hardwearing that ensures durability, an amazing design that makes it puncture resistant, extra durable, and long-lasting.
Retrospec Korde Commuter tires are designed in a slick way that offers the rider an extra tire feature of rolling resistance, which means easy pedaling for much acceleration.
Amazon Price: $10.36

WTB Cruise 2.0 Comp Tire
The Cruise Comp Tire is a highly tested and proven tire for different commute reasons, with a great absorption level that makes it near suitable for mountain rides. Although WTB Cruise 2.0 tire is not a knobby tire, its level of functionality makes it a dependable option for riders. Designed with durable Casing, DNA rubber, Wire Bead, smooth centreline, Flat tire Guards which offer rolling resistance, 1.5mm of Thread Thickness which offers durability, provides extra traction and maximum efficiency through all weather.
Fitted with deep outer grooves along with its tires that allow low retaining of water even during wet conditions. Its top-tier TCS tubeless feature makes it versatile to handle any weight and extra puncture protection.
This bike tire handles a wide variety of road conditions; pavement, Gravel, dirt track handling air pressures of up to 60-80 PSI
This tire comes for an affordable price of $44.99 on Amazon.