Road Bicycles are generally known for racing, training, and traveling on pavement or flat hard roads at great speeds.
The need for speed and endurance level mounted on these bikes makes it necessary that you choose specified tired for them.
The interaction of your tire and the ground is a crucial determinant through your cycle. This interaction includes; Road grips, Rolling Resistance, Traction, and Frictional Resistance. Some road tires are designed to be puncture-resistant, although these are monthly found amongst tubeless tires.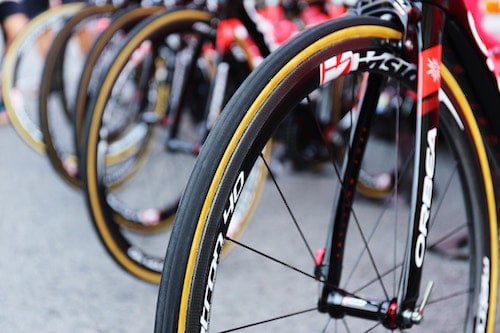 Road bike tires are built in different variations. These variations in tires are as a result of the different types of road bikes in the market.
There are basically six types of road bikes.
1. Touring Bicycles
2. Hybrid Bicycles
3. Utility Bicycles
4. Recumbent Bicycles
5. Vintage Road Bicycles
6. Fitness Bike
Every manufacturer fashions out his time to meet the uniqueness of his brand. Nevertheless, all-road bike tires fit in with the same features. This huge similarity margin might make it difficult for you to differentiate a good tire from a bad one.
Before you set out to purchase a road bike tire, you must know the following;
1. Road bike tires require high air pressure intake, for as high as 100PSI.
2. Road bike tires are usually narrower with its size pegged at 700c x 23mm which is subject to the size of the wheel and rim.
3. Road bike tires are smooth, so as to decrease rolling resistance.
4. They are designed with an aerodynamic smooth feel that works well on friction, offering amazing road grips even during wet conditions.
However, to make things easier for you, I have rounded up the best road bike tires out there. These ratings are based on their design, speed level, threading, overall patterns, and price.
These road bike tires are also cost-effective and friendly.
1. Continental Grand Prix 5000 Performance Road Bike Tire
Continental Grand Prix 5000 Road bike is a German-produced, unique set of tire that usually comes in pairs, manufactured with Black Chili materials with a unique tread design that offers better rolling resistance, firm grips which offer light and durable rides.
Continental Grand Prix is the latest product in the grand Prix family that provides superior performance compared to 4000 or lesser tires of the brand. These tire pairs are made with highly engineered touches that make them comfortable for flat terrains, greatly absorbing vibrations.
Its road trip is enhanced with Lazergrips. Its Lazer micro profile structure which spreads through all the tire borders making it safe and easy to take sharp turns.
Continental Grandprix Road Tire is constructed with folding beads and a liquid-crystalline polymer (dextran breaker) which makes them hyper-effective against wears and tears.
Continental Grand Prix 5000 Road tires are available in tubeless versions and in overall, they are puncture resistant.
Amazon Price for Two: $99.85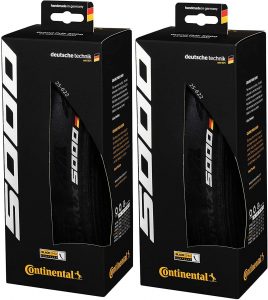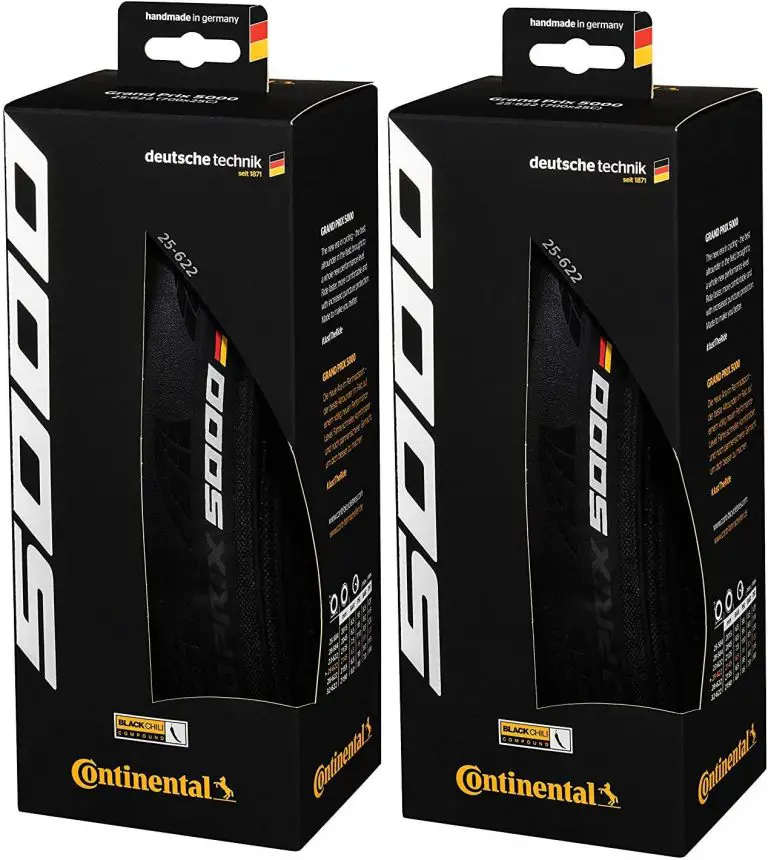 2. Goodyear Folding Bead Road Bike Tire
Goodyear Road bike tire is an amazing tire built in tough, strong folding bead design to offer durability. With Goodyear Folding Bead Road Bike Tire, you are assured of 2000 – 3000 miles ride, with comfort and no fears of wears and tears.
Goodyear Road Bike Tires are easy to mount, you wouldn't need tire levers or support to get them assembled on your bike. If you are looking for a good tire to replace your old bike tires, consider the Goodyear Road bike as an option. It is the best in its price range and also the cheapest for such quality.
Goodyear Tires are designed with a solid black treading, which offers good rolling resistant, excellent road grips, and frictional resistance which supports great control during rides.
Goodyear Road bike tires support a maximum of 90PSI.
During the fitting, it is advisable you turn its logo design to the right side or chain side of your bike
Although this is not a huge difference but a notable detail you should take note of.
Price: $43.50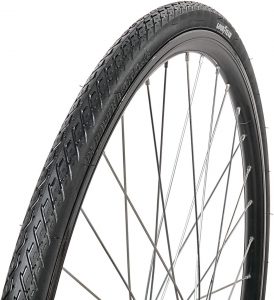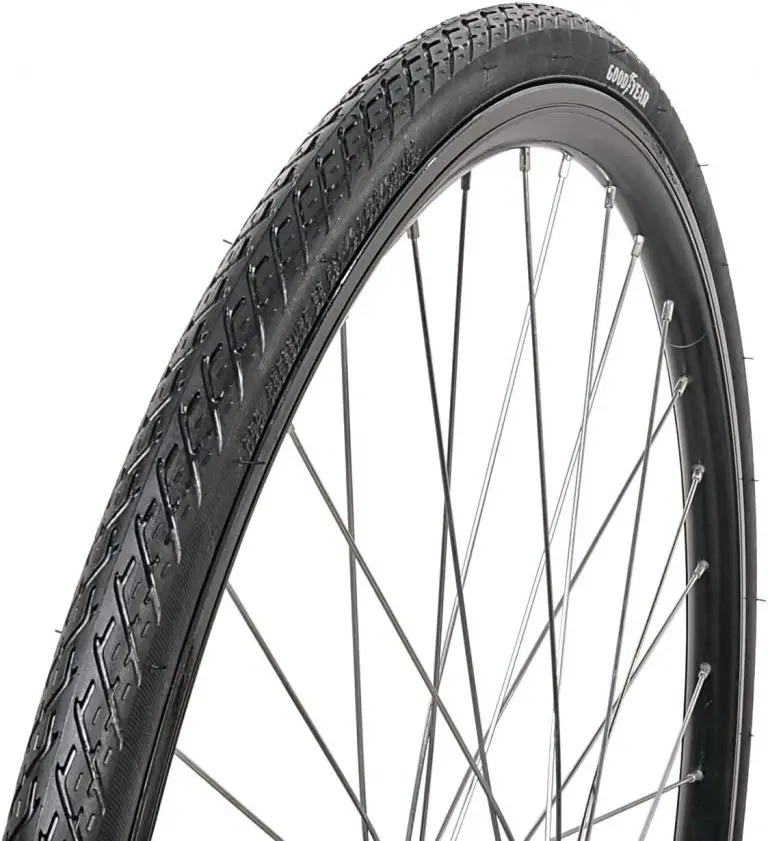 3. Maxxis High Road TB3100 700x25C 120TPI Clincher Tire
Maxxis High Road Bike Tires are designed in the clincher style, with flanged beads that fit perfectly into the rim of the wheel.
Its HYPR Racing Compound makes up to provide supreme wet grip performance, rolling, and frictional resistance both for dry and wetlands. The tires are fitted with a K2 Kevlar composite breaker beneath the treading for puncture protection. To top up its durability, Maxxis High Road bike tire has an all-round light and supple 120 TPI casing.
Maxxis Road bike tire fits to be called an all-round versatile bicycle tire because it can be used for tours, commuting, or just for recreational cycling.
This 700 x 25C tire has a maximum air pressure of 130 PSI and usually comes in pairs.
Amazon Price: $85.00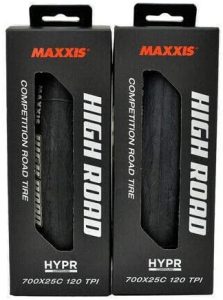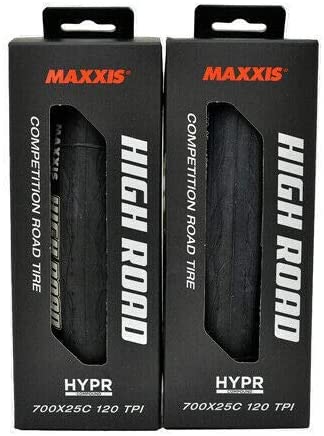 4. Dorado Road bike Tire
It's springtime.
Guess what you should be doing this weekend?
Hitting the road with a bicycle. Whether you wish to cycle long distances, take sprint rides, commute,  recreational tours, whatever reason you can think of, just make sure you hit the pedal today.
Dorado Road Bike Tire is a strength packed, strong tire, reinforced with 120 TPI casing, fold beads fitting which makes it durable, long-lasting, and frictional effective.
These Taiwan made Tires are constructed with high-quality materials and careful manufacture design and inspection with road testing implementation to meet all road bike standards.
Duro Tire brand makes sure that each of their products is designed and manufactured to meet customer satisfaction and also provided at affordable rates.
Dorado Road Bike Tires are constructed with a light-weight structure of 230g – 276g, making it pedal-ease without applying much weight on the bicycle. Its construction with 120 TPI casing and aramid fabrics make Dorado Road Bike Tires effective against wears and tears and also puncture-protected.
These tires feature a perfectly structured centerline with diamond knurled tire borders that ensured improved cornering, balance, and control.
Dorado 700C Road Bike Tires come with a recommended air pressure of 85 – 120 PSI.
Dorado Road Bike Tires are fitted with a tire structure of 1.5 ply bead-to-bead carcass option, Aramid foldable bead, all to ensure strong rim to tire strong adhesion, tire durability, and decrease tire deformation rate.
Amazon Price: $24.95