"Own an umbrella, you don't know when the rainy day comes knocking". That phase is closely related to cycling as you don't need to wait till your bicycle breaks down before you start looking for a torque wrench. Except you always want to keep throwing in some cash to the repairman for maintenance.
A torque wrench is a tool used to measure, control, and apply required force to your bicycle at its specification by tightening or loosening the bolts or nuts.
Torque wrenches are essential tools in cycling. From changing tires, assembling bikes, adjusting nuts on wheels, pedals, handlebar clamp, Saddle, and seat post, they are generally used in keeping the nuts and bolts at optimal pressure.
As a beginner, using a torque wrench might be worrisome for you. Not that you don't know how to swing your arm to turn the lever or you don't know how to place your hand firmly on it, but because you might find it difficult to know when you have reached the torque limit for your bike.
Using the torque, it is strongly advised against overtightening as well as under-tightening. Some bicycle frames are made up of carbon fiber, excessive pressure on those body parts as a result of overtightening can overstretch, deform, or break the bolt head or bike discomfort.
As well as under-tightening.
Little torque (force) on your bike can cause bike components to run on "freewheel", parts start slacking, which can pose a great risk to your safety on the road.
Why do you need a bicycle torque wrench?
You need a bicycle torque wrench because you ain't a bike genius, even if you are, you can't tighten those nuts and bolts with your fingers.
As long as your bike is placed on steady motion, the relative pressure mounted on its body parts will always increase and there will also be a decrease in its tolerance rate.
The best way to keep your bicycle on the safer side is to use a torque wrench to keep all bolts, nuts, and components on a check.
However, there are different types of torque wrenches, wrenches with different measurements, specifications, and calibration.
To enjoy maximum efficiency from your torque wrench, it must be calibrated correctly as well as have Ultimate precision.
Wrenches should be tested after purchase. It is preferable you use a digital torque wrench testing machine, you don't need to be guessing if its a 3NM, 5NM, or 8NM torque.
Although bike torque wrenches between the ranges of 3NM to 7NM are considered nice. Well, that depends on what you are tightening. However, I will always advise you to stick to preset Torque wrenches to allow you the ability to easily adjust your torque wrench to your bike need and specification.
All things being equal, I will be offering a guide through torque wrenches for your bicycle. These torque wrenches are carefully handpicked based on their efficiency, easy to use, price variation, and also the appraisals from customers.
 Bulltools 1/4 inch Drive click Torque wrench set
Bulltools torque wrench is a hardened chromium molybdenum alloy built multi-sided bite ratchet with an aluminum-titanium alloy handle, designed to last and meet durable conditions.
This torque wrench has an industrial grade and measuring range of 20-200in.-lb/2.26-22.6Nm and a calibration error range of ±3%.
Built with a 72 – 90 tooth CR-MO High-Quality Material, a Dual-Direction Click, and High-quality S2 batching sockets, which offer higher strength, more durability factor, and a not easy to wear fitting.
Bulltools Torque wrench is designed in a high Technology fashion that enables it to rotate through 5 degrees offer more precision and accuracy.
Its aluminum-titanium alloy handle offers comfortable grips, non-slip, anti-rust, and an anti-corrosion feature.
This portable torque wrench includes a 1/4″ / 3/8″ (3/8″ conversion head) drive, 1×3/8″ Conversion head, 1×1/4″ Extension bar (100mm), 1/4 Universal Joint, and 15 Sleeve Accessories which include Hex Keys; H2, H2.5, H3, H4, H5, H6, H8, H10, plus 5mm Longer Allen Key, Torx Bits; T10, T15, T20, T25, T30, Phillips Screwdriver; PH1, PH2, PH3.
Bulltools Torque wrench is fitted with an easy to read laser scale, a press and release sleeve option, a dual-direction feature which allows usage through the clockwise and anticlockwise direction.
Price: $49.99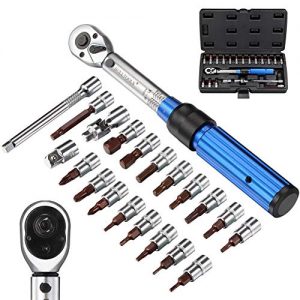 Probike Tool 3/8 – inch Drive click Torque wrench
Personally, I wouldn't want to pledge allegiance to a particular brand, but all through my career as a cyclist, if there is a torque wrench I can vouch for the accuracy, it is Probike Tool.
This 11-inch torque wrench has an ISO 6789-2:2017 and DIN EN ISO 6789-1:2017-07 certified calibration and accuracy standard and grants you full assurance when installing any parts on your bike without fear for overtightening and under-tightening, especially for carbon materials.
Bulltools is a Taiwan built torque wrench with a 10.0 to 60.0 Nm torque range, a micro-adjustment to 0.5, all together working to ensure accurate fittings to your bike components.
Enabled with a one-touch spring-loaded adjustment collar which automatically locks your desired torque value, without letting it move out of ration.
This preset Torque wrench is customed as a reversible 72-tooth ratchet head, which measures torque in dual directions; +/- 4% clockwise and +/- 6% anticlockwise directions.
Engaged with an engaging and release feature, a tool kit that includes a 3/8" to ¼" adaptor, 3/8" to ½" adaptor, 75mm extension bar, high-contrast easy to read scale, and a click enabled sound that lets you know when you have reached your preset value.
It also comes with a protective case that helps you keep your tool bits in order and safety.
Price: $84.99
WISRETEC Torque Wrench
WISRETEC Torque wrench is a preset torque wrench with a torque tolerance range of +/-4%, professional calibration fitting meeting DIN6789:2003&ASME B107.14M-2004 requirements, a quick-release design, and durable tool parts for lasting usage.
This 2-14N.m torque wrench has dual direction usage that allows torque movement in a clockwise and anti-clockwise motion.
WISRETEC Torque Wrench comes with a tool kit that contains a single 1/4 inch drive, 2 Hex bits: 2.5mm 3.0mm 4.0mm 5mm 6mm 8mm 10mm, and 3 Torx bits: T25 T30. A user guide and a Precision inspection report to keep track of your calibrations.
It is designed with the click sound technology that allows it to pop a click once the preset torque value is attained.
$39.00