There are different types of bicycles in Production, the major classifications include; mountain bikes, Beach Cruisers, Road Bikes, and Hybrid Bikes. These individual bikes are known for peculiar features but the Hybrid Bike is a combination of a Road bike and a mountain bike.
Hybrid Bikes are general-purpose bikes designed with combined features of a mountain bike and a Road bike to tolerate a wide range of road conditions and terrains.
Hybrid Bikes are designed with specifications to adopt a trend; Flat, straight handlebars, just like a mountain bike, to obtain an upright seating position and a lighter weight frame, thinner wheels and tires just like a road bike to obtain faster speeds and reduce stress during pedaling.
There are different types of Hybrid Bikes. These include; Trekking Bike, Cross bikes, commuter bikes, city bikes, comfort bikes.
Irrespective of these different categories of hybrid bikes, they all attain the same purpose of the hybrid family, to beat any possible road condition at a faster speed.
These categories are distinct in their designs, road specification, and custom feature.
Some hybrid bikes like Trekking bikes fit more like a mountain bike as they can take up rides in muds and dirt tracks while cross bike fall close to the category of road bikes as they are good in racing/sport or touring activities.
BEST HYBRID BIKES 2021
Here is a thorough guide on the best hybrid bike available for sale. This review is ranked based on its design, price, and structure.
Hiland Road Hybrid Bike 700c wheels
This single-speed bike is designed with a lightweight steel frame providing comfortable rides that meet aerodynamic standards.
Produced with a Retro ergonomic design, simple style which is user friendly and highly adaptive with the environment and efficient for interaction between the rider and his bike.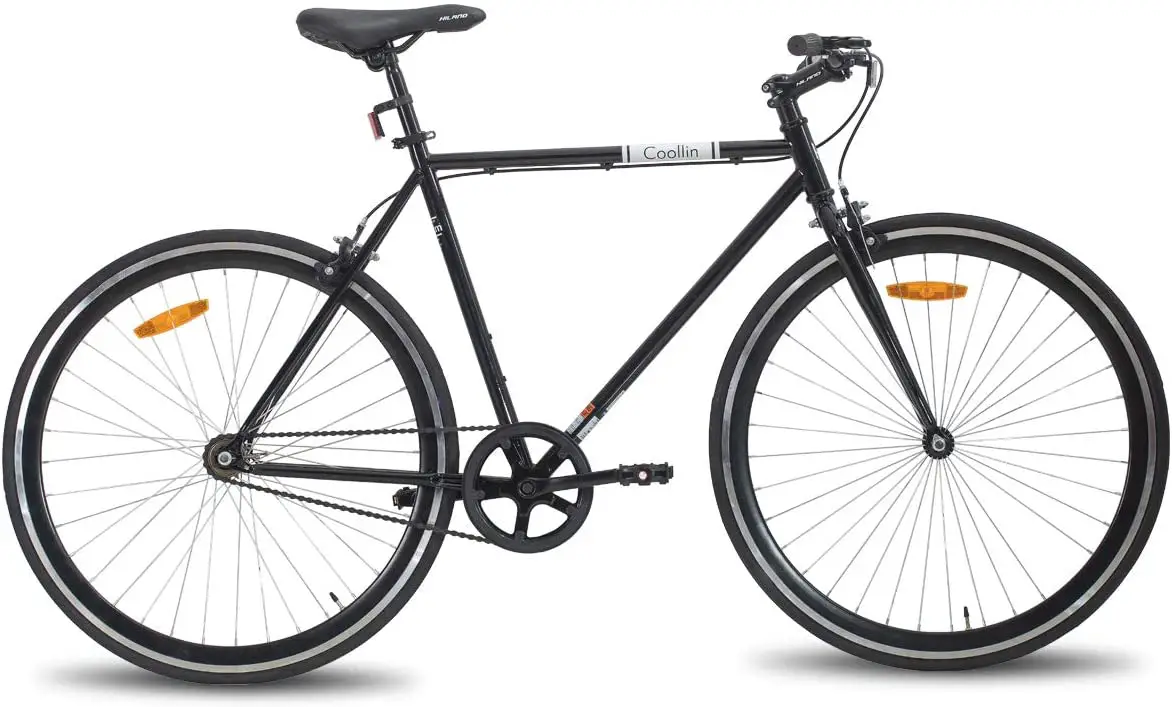 Fitted with 700C wheels and a single gear, it makes high speed rides an amazing experience.
Designed with a Fixed fork, aluminum double rim wall of 40mm, 170mm length crank arm, and handlebar of 125mm.
The headset of 1 – 1/8 inch, pedals of 9/10 inch axle, Chain wheel of 1/8 x 44 teeth, a freewheel of 1/2 x 1/8 x 16T, tires, and tubes of 700c x 25c and a seat post of aluminum 25.4mmm x 350mm.
This bike comes with an 85% pre-assembled delivery package with bike accessories like reflectors, pedals, tools, and user manual all included.
This bike falls under the category of best hybrid bikes under the price of $1000 for an Amazon price of $229.98.
Schwinn Wayfarer Bike Men and Women's Hybrid Retro style cruiser
Schwinn Wayfarer Bike is a 7-gear hybrid bike designed specifically for commuting, urban tours, leisure, or recreation.
It is equipped with a Shimano 7-speed rear derailleur with SRAM twist shifters that make it easy to go through hills and steeps. As a hybrid, they have components of road bikes by having a lightweight retro-city style strong steel frame, equipped with a Schwinn steel fork which makes them sturdy yet user friendly.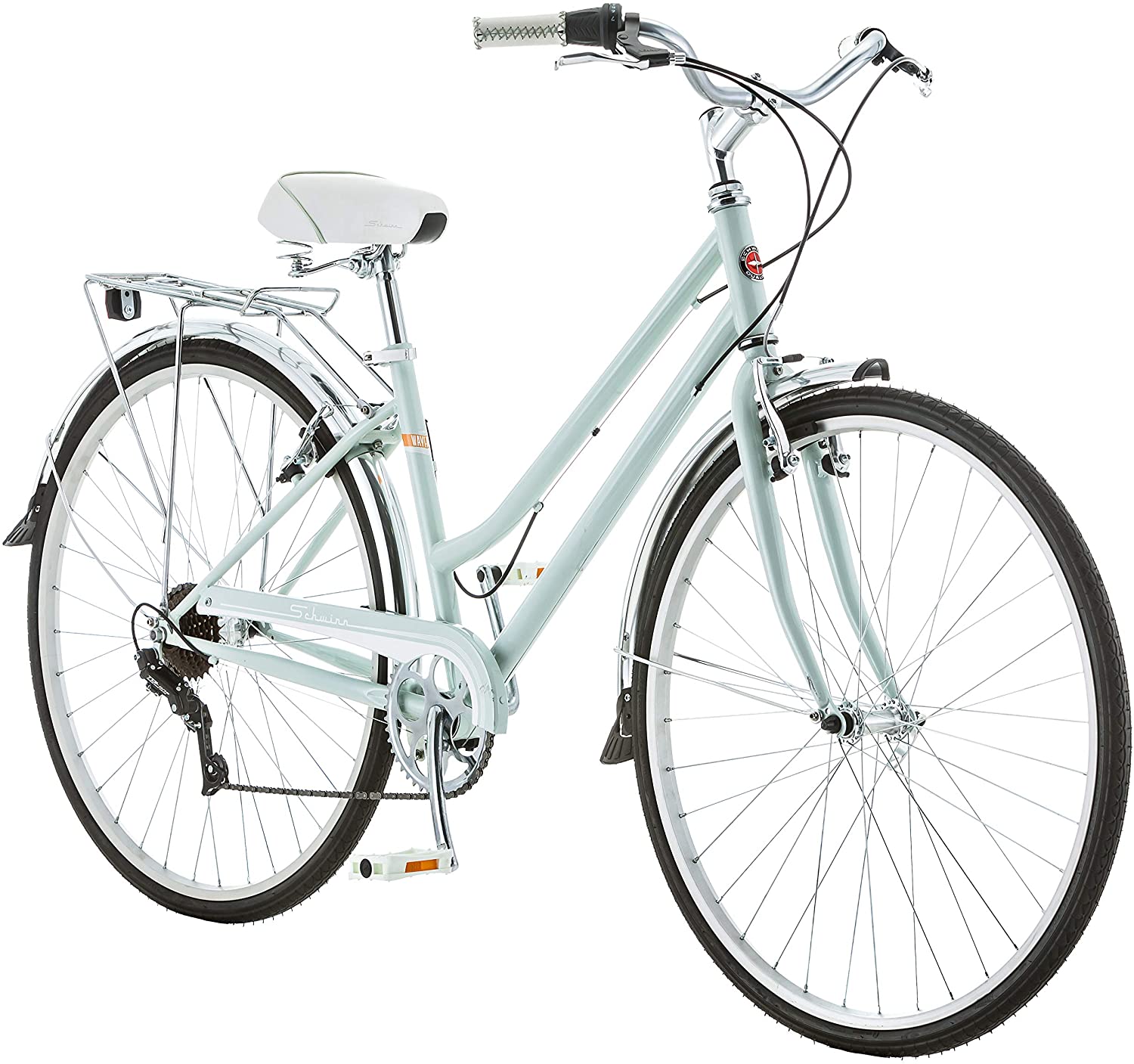 Schwinn Wayfarer Bike comes in two variations and types; The Step-Over gram that measures 18-inches and the step-through frame which measures 16 inches.
Handlebars are positioned in a swept-back manner to achieve a comfortable and upright position which prevents back strains.
Fitted with 700c/28 inch wheels and a dual brake system; a front and rear alloy brake which ensures comfortable and confident stops and an extra-large elastomer saddle that offers an amazing bliss during rides.
Schwinn Wayfarer Bikes comes with a rear rack and a full wrap fenders which grants you a clean tire through all weathers, avoiding dust sprays and mud on your cloth.
Available on Amazon for a price of $349.95
Schwinn Suburban Sport Comfort Hybrid bike
Your search for a hybrid bike that is packed up with high speeds should end at the Schwinn Suburban Sport Comfort Hybrid Bike.
This 26 inch, 7 gear bike is constructed with ergonomic handlebar grips, steel frames, and a suspension fork to achieve a comfortable riding position and less strenuous rides. Its 7 gear fittings are a component of 7-speed micro shift twist shifters with Schwinn shift icons and Shimano rear derailleur. These combinations make it easier to change gears.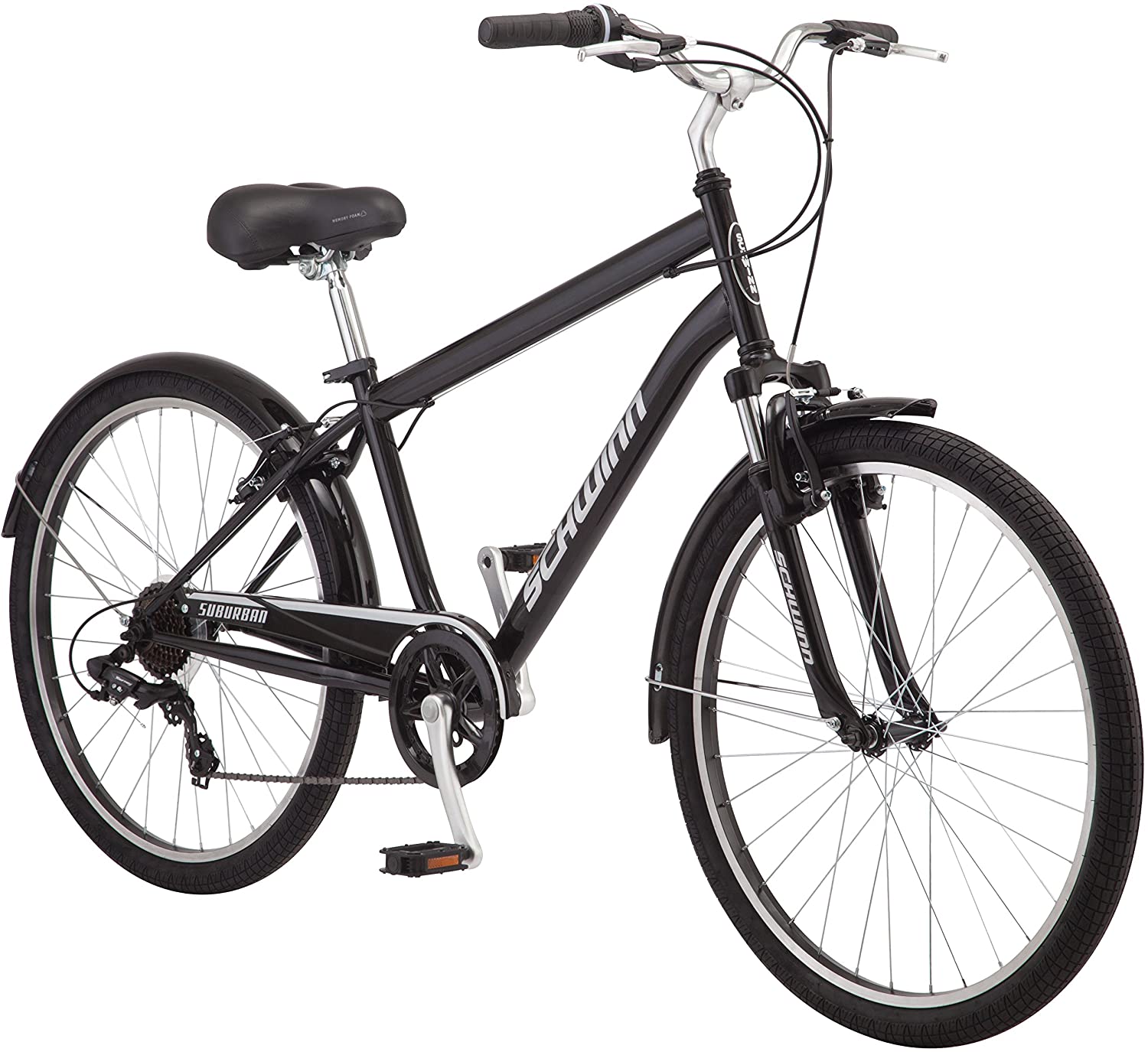 Front and Rear alloy linear-pull brakes are fitted to the bike to ensure confident stops.
Light and strong alloy rims to ensure durability and longlasting feature.
Swept-back hand bars for comfort, removing stress and strain from your lower back and shoulders.
The rear end is designed in such a way to appreciate a comfortable seat granting you a proper riding posture.
All for the price of $515.00 on Amazon
Sixthreezero Evry Journey men's single speed
This is a classic big frame Cruiser Bicycle. A 26-inch wheels bike, 2-inch semi-slick tires, it is a comfortable bike for riders of height 5ft to 6ft and 4 inches.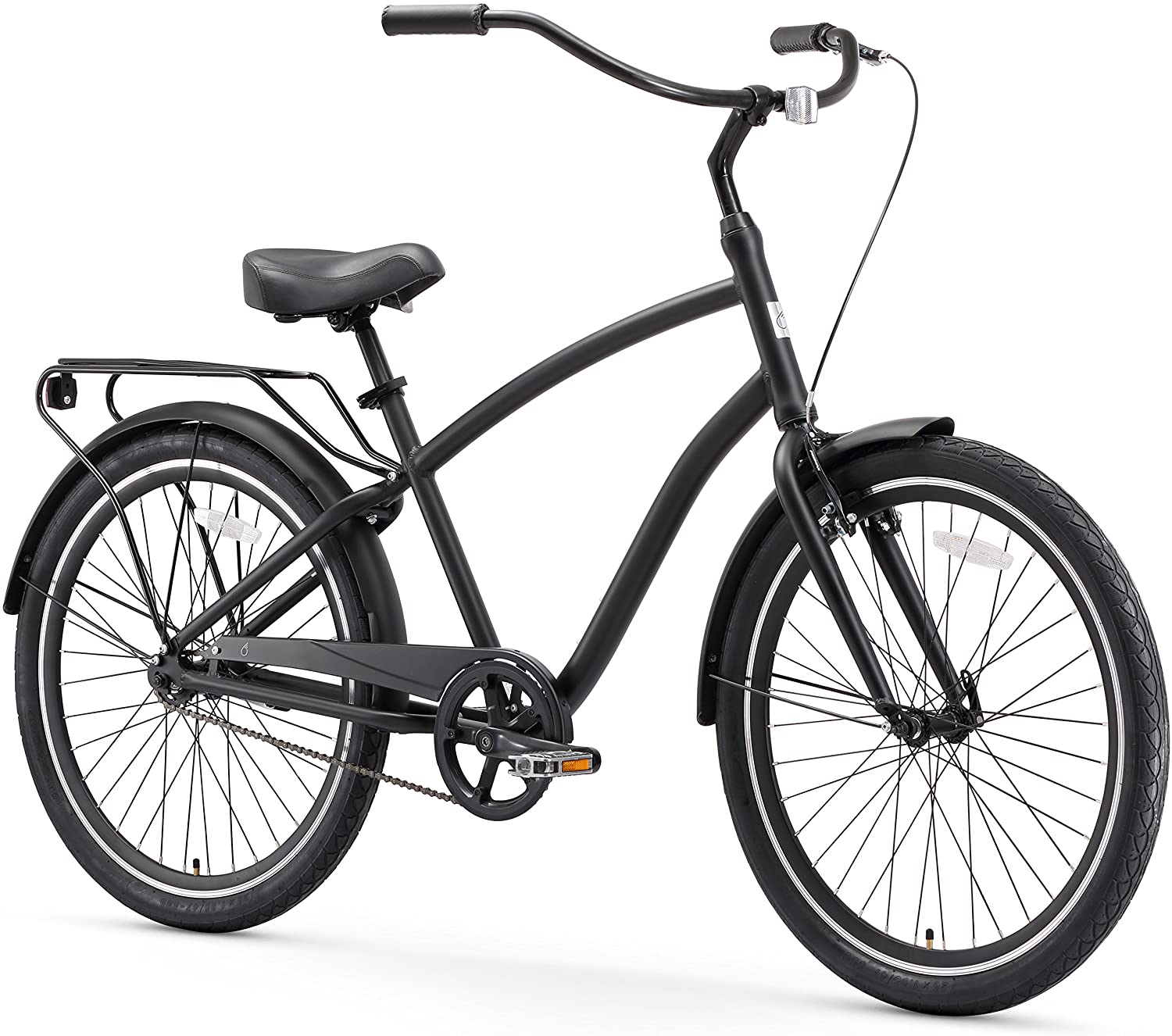 With a 19-inch aluminum extended frame, forward pedaling design, sixthreezero is a must-have bike.
A single-speed bike fit for flat terrain, a front hand brake and a rear coaster brake for confident stops, additional provision of front and rear fenders, racks for additional customer satisfaction.
The foot-forward design helps to maintain proper leg extensions that keep the back and shoulders relaxed during rides.
Amazon Price: $377.99
Kent Front Runner Hybrid Bike
The Kent front runner bike makes it bike ownership a simple task. At an affordable price and economically friendly rates, this unique hybrid bike is built to meet road conditions.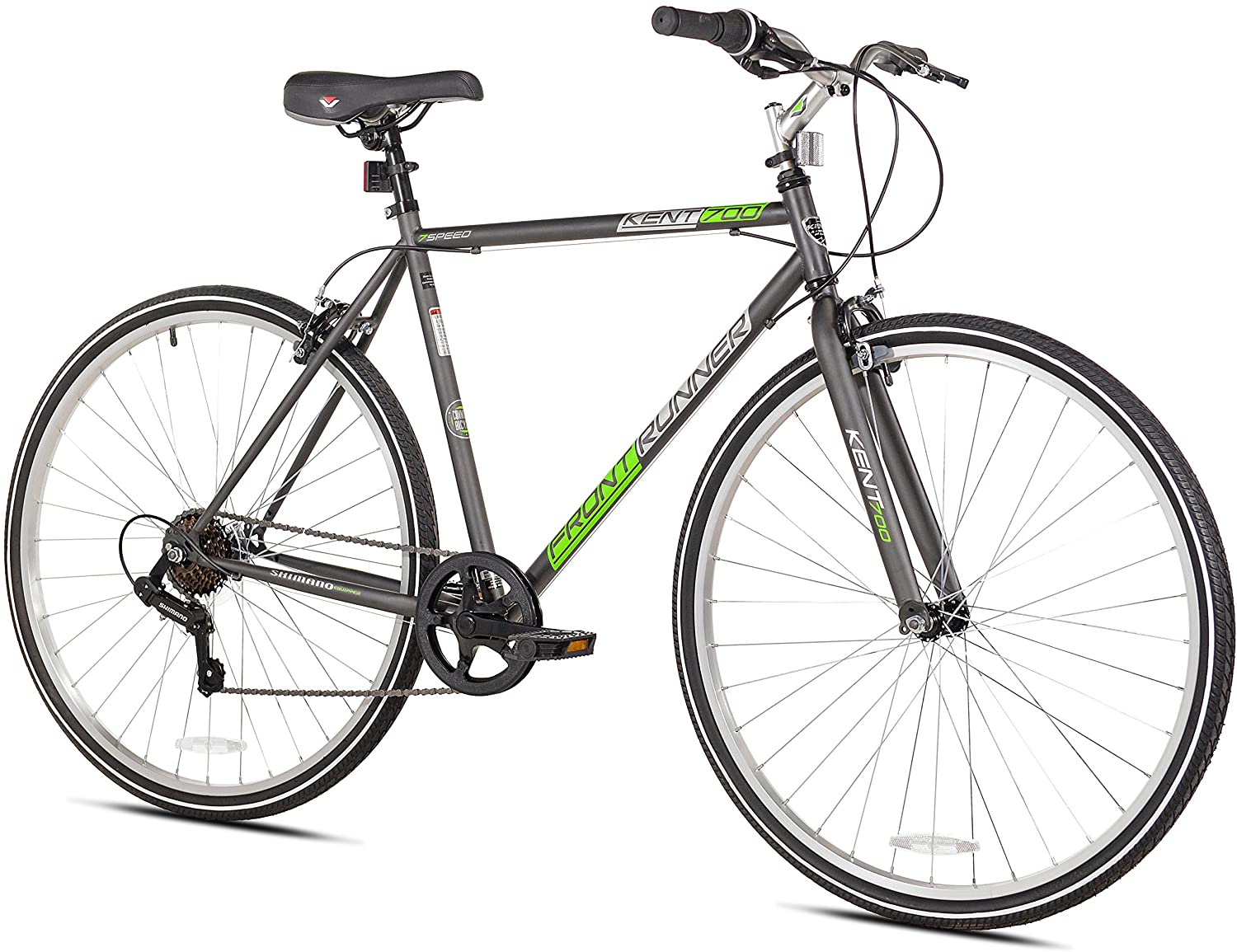 Aside from the fact that it is one of the cheapest hybrid bikes in the market, Kent Front Runner Hybrid Bike is one of the bikes that you can bank your trust on, never to disappoint you during a ride. This 7 gear hybrid bike comes with a 7 speed Shimano rear derailleur for smooth gear shifting, 700 x 28c tires with 36 spoke aluminum rims to maintain balance on roads and counter friction. This aluminum frame bike fits perfectly for riders between 5'6″ and 5'10", and comes with accessories just like, reflectors and removable kickstand.
This is quality and style, all affordable. I think you have no reason why you don't own a bike.
It is sold for $163.86 on Amazon.