As your toddlers are growing, it is necessary you fix them into exercising by getting them a bicycle. Pink, Blue, or Red, colors may differ, but it is paramount to affirm the safety of the bike, as your kid's health is the utmost priority.
It should be a preferable safety plan to get your toddlers(1-3 years old) a balance bike, strikes, or tricycles. This is to ensure full balance on the floor.
Purchasing the first bike for a kid is an important bliss, and also a huge learning development. This helps to launch your young lad into the cycling world, teaching them to keep each pedal going and watching him smile after each successful ride.
Every parent/guardian will love to experience such.
However, it is so important you make the right choice in picking out bicycles for your kid. With the growing competition in the bicycle industry, you might end up making wrong decisions over a large number of Bicycle in the market.
I have made a careful selection of the best toddler bicycles for the year, with respect to their color, style, and quality.
BEST PINK BICYCLES FOR TODDLERS
Strider-12 Sport Balance Bike
SPECIFICATION
SIZE: 12 Inch/One size
Material: Aluminum-Steel
Weight: 6.7 pounds
Colour: Pink
Price: $109.99
OVERVIEW
A strider is a kid bicycle designed without foot pedals, drivetrain, or a chain. They are balance bikes built for kids between the age ranges of 1-5, to help them gain mastery on the art of road balance, pedal progression, and steering.
The strider-12 balance bike is built for kids between 18 months to 5 years.
As the kid grows up, you can add other features like a pedal or foot brake.
PROS
Firm Handlebar grips

Puncture-proof tires
CONS
No Handbrake

No Rear Wheel
XTD 3-in-1 Kid Tricycle
SPECIFICATION
Size: 12 inches
Material: Carbon-Steel
Weight: 6.9 Pounds
Colour: Pink
Price: $69.99
OVERVIEW
The XTD kids tricycle is a three-wheeled bike suitable for kids of age 1-3 and a height of 29″-37.4″.
It features a triple riding option; Pedal mode, Sliding mode, and cycling mode. The toddler may decide to pedal their way all through or slide the bike as he cycles. As the baby grows, the three wheels can be converted to a two-wheel balance bike.
Fitted with an adjustable seat, a 5 angle adjustable handlebars, built with a sturdy frame, puncture-proof tires, and solid plastic pedals.
PROS
Puncture Proof Tires

Adjustable seat.

5-angle adjustable Handlebars
CONS
LITTLE Tikes 4-in-1 Trike
SPECIFICATION
Size: 12 Inch
Material: Steel-Plastic
Weight: 20 Pounds
Colour: Pink
Price: $93.25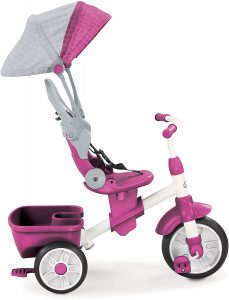 OVERVIEW
Little Tikes is a non-foldable tricycle fitted with a canopy, a cup holder, a tray holder, and a storage seat at the back of the bike.
With Little Tike, you can support your baby's riding experience from giving them a push to sliding, and then to independent pedaling.
As a safety option, these bikes come with a safety belt strap and a protective safety bar to keep your toddler from tripping off.
A wide range of parts of this bicycle is detachable, which makes it easier to groom your child from his first ride to when he is advanced.
Little Tikes is specifically built for kids between the age ranges of 9months-5 years.
PROS
Canopy

Detachable Parts

Ride as you grow feature
CONS
Not so easy assembly for beginner parents.
Joystar Whizz Kids Bike
SPECIFICATION
Size: 12 Inch
Material: Steel
Weight: 10.37kg
Colour: Pink
Price: $119.99
OVERVIEW
If you are looking for a more enhanced bicycle for your toddler, then the Joystar Whizz is the best decision.
Fitted with a 1-speed drivetrain, 2.125-inch pneumatic rubber tires, dual brake system; Hand brakes, and coaster brakes.
Its 12-inch bike frame makes it a suitable fit for kids in the age ranges of 2-4 years.
The bike comes with a saddle holder that makes it possible for parents to guide their toddlers.
PROS
Chain Guard

85% Default Assembly

Limited Lifetime Warranty

Hi-Ten Store Frame/Fork

Trainer Wheels
CONS
Royalbaby Kids Freestyle Bicycle
SPECIFICATION
Size: 12 inches
Material: Steel-Rubber
Weight: 8.6kg
Color: Pink
Price: $149.99
OVERVIEW
Royalbaby Kids Bike is a toddler bicycle fit for a 3-year-old kid.
It features an adjustable seat frame, 2.4-inch tires, an anti-slip Resin Pedal, and an adjustable stem to accommodate kids' growth.
It also features front caliper brakes, rear coaster brakes that ensure kids' safety and comfortable speed control.
Its pink design and color adds beauty to the bike, as its chain guard protects the chain from slip offs.
PROS
95

% Default Assembly

Front Caliper brakes and Rear Brakes

Durable 1.2mm steel tube

Bike Accessories; Bell, Reflector, Water bottle, trainer wheels

.
CONS
Joystar Vintage 12 Inch kids bike
SPECIFICATION
Size: 12 Inch
Weight: 10kg
Material: Steel
Color: Pink
Price: $127.99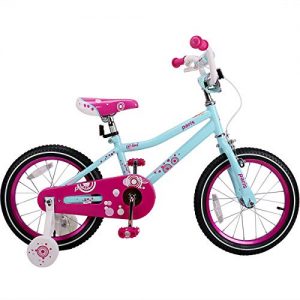 OVERVIEW
Joystar vintage bikes stand out as one of "Amazon choice" for kids. Designed with a shockproof, leather grip handles and saddle, pedal brakes, and fitted with a basket that aids kids' carriage.
Your toddler will love to take her doll on a ride.
Enhanced with a ½ inch thread pedal crank, and a bike accessory kit which also contains a bike pump, this bike is a beautiful combination of high brand and quality.
Suitable for kids; 2-4 years
PROS
30-day Return Policy 

Limited Warranty

85% default assembly

Push Bar Handle
CONS
No kickstand

No front brakes
Schwinn Roadster Tricycle for Toddlers
SPECIFICATION
Size: 12 inches
Weight: 1kg
Material: Steel
Color: Pink
Price: $91.17
Schwinn Roadster is designed as a kid's retro-style tricycle with a low mounting base, making it easier for the kid to hop on and off the bike.
It is designed with an adjustable seat and a cruiser-style Handlebar.
Schwinn is known for producing long-lasting products. Its high-quality sturdy steel and hard plastic are sure to offer you a full taste of durability for a long period of time.
Designed with air-filled tires, option for replacement tubes, and its back frame made of genuine wood, with fenders adding extra beauty to the bike.
PROS
Limited Lifetime

Warranty
CONS
Heavy to pedal for beginners but will be accustomed to as constant ride progresses

Wooden boards can be damaged if exposed to water.
FAQS
What bike size is suitable for a toddler?
Generally, a 12-inch bike should be suitable for a toddler. But most times, some kids are taller than the other. It is safer to know the bike size suitable for your toddler by measuring the inseam in relation to the bike's frame.