Cycling is a lot much fun. Riding at speeds and scaling heights but it gets sore when you aren't sure of what's behind you. In between rides, you will have to look over your back, taking momentary stops to confirm your safety. It becomes much riskier when you are riding on highways, without good bike mirrors, you wouldn't know how close an incoming vehicle is to your bike tail.
Commute bike and Road bike riders find the use of mirrors so effective. With a good mirror fitted to your bike's handlebar, you have a clear revelation of the distance, size, and motion of what's behind you- not so far but not so close but a perfect not shaky or clogged display of accurate measurement.
The use of bicycle mirrors poses some difficulties to riders with eye defects, especially myopic (short-sighted) cyclists. The retractive error of their eyes makes it difficult to depict exactly what is placed before them in the mirror. Most times, creating distortions in image and object distance.
The issue of sight variations has brought about the advancement in the production and design of bicycle mirrors.
Considering this, Bicycle mirrors have been designed into 3 types;
1. Handle Bar Mirrors
2. Helmet Mirrors
3. Eyeglass Mirrors
These different bicycle mirrors are designed to meet different characteristics, image clarity, eye to environment interactions, and mirror interaction with wet conditions, it's distortion rate, and focal length.
Their uses are similar to their name forms.
The handlebar bicycle mirrors are fitted to your bike's handlebars, helmet Mirrors are attached to your helmet, while eyeglass Mirrors are designed in a head fitting form with dual side glasses that helps you have a clear view of what's behind.
You might be so inquisitive to know if your Bicycle mirrors are made of a concave or convex lens.
Bicycle mirrors are usually made of a convex lens. This is because the convex lens creates virtual images of an object that is slightly diminished to its real size. The convex lens produces an upright image of the object in sight, however its diminishing effect makes manufacturers attach a sign on bike mirrors, signs which states "Objects in the mirror are closer than they appear".
Nevertheless, before you set out to purchase a bike mirror make sure of these;
1. The type of lens.
I will advise you to go for a convex lens as they create a wide-angle, perfect, and non-distorted view of what is behind you.
"I never saw it coming". That's always the exclamation that follows after a near accident or a crash. I wouldn't want you in either of those scenes.
2. The type of materials used for your bike mirror.
Durability is the key. You need to confirm that your bike mirrors are made of strong plastic materials that will be able to withstand vibrations and minimal crashes.
In this review, I will take you through a tour of the best bike mirrors, with great respect for the quality and consideration of your budget. You don't need to break a bank to acquire any of these.
Hafng New Handlebar bike mirror
Hafng Handlebar bike mirror is a hyper-designed mirror made of an automotive-grade glass lens and a body of high impact nylon fiber.
The bike mirror is fitted with a shutter-proof function, 180 degree rotation to prevent crashes and breaks from minimal jams and hits, and a 360 degree adjustable function that lets you set it your taste.
Bike mirrors can be fitted anywhere on your handlebar. It is fitted in two forms, either on top of the handlebar or below the handlebar, all to suit your sight preference.
The production of Hafng bike mirrors with high impact nylon fiber makes it stronger and blast-resistant compared to bike mirrors made from plastic acrylic.
This bike mirror is also made of a convex lens which makes it easy to see clearly what's behind you.
Hafny bike mirrors are made of anti-glare shades which makes it easy to see clearly through poor light conditions.
Hafny bike mirrors are easy to install, all you will need is a 5mm Allen key and overall are not obtrusive.
This Taiwan-made Hafny bike mirrors fit into 21~26mm handlebars.
Amazon Price: $25.00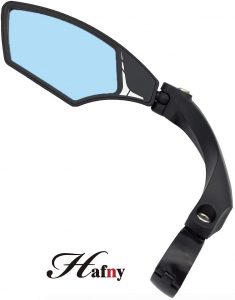 Mechow New scratch Resistant Glass
Mechow New scratch is a multi-purpose bike mirror that fits in for any available bike. Well, these bikes must meet their handlebar diameter requirements. Mechow bike mirror fits for handlebar diameter of 22.2mm handlebar and as I said earlier, this is convenient for suitable for all bikes; beach cruisers, e-bikes, mountain bikes, road bikes, or even hybrid bikes.
Mechow bike mirror is made of impact resistant fiber-reinforced nylon, high strength aluminum alloy clamp, a Blast-resistant safety glass convex lens with an anti-glare coating of high definition in this dual proportions; the silver lens of 50% Anti-glare and the Blue Lens of 75% Anti-glare. This dual mirror combination is crystal clear, giving you a clearer vision of what is behind you.
Mechow bike mirrors are easy to install preferably with tools like hex key 4mm / Recommend 2Nm torque and a stiff fitting to the handlebar without providing shaky or blurry images.
Mechow bike mirror comes in a special foldable design and a 360 degree adjustability making them easy to be parked into garages or adjustable for commuters and pedestrians during rides.
Amazon Price: $24.99
Bike Mirror Portable – DRCKHROS
DRCKHROS shock absorber bike mirror is made of high impact Acrylic material, inlaid black plastic shell that acts as a strong base, a mirror size of 3.23-inch diameter, and a CONVEX mirror lens.
This Mirror handles an aluminum tube of 7.28 inches that is stuff yet flexible to be adjustable and bent in any direction you wish.
DRCKHROS bike mirror is easy to install and as a side gift, it comes with a small Allen hex key for tightening the stem and bolts to help you run the screw on it.
Aside from the fact that this bike is a shock absorber, and portable, it is also stylish and fashionable- Quality and design blended into one piece.
Amazon Price: $16.99