Mountain Bike tours are an essential adventure, especially for adults. Cycling goes a long way to prevent certain ailments such as stroke, depression, arthritis, obesity, and most times some strands of cancer. Riding bikes has the ability to promote aerobic respiration, immune system, and aids cardiovascular activities.
Adulthood comes with a lot of responsibility and maturity tasks, but it is very necessary you learn to make out time to keep fit.
Between ages 18 and 50, our body undergoes certain biological changes, launching us out of teenage and plunging one into old age.
During later years of adulthood, muscle slacks, your heartbeat reduces, lung function weakens, this is a very crucial age to keep your vital organs active.
As an adult, an hour ride each day could help in lifting your mood, boosting your fitness, enhancing your cardiovascular health and shedding off unnecessary weights.
Unlike random bicycles, mountain bikes are designed with special designs to tackle tough terrains and rough paths. Finding the best Mountain Bike ain't an easy task, as you will have thousands, if not millions of Bicycle brands that you will have to compare with.
Making choices on which adult Mountain Bike goes well for your money, similarities between bike brands, and which tops the chart, the yearnings to go for good quality is an obligation for every cyclist.
To save you the stress of browsing through different websites, reading countless researches and articles, I have compiled a detailed review on some of the best adult Mountain bikes in the market.
However, before I dive deep into analyzing some adult Mountain bicycles, I will love to draw your attention to features you should look out for in every good adult mountain bike.
1. Gear fittings
2. Bicycle Frame
3. Suspension Quality
4. Height
5. Brake system
Kent Hawkeye Mountain Bike
The Kent Hawkeye mountain bike is a super 29-inch Bicycle with a strong 18.5-inch frame that fits perfectly for riders 5'7′ – 6'2, ideally made for talk individuals with height up to 6ft.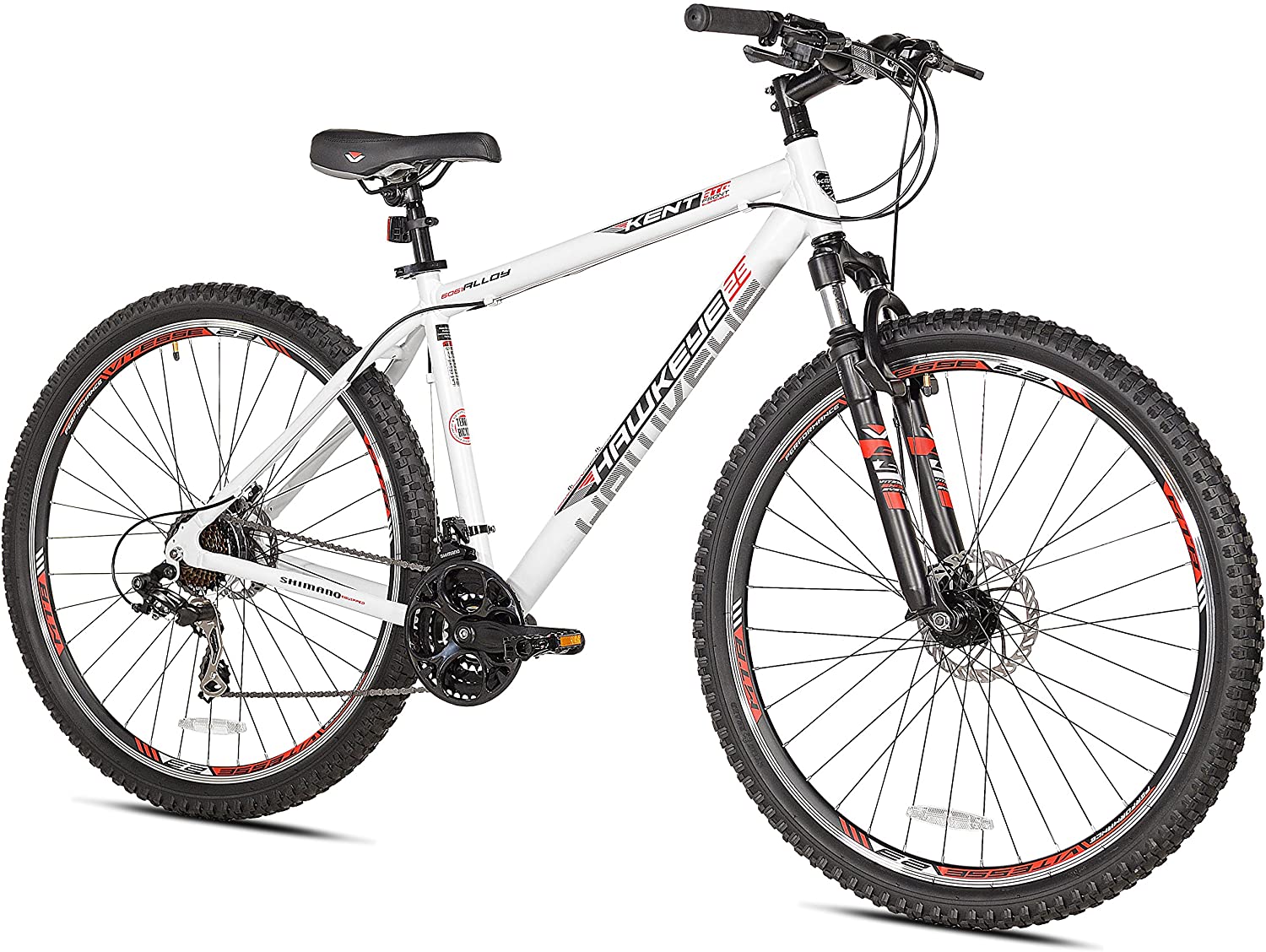 Built with a lightweight aluminum frame, it makes the Bicycle not so heavy for carriage. Fitted with an alloy crown front suspension fork helps you take rides through trails with small and medium bumps, jumps and sharp turns, without any damage to the bicycle or tripping off by the rider. The 80mm front fork travel fits well for a bike of its price. This bike comes with an amazing 21 gear fitting. Its highly designed 21 speed Shimano rapid fire shifters work hand in hand with the Shimano front and rear derailleurs to give the fierce full speed attack you desire on trails.
Dual brake system; front and rear mechanical disc brakes which grants you an efficient stop in any possible terrain you can find yourself in.
A Shimano 7 speed freewheel, a 31.8 alloy handlebar and stem, alloy 170mm crank, this unisex bike goes perfectly for adults; male and female.
Kent Hawkeye 29 inch mountain bike is fitted with a 31.8 alloy handlebar and stem, 70mm alloy crank and a double wall allot rim with 28 x 2.30 tires. All at an affordable price of $569.99 on Amazon
Kent KZ2600 Dual suspension mountain bike
The Kent 26 inch mountain bike is known for a unique feature; a dual suspension. Its dual suspension offers great value and trail-ridable ease at all times.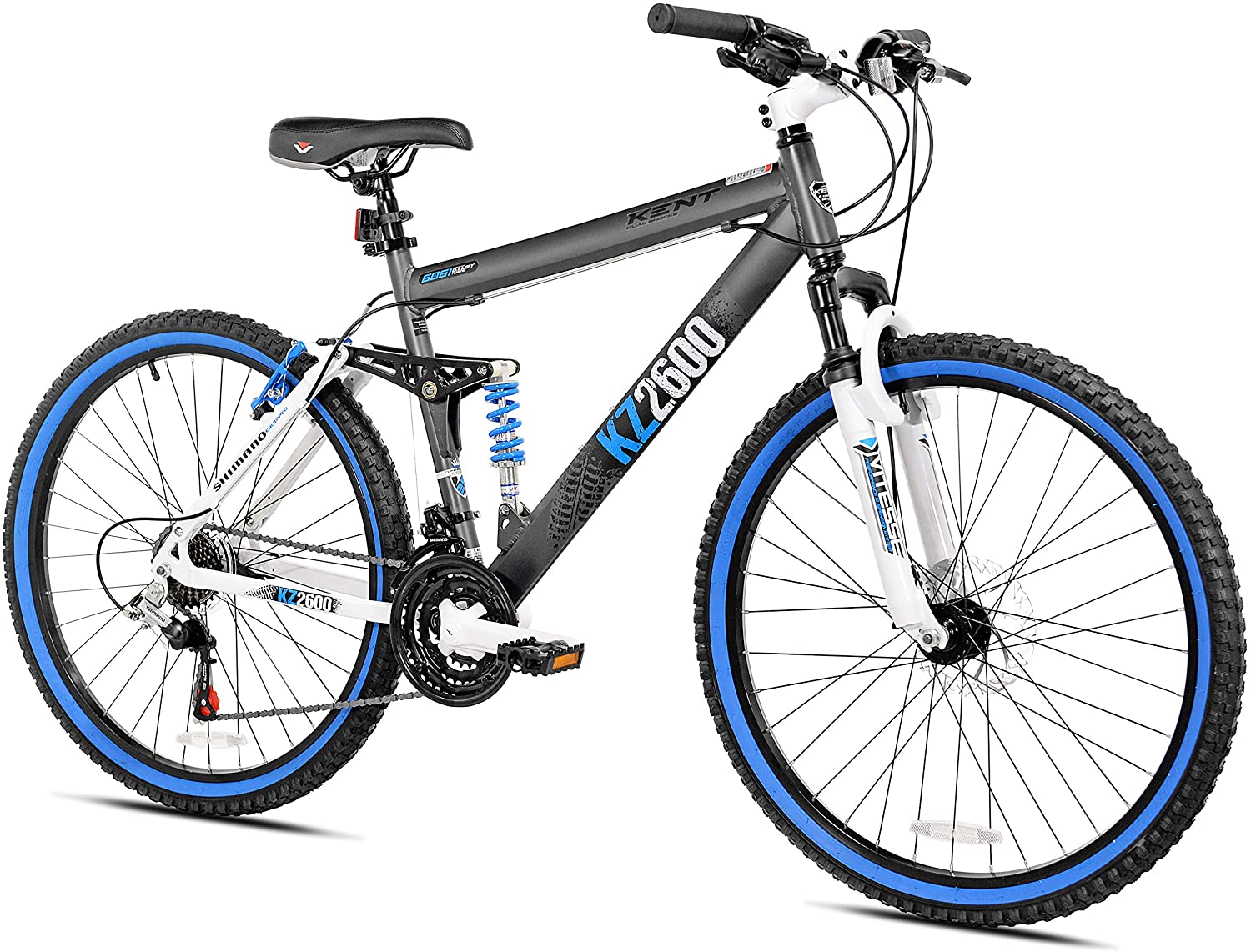 The aluminum full suspension frame features a floating beam design that is fitted to the suspension fork. The 26-inch double-wall alloy rims constructed with 36 spokes, goes well for maximum bicycle strength and durability.
As a modern bike, it has 21 gears courtesy of the 21 speeds Shimano rear derailleur and shifters.
A dual brake system featuring the front disc brake and rear linear-pull brake makes for comfortable stopping. A 65mm travel suspension fork with great functionality and works perfectly fine.
As a 26 inch bike, it is very suitable even for adults of heights 5'8. At an Amazon price range of $254.66 – $300.
Heatle 26 inch 21-speed mountain bike
This 26-inch mini-foldable mountain bike takes you anywhere your pedaling can go. Trails, off-roads, you have nothing to worry about as your bike is designed perfectly to conquer terrains.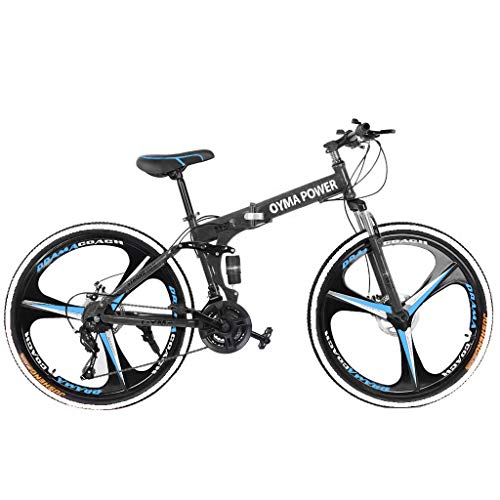 Its mini foldable feature makes it easy to fold as you don't need to always lock up your bike with security chains or fittings against theft and burglary attempts. You can just neatly fold and package it into the trunk of your car, while you engage in other activities for the day.
Fitted with 21 gears, a steel V-brake, acceleration, and deceleration is not a difficult task.
Heatle 26-inch mountain bike has an aluminum alloy high tensile strength streamline frame which offers a strong, durable body frame at a lightweight.
As a 26-inch bike, it is suitable for adults of heights 155-185cm and this bike comes in a product packing size of 136 x 20 x 75 cm. Market Price of £155.99/ $203.47, available at Amazon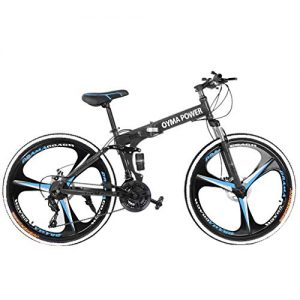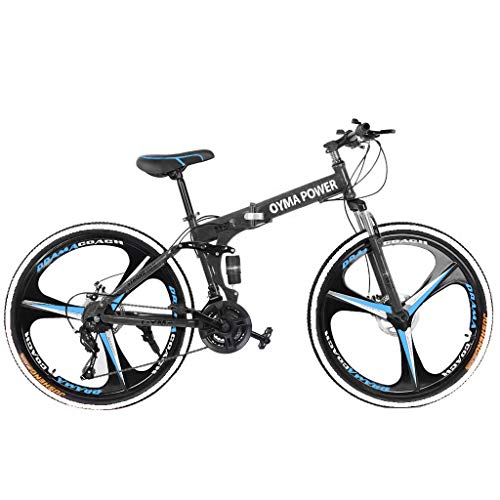 Like I said earlier, resist the urge to dive into market and pick any mountain, just because it fits your fancy. Avoid the rush for fashionable designs, rather go for quality or preferably you could grab the two if obtainable but always remember to keep quality as a greater stake for performance over flashy designs.
The gear fittings of an adult mountain bike is an important feature you should consider. As an adult, you don't have all the young energetic vibes as you did when you were a teenager, you'll need powerful gears, as many speed shifts as could be made available to reduce the stress in pedaling.
The Bicycle frame also matters. It is advisable you go for bicycle frames of either hardtail or full-suspension frame. These designs are structured to withstand unnecessary pressure mounted by the mountain terrain.
Don't forget your brake quality, I wouldn't want you falling off an uphill or facing difficulty in putting your Bicycle to regular stops while sliding down a slope. A dual brake system is good fitting for a mountain bike, its attachment to your front and rear tires grants you the assurance of safety during rides. It is also important you check and test your bike brakes before taking off on a ride. You wouldn't want to encounter emergency failures when calls for necessity arises.