From the shores of America, down to suburbs of Africa, electric bikes have been gaining wide acceptance. Gone are the days you will have to break a sweat, tons of liquids off your body, pedaling so hard as your life depends on it, just to have your mountain bike scale through a hill.
Mountain rides have always been faced with the constant issue of having to reach a maximum cycle of pedalling to keep their bike on course. Notwithstanding, the provisions of 7, 10 or even 21 gear fittings, road bike users still come back panting like a chicken about to be grilled.
Well, cycling is an exercise but that doesn't mean you should transform it into a body torture.
Electric mountain bikes broke the jinx in mountain climbing, with a motor-fitted, additional power is added to the Bicycles. The additional power equates to more speed, more boost and an easier powerful mountain climb.
Top Rated Electric Bikes 2021
In this review, I will be offering top rated electric bikes 2021 in the market.
These bikes are in high demand by users.
NCM Prague Electric Mountain Bike
Electric mountain bike come in different categories, but in all ramifications, NCM Prague electric mountain bike tops in all electric bike specification.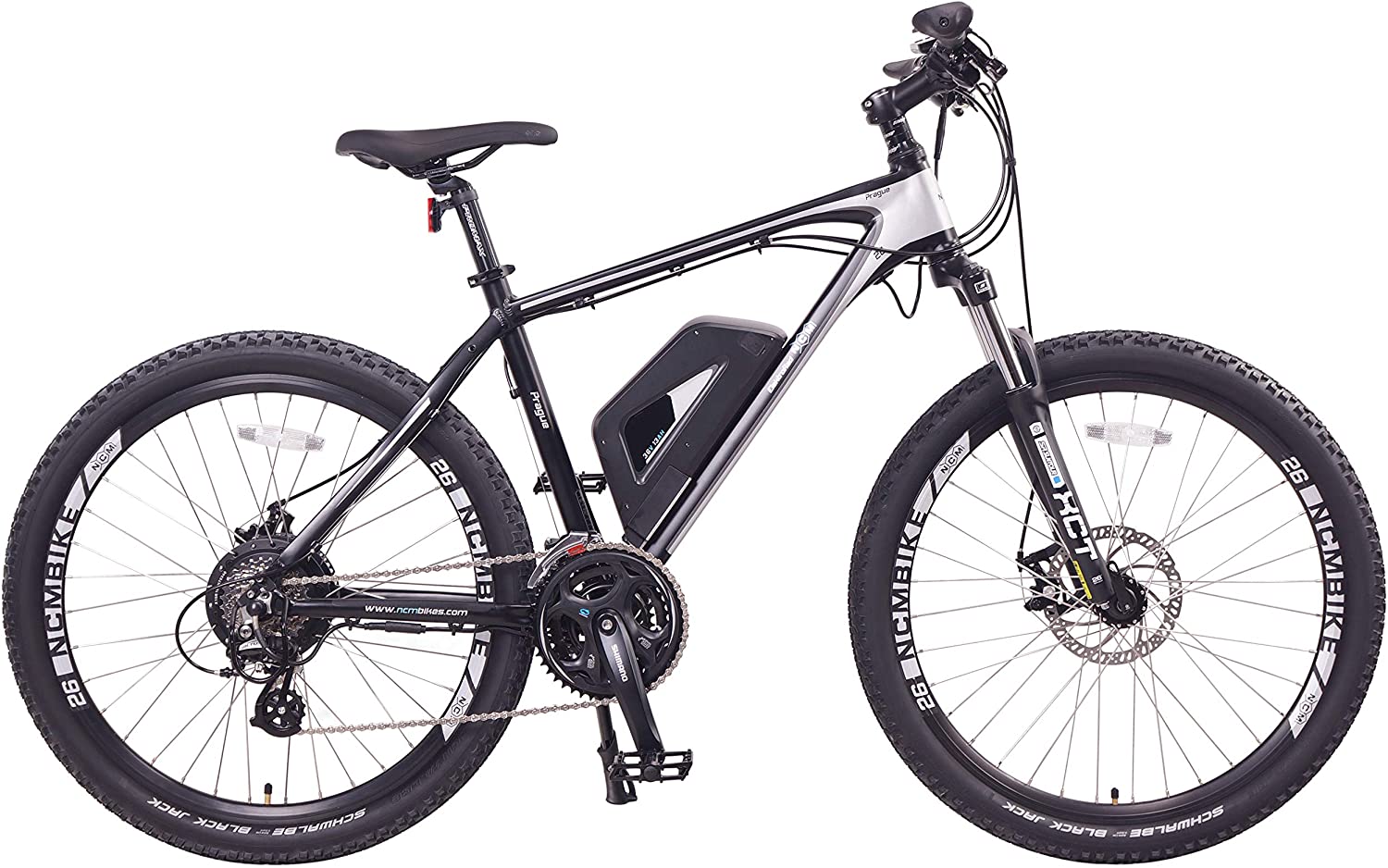 Designed with a suntour XCT suspension fork that is subject to Personal adjustment, which is fitted not just to offer you the bliss of a smooth ride but also grants you the ability to set your bike to your preference so as to as to achieve optimal performance through sloppy and step paths. Taking note of the fact that mountain and uphills are filled with numerous rocks and bumps that could actually put your bike on an abrupt stop or throw you off balance if care is not taken, this NCM electric mountain bike is fitted a Tektro mechanical brakes.
These brakes ensure comfortable stops at required times.
NCM Prague electric mountain bike comes fitted with 21 gears. The 21 speed Shimano drivetrain gives you a wide range of gears and speed levels to choose from, helps you determine which the rate of motion that goes well for your rides, building up your speed, considering your pace as you climb up or down. The simple gear fittings are on a hands down mechanism; their easy to swift gears makes it pleasant to change gears without hitches even on steady long rides.
NCM Prague electric mountain bike comes with a super battery capacity of 468Wh. Its full charge can take you through an average distance of 20 – 40 miles. NCM electric mountain bike comes with an amazing charge-on-the-go function. The battery pack is built with a 5V USB port that charges your mobile devices when plugged in.
It's additional features include;
Promax Riser Mountain Handle bars
Shimano Altus Rapid fire shifters
Tektro mechanical brakes
Das kit L6B LCD advanced display
An ergonomic lock-on velo grips on its handles.
This bike is a front frame design that is specially built in positioning and components, to beat any pressure.
I could take a whole blog page, just to extensively analyse the front, rear, drivetrain and individual components of this bike. So far in my journey with Bicycles and as a bike analyst,
NCM Prague electric mountain bike remains the best electric mountain bike in the global market, ranking as one of the most sought after electric bikes on Amazon.
However, in all its amazing nature and design, this bike comes for a price of $999.00 on Amazon.
Speedrid 26′ Electric bike
Ranking second on my list of top-rated electric bikes is the Speedrid 26 inch electric mountain bike.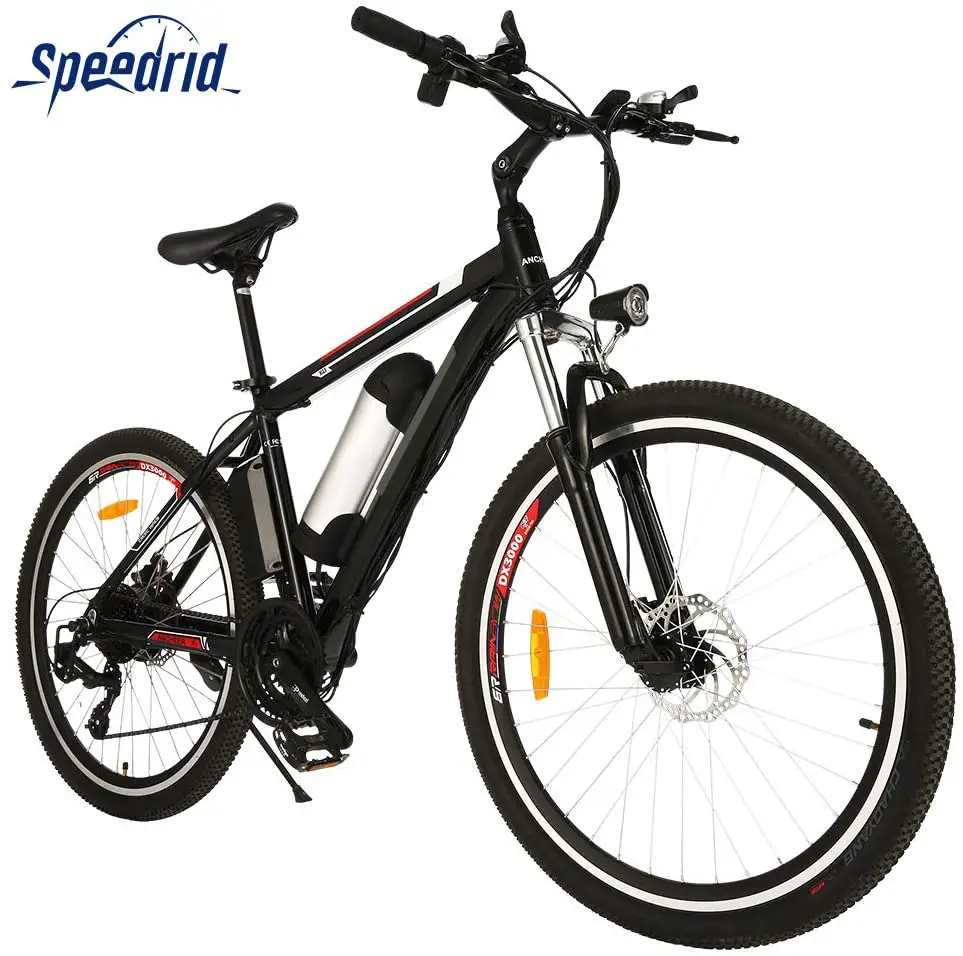 Cycling becomes much fun when you have new adventures to partake in, enjoying each ride as they go, and yearning for more rides. The fun, the thrills that comes when you have a functional bike that doesn't require too much stress from you to get it working. Speedrid 26′ Electric bike is designed in a unique way to fit into your need for mountain trail rides, packed up with power to meet road demands and a strong structure to withstand pressure. This bike specially hand designed with a dual brake system with a mechanical Front and rear disc-brake design and a quality steel fork, with the intent of giving you perfect stops and the ability to bounce through bumps, providing perfect stopping ability when needed.
This Front high-strength carbon steel front fork shock absorption is coupled with a double layer aluminum alloy wheel rim.
Speedrid 26 inch mountain bike can be ranked as a Class 1 electric bike with Mechanical front and rear disc-brake design but with a Throttle that leads your through rides as far as 15 mph and 30mph for pedal-assists. Pedalling when you feel like is not a hard task as it seen in most mountain bikes, because its 21-speed makes sure to grant you speed for less pedalling, stronger hill-climbing power and greater adaptability for all terrains.
This electric bike is equipped with a Stable 250W high speed brushless gear motors, 36V 8Ah Lithium-Ion battery to deliver a maximum speed level of 15-17mph per full charge.
Designed with an aluminum alloy body, 3-speed smart meter button, Bright LED headlamp and horn, Adjustable handlebar height design, the bike is fitted for aerodynamic balance and unique rides even at night.
Amazingly, it comes with a One year warranty that covers for the battery, motor and other replaceble parts if there is need for replacement.
For a price of $599.99 on Amazon.
Ancheor Electric Mountain Bike
This 26/27.5 inch electric mountain bike comes in two variations; Sunshine and Blue Spark. The two bikes are placed with similarities as they are enabled with a throttle supporting 18 – 25 mph as the case may be.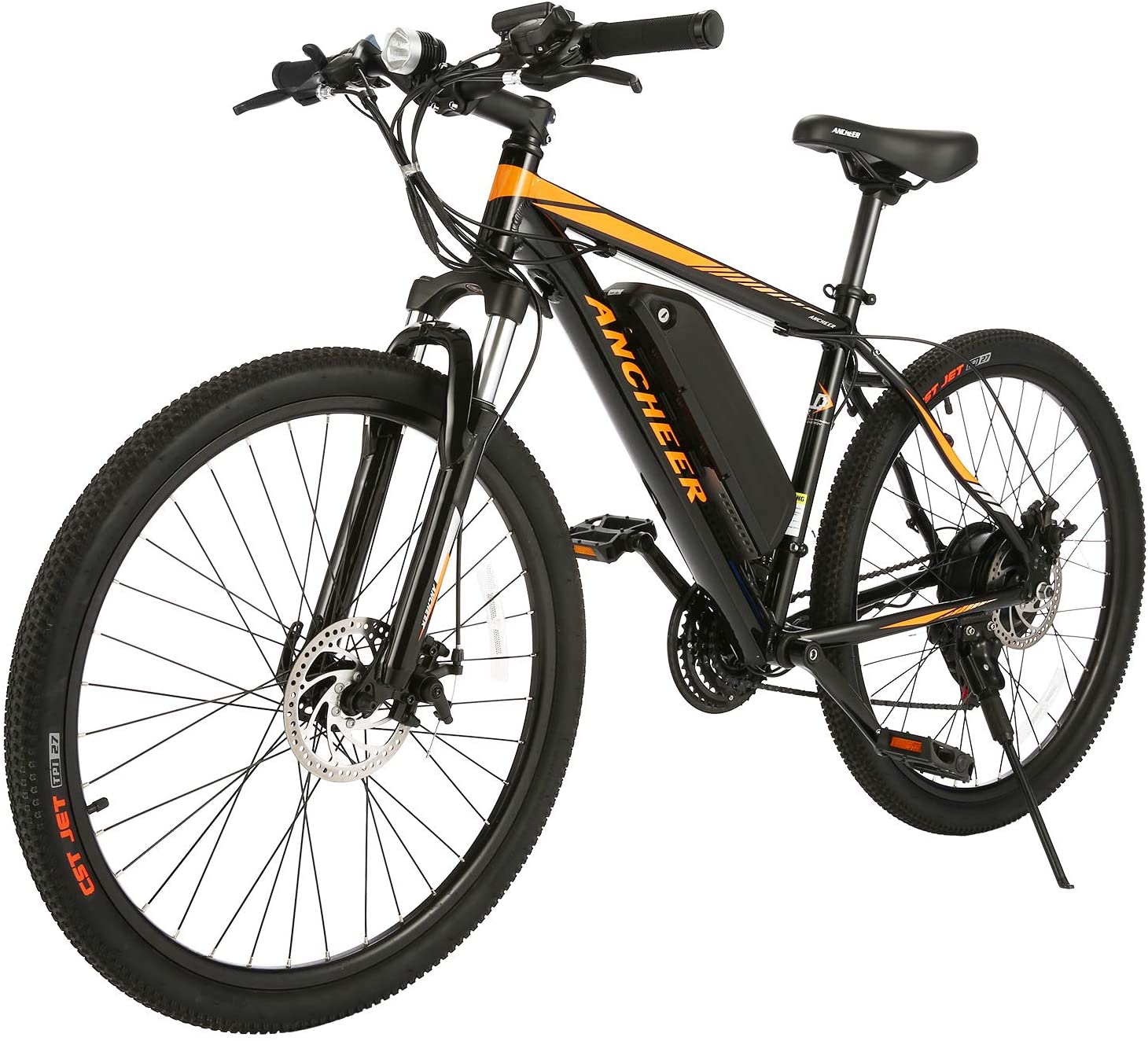 Sunshine
Motor: 36V 350W high-speed brushless gear motors
Maximum speed: 20mph (32 Km/h)
Frame: Aluminum alloy
Brake: Front and rear disc brakes
Fork: High strength steel fork
Derailleur: Shimano 21 Speed
Rims: Aluminum double-walled rims
Wheels: 26-inch mountain bike wheels
Load capacity: 300 lbs
Meter: LED 4-speed smart meter button
Battery: Lithium-ion 36V 7.8Ah SAMSUNG battery
Speed limit: 30km/18miles(throttle mode)-50km/30miles(electric-assisted mode)
Charging time: 4-6 hours
Blue Spark
Frame: Aluminum alloy 6061
Brake: Front and rear disc brakes
Fork: High strength aluminum fork
Derailleur: Shimano 24 Speed Gears
Rims: Aluminum double-walled rims
Wheels: 27.5''X1.95 mountain professional Wheels
Load capacity: 330lbs
Meter: LCD 5-speed level smart meter
Lithium-ion Battery: 36V 10.4Ah
Maximum speed: 32km/h 20mph
Mileage: 40km/25miles(throttle mode)-70km/43miles(pedal assist mode)
Charging time: 6 hours
Motor: 36V 350W high-speed brushless gear motor
All for a price of $649.99 on Amazon.