Bike ride takes a beautiful shape with great spices and enhancements on its design, comfort, and control.
Most times, you don't always need to be on a mountain, uphill, rough terrains, rocky paths, burning out fats, energy, and all that. Sometimes all you need is a Townie Electra bike, cool and gently, taking soft rides all around the town, admiring the beautiful serene environment and neighborhood.
Townie Electra Bikes and bicycles with features related to it fall under the category of bikes known as beach cruiser bikes. These are bicycles designed specifically for comfort and style. They are built to take up short distances; not so long distances actually and at a slower pace. They offer an average rider the ability to cover at least 25 miles per hour.
These bikes are designed for easy, simple, mini bike rides, but that doesn't mean they are weak in structure and design. A beach cruiser is designed with an excellent shock, ergonomic design to fit well for aerodynamic mechanisms.
With fittings of a cushion saddle and balloon style tires, this bike wouldn't just offer you an amazing bike ride but a comfortable one too.
The bikes are not as tough and rough as a mountain bike, nor are they multi-purpose as a hybrid bike, they are specially built for relaxation and leisure.
Not minding their soft and tender description, most beach cruiser bikes handle uphills perfectly as long as there is an attachment of gears to them.
Will be silly to call a beach cruiser bike, fragile. In their stylish nature, they are built with a heavy steel frame that withstands pressure. However, this heavy steel frame makes the bikes heavy, but they are designed with touches of professionalism that support upgrades as the rider might wish.
Cyclists can add saddlebags, baskets, racks, or any other accessory they desire.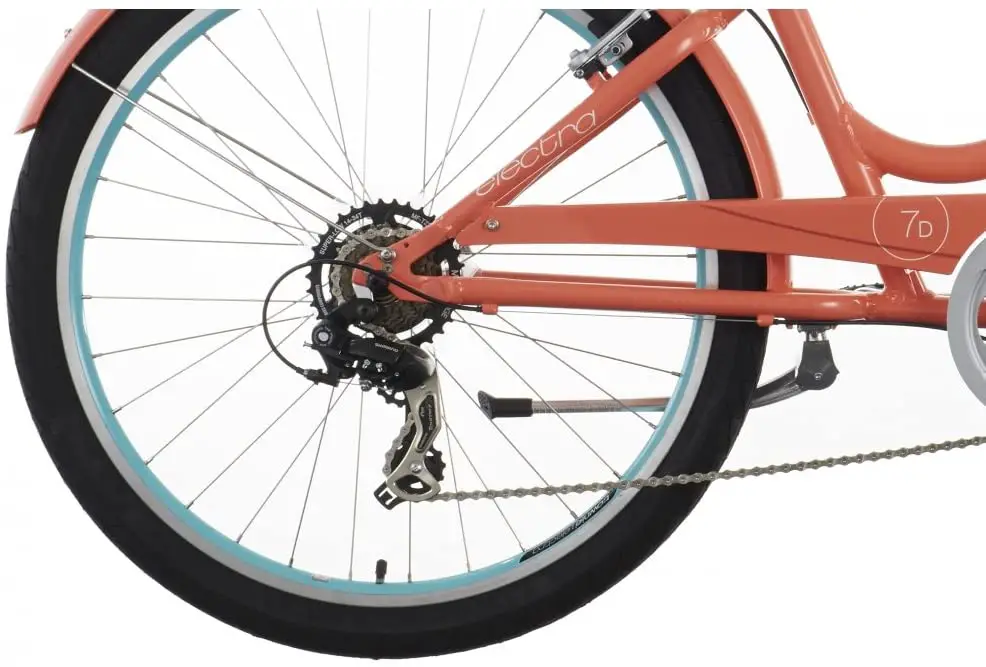 Cruiser beach bikes come in different styles, non-geared and geared bikes. The classic cruiser beach bikes are usually without gears and they are designed for short distances. Either way, a cruise beach bike with a single or multi-speed gear can ride through any distance as long as they are on soft terrain. With innovations setting in, Cruiser beach bikes come with three, seven, or even 21 gears.
Most Popular Cruiser Beach bikes include;
Electra
Schwinn
Sixthreezero

Electra Townie Bikes
You ever heard the phrase 'Old but never dies'? That's exactly the description of this Bicycle. Constructed with a second-to-none geometric design, flat foot Technology, this bike is a perfect representation of fun. Its flat foot Technology provides a relaxed and upright seating position that captures your legs firmly with proper extension that allows you to dismount the bicycle by planting both of your feet on the ground.
Electra Townie Bikes take up 20-100 miles easily, and as additional support, they are fitted with gears. Gears either come in the form of a derailleur gear system or an internal gear system. Overall, its gear fittings are always easy to switch.
Electra Townie Bike is a good bike for beginners, trainers, and learners.
You can easily practice how to ride on high-level gears easily without fear of having a fall by using an Electra Townie Bike. Both of your legs can easily reach the ground during a stop. With the provision of an easy to adjust brake, adjustable saddle, these tiny details have major impacts on your riding experience as you can easily personalize your Townie Bike.
Not minding the default not-so-fast ride experience offered by beach cruiser bikes, you can have your Townie Bike riding way faster but adjusting your air pressure to 30-40 PSI.
Low resistance encourages higher speeds.
Electra Townie Bikes are designed with great specialization with an aluminum frame. Aluminum frames are perfect choices over steel frames because aluminum frames stand the test of time against rust.
Electra Townie Bike frame's height makes it suitable for even short people and comfortable for urban cruising.
Townie Bikes come with a high handle position. This great high handle to seat ratio takes off the pressure in your wrist, neck, lower back, and shoulders, offering an ergonomic riding position.
Fitted with derailleur gears that are capable of Coping on steep hills and easy to accelerate to top speeds.
Electra Townie Bikes come with seat adjustment that is adjustable through different angles; Front, rear, and sides, to achieve a full personalized sitting position.
Handlebars, Rear Rack and Saddle sum up as additional features that make the Electra Townie Bike a ride at ease kind of bicycle.
There are different Electric Townie Bike models in the market but I will be extensively reviewing one of the best in the market; The Electra Townie 7D Bike.
Just like every other Electra Townie Bike, this beach cruiser bicycle is really a 7D super packed option in the Townie Family.
Specifically built for urban riders, it comes with major features that don't just give you comfortable rides but the possibility of taking it out for major ceremonies and occasions without fear of getting your trouser stained or torn or having your shirt soaked in sweat.
Just like I said earlier, they are always cheap, so you have nothing to worry about.
Electra Townie Cruiser Beach's original 7D bike comes in an aluminum body frame. Designed with a 6061 aluminum material to provide a sturdy structure. Enhanced with a flat foot Technology that keeps your feet comfortable and just so you know, it's a 7 gear Bicycle.
Its derailleur 7-speed Shimano gears and twist shifters make it possible for you to take up rides through longer distances. A forged aluminum 170mm chainset that is protected with a chain guard to prevent embarrassment on public roads. A 4 finger adjustable V-brake which features a dual system brake option. The rear and front brakes achieve perfect stops and could be adjustable to suit your specification.
Aluminum handlebars of 125mm rise and 650mm custom bend, 26″ wheels and 2″ semi-slick tires that are considerably wide to sponsor a comfortable ride.
Ergonomic Saddles with shock elastomer
1 x 7 drivetrain
Large Crankset
2mm stainless spokes
Dual hub fitting and lacquered double-walled rims, and a Hi-Ten Rigid fork.
The Electra Townie 7D bike comes in two variations; men and women. These variations don't a man can't ride that for women, or the other way round.
This is not a gender-based bike.
These variations are specifically noticed in their size and shape of frame, and colors. Instead of making a pick based on gender, I will advise you to draw your conclusion based on height.
Electra Townie Bikes do not come with a size chart just like every other bike in the market. Rather, its frame and design structure, flat foot Technology makes it suitable for people of 5'0″ tall to 6'3″.
Sold on Amazon for $499.95 – $539.99