Why stick to a traditional ride when there are headphones to make your cycling more fun?
Most times, the clamor and love for driving beats usually meet great critics as to the safety of the cyclist who has his earbud stuffed with music jams.
The need for a sense of alert, discernment for danger, logical calculation, and overview prior to accidents, it is not an issue to be overlooked that every cyclist needs his ears as much as he needs his eyes.
Considering the need for international safety of pedestrians, cyclists, and other road users, specific headphones have been designed for cycling.
Cycling headphones are designed as wireless with a bone conducting Technology, that allows the headphone buds to go on your temples, instead of your ear canal, allowing you the opportunity to hear and know what is happening around you.
Cyclist headphone wireless Technology makes it safer against wire drags or phone cracks, you easily connect your headphone to your primary music source using Bluetooth, then soothe your soul with tunes.
Cycling headphones are designed with non-durable materials to support long-lasting quality, water-resistant and sweat-proof features, and more importantly, long-lasting batteries. You wouldn't want your fun cut short in the middle of a ride.
You deserve a fulfilled sound orgasm.
Aside from the fact that you can easily listen to your favorite music while out on a ride, you can also make and receive calls at your convenience while pedaling slowly.
Most times, there are always arguments over wireless, AirPods, or wired headphones, which are better?
Personally, I will advise against driving with an airpod, they can easily drop off your ears during hard trail rides, as well as wired headphones. The only thing you should be worried about during an outdoor ride is your safety and not fear of having your headphone wires getting entangled with your bike parts.
Currently, the use of headphones has not been declared illegal in any country. As long as you have nothing to worry about purchasing one, I will advise you to use them safely. Always remember that you are not in a clubhouse, you are on the road, so keep your beats at moderate volume.
My review contains some of the best quality headphones that you can acquire without breaking a bank, as well as an extensive analysis of these products. Some of these products perform better than the other, some might not meet your specification and need, but overall, these products in this list are high ranking options in the global market.
This HPTCC headphone is an amazing music player that is wireless, light, and flexible. Fitted with a Bluetooth connection, you can enjoy as much music as you like without carrying your smartphone.
Its use is not limited to cycling. It could come in handy for any of your sporting activities, swimming, running, or probably the gym.
HPTCC black Bluetooth headphone is a V4.2 Wireless Version earbud, with a wireless profile of A2DP v1.3/AVRCP v1.5/HFP v1.6/HSP v1.2, Frequency Distance of 32.8-49.2ft(10-15m), and a Frequency Range of 2400GHZ-2483GHZ.
Its 160mah lithium battery capacity lasts for 6-8h audio and Talking Time, 120h Standby Time, and a charging time of around 1.2h.
Built to an IPX8 waterproof level makes it highly effective even when fully submerged into water. It is also designed with a built-in 8GB flash memory. This enables you to store up to 2400 songs, play along without carrying any phone through your rides.
HPTCC Waterproof earbud comes with a tool kit that contains;
6PCS Waterproof Ear Cap
4PCS Normal Ear Cap
1 Waterproof Earphones
1 USB Cable
1 User Manual
Price: $42.99
AfterShokz Titanium Headphone is an amazing Bluetooth designed product with the bone-conducting Technology that offers you open ear music feel while being aware of what is happening in your environment.
As an open-ear headphone, Aftershokz Titanium's headphone rests on your temple without going inside your ears.
Aftershokz Titanium headphone is constructed with an IP55 waterproof feature that protects your device against sweat and wet weather conditions.
Designed with a dual noise-canceling mic that ensures you have crystal clear calls even through noisy backgrounds. Aftershokz Titanium headphone has a V4. 1 Bluetooth connectivity which easily pairs with your iOS, Android smartphones, tablets, Mac or PC computers, and laptops with an amazing unbridged bass sound popping into your ears.
This headphone is designed as lightweight, flexible, 6h long battery life, Premium Pitch technology that delivers a wide dynamic range of audio quality and rich bass, Leaks layer technology that significantly reduces the rate of natural sound leakage, ensuring maximum audio quality.
Price: $79.95
VapeOnly headphones are designed with the bone conduction Technology, 1w dual speaker, 200mAh Power battery, Anti‐interference microphones, ‐42DB, and a stereo audio version.
This Bluetooth Class II headphone has an effective long-range connection of 10m, Bluetooth Profile of a2dp/HFP, HSP, AVRCP, GAVDP, AVDTP, Sensitivity of 88dBm, Impedance of 8ohm, and a Frequency Range of 20‐20KHz.
Its super 200 milliampere lithium battery takes an average of 2 hours to charge, and playtime of 6 hours and a standby time of 7days.
VapeOnly headphones do not have an FM support but are enhanced with a Bluetooth 5.0, a sturdy frame, and an IP55 waterproof and sweatproof material placing with a MIC USB port for charging and a System language of English-Prompt tone.
VapeOnly headphones come in a pack that contains 1 Bone Conduction Headset, 1 USB Cable, 1 vapeonly and an English User Manual.
$39.99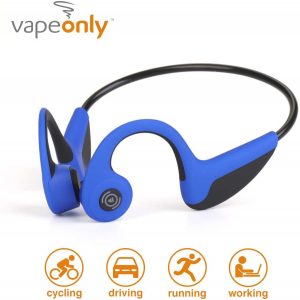 Vidonna F1 sports headphones are structured with a bone conduction Technology, transmitting sounds from your cheekbone to your ear without being directly inserted into your ear. Its open ear design helps you enjoy the tunes from your headphone as you still stay alert of your surroundings.
It is designed with a V5.0 Bluetooth Technology that ensures fast wireless pairing, a more stable connection, and a 33ft signal range.
Vidonna F1 sports headphones are ergonomically designed for comfort, allowing perfect ease and rest on your ear as you take on your sporting activity. It is designed with a combination of ABS + titanium alloy which ensures durability and as well lightweight.
Vidonna F1 sports headphones are enforced with IP55 waterproof enabling resistance on light rain and sweat.
Its 180mAh lithium battery enables a 6-hour playtime, standby time of 10 days, and a full charge of 2 hours.
As an additional bonus, this product comes with a year guarantee for quality assurance.
Price: $49.95